Hey there, fellow feline aficionados! Ever looked into your cat's eyes and wondered, "What's going on in that furry little head of yours?"
Cats, with their majestic whiskers and sassy tails, are a bundle of mysteries. From their midnight zoomies to their peculiar box obsession, there's so much we don't know.
But, what if I told you there are certain things we might be doing that could hurt their feelings? Yikes, right?
Dive in with me as we unravel the secrets of our whiskered companions. Trust me, by the end, you'll be looking at Mr. Whiskers in a whole new light! Curious? Let's get started! 🐱🌟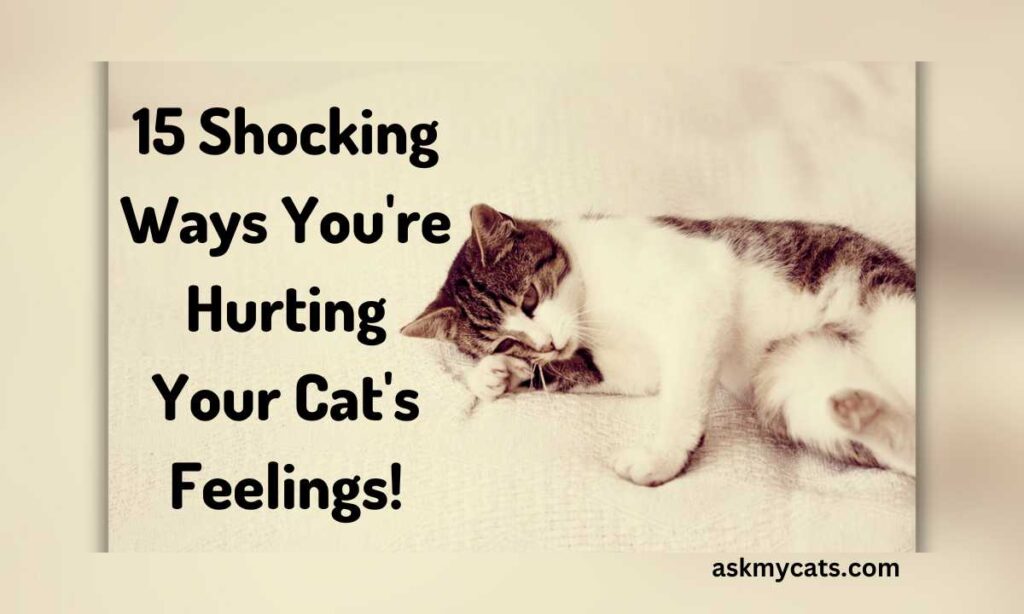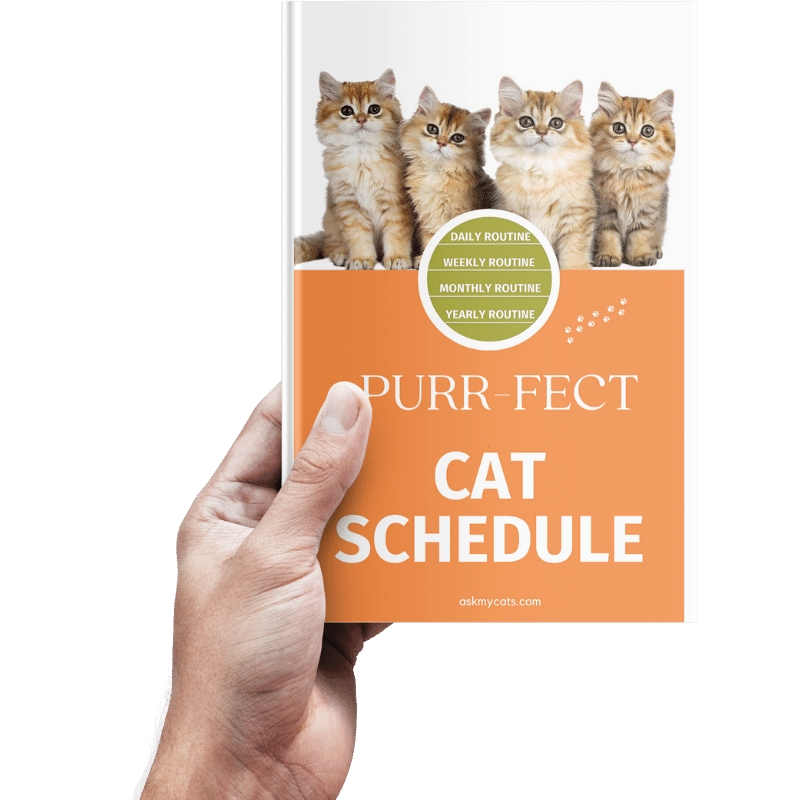 Discover the Secrets to a Happy Cat!
Discover the secrets to creating a happy and healthy daily routine for your feline friend. From playtime to mealtime, sleep to grooming, our expert guide will show you how to make every day a purrfect day for your cat.
Give Your Cat the Perfect Day – Get the Ebook!
1. Declawing Your Cat
Oh, where do I even start with this one? Declawing is like, well, imagine someone chopping off the tips of your fingers. Ouch, right?
It's not just about removing a cat's nails; it's about taking away a part of their very essence. Cats use their claws for everything – climbing, playing, defending themselves, and even stretching.
By declawing them, we're not just causing them physical pain but also leading to potential behavioral problems. Think about it. If you couldn't use your fingers properly, wouldn't you be frustrated?
And, oh boy, the chronic pain and difficulty in walking that follows? It's just not worth it. There are so many alternatives out there, like nail caps or regular trimming. Let's choose kindness, folks!
2. Rejecting Your Cat's Affection
"Hey human, I just wanna cuddle!" Imagine your cat thinking this and then getting pushed away. Heartbreaking, isn't it? Cats might have this rep of being all independent and aloof, but deep down, they're just furry little beings craving love.
When we push them away or reject their affection, it's like telling them they're not wanted. Over time, this can make them feel super insecure and even decrease their trust in us.
So, the next time Mr. Whiskers comes purring around your legs, maybe give him a little scratch behind the ears? Trust me; it'll make his day!
3. Teasing and Scaring Your Cat
"Boo! Gotcha!" Okay, it might be fun once in a blue moon, but constantly teasing or scaring our cats? That's a big no-no.
Cats are creatures of habit, and they thrive in a secure environment. When we mess with them, like blowing in their face or playing with their tail, we're essentially disrupting their sense of security.
Over time, this can lead to anxiety, stress, and a whole lot of trust issues. Let's remember, our cats aren't toys. They have feelings too. So, let's play nice, okay?
4. Ignoring Your Cat's Needs
"Hello? Anyone there? I'm hungry!" If cats could talk, I bet we'd hear this a lot. Ignoring their basic needs, be it food, attention, or a clean litter box, is like telling them they don't matter. And trust me, that's the last thing you want to convey to your feline friend.
Cats might not be as vocal as dogs, but they have their ways of telling us what they want. A little meow here, a nudge there.
It's essential to tune into these signals and provide them with what they need. After all, a happy cat equals a happy home!
5. Dressing Up Your Cat
"Seriously, human? Another costume?" Now, I get it. Cats look adorable in little outfits. But here's the thing – most cats aren't big fans of playing dress-up.
Those costumes can restrict their movement, making them super uncomfortable. Plus, the whole process of getting them into that unicorn or pirate outfit? It can be pretty distressing.
If you notice your cat trying to wriggle out of a costume or looking distressed, it's a sign. Maybe stick to a cute collar or a bandana? They're stylish and way more comfortable!
6. Changing Home Environment Frequently
Hey, ever moved houses and felt that weird mix of excitement and "Where the heck did I put my socks?" Yep, that's kinda how our cats feel, but on steroids.
Cats are creatures of habit. They love their little nooks and crannies, their favorite sunbathing spot, and that particular corner where they, um, occasionally cough up a hairball.
So, when we shuffle things around or move homes, it can be super disorienting for them. It's like their whole world's been turned upside down!
If you've gotta make changes, maybe do it gradually? Give them time to adjust. And hey, a little treat or two wouldn't hurt!
7. Forcing Your Cat to Greet Strangers
Imagine this: You're chilling at home, and suddenly a bunch of aliens (yep, you read that right) barge in wanting to shake hands. Freaky, right?
That's kinda how our cats feel when we force them to greet strangers. Their territory, their rules. Some cats might be social butterflies, but others? Not so much. It's essential to read their cues.
If they're hiding under the bed or giving the stink eye, maybe it's best to let them be. After all, consent is key, even in the feline world!
8. Leaving Your Cat Alone for Extended Periods
"Hello? Echo! Echo! Echo!" That's the sound of a lonely cat. Okay, I might be exaggerating a tad, but you get the gist.
Leaving our cats alone for too long can make them feel abandoned. They might be independent creatures, but they still crave interaction.
Whether it's a quick play session, a chat (yes, cats are great listeners!), or just some good ol' cuddle time, they need it.
If you're out and about often, maybe consider getting a pet sitter or, dare I say, a second cat? Double the fun!
9. Exposing Your Cat to Loud Noises
"Boom! Bang! Crash!" No, that's not the start of a rock concert. It's the sound of things that can freak our cats out. Cats have super sensitive ears. So, what might be a slight annoyance to us can be super jarring for them.
Whether it's fireworks, loud music, or even that vacuum cleaner they seem to have a personal vendetta against, it's essential to be mindful.
Maybe provide them with a quiet space or some earplugs? Just kidding about the earplugs, but you get the idea!
10. Scolding or Punishing Your Cat
"Bad kitty!" Uh-oh, someone's in trouble. But here's the thing: scolding or punishing our cats doesn't really work.
In fact, it can do more harm than good. Cats don't really get the whole "cause and effect" thing.
So, when we yell or swat, all they feel is scared and confused. Instead, how about trying positive reinforcement? A treat for good behavior, perhaps?
Remember, it's all about building trust. And trust me, a little love goes a long way!
11. Neglecting Grooming and Health Needs
So, picture this: You've had a long day, and all you want is a relaxing spa day, but instead, you're left with tangled hair and a chipped nail. Bummer, right?
That's how our cats feel when we neglect their grooming. Cats are pretty neat creatures. They groom themselves, sure, but sometimes they need a little help.
Ignoring those hairballs, not trimming their nails, or skipping their health checks? Not cool. It's not just about looking good; it's about feeling good.
So, let's make sure our kitties are both healthy and dapper!
12. Disturbing Mealtime
"Hey! I was eating that!" Ever been interrupted during a delicious meal? Annoying, isn't it? Our cats think so too. They're not just eating; they're having a whole experience. The smell, the taste, the texture – it's all a big deal.
A loud environment or constantly changing their food can throw off their groove. And trust me, a cat off its groove is not something you want to deal with.
Let's give them some peace, quiet, and maybe a treat or two during mealtime. Bon appétit, kitty!
13. Lack of Mental Stimulation
Imagine being stuck in a room with nothing to do. Day in, day out. Sounds dreadful, right? That's how our cats might feel without mental stimulation. They're curious creatures, always looking for the next adventure.
Whether it's chasing a laser pointer, hunting a feather toy, or just exploring a new cardboard box, they need it. It keeps their minds sharp and their spirits high.
So, let's get creative and keep our feline friends entertained. After all, a bored cat is a mischievous cat!
14. Dirty Living Conditions
"Ugh, what's that smell?" If you've ever walked into a dirty bathroom, you know the feeling. Now, imagine being a cat and having to use a dirty litter box. Not pleasant, huh?
Cats are super clean animals. They like their surroundings just so. A dirty litter box or unclean water dishes? It's like a slap in the face. It's not just about cleanliness; it's about respect.
So, let's roll up our sleeves and make sure our cats have a clean and hygienic environment. They deserve it!
15. Ignoring Signs of Pain or Discomfort
"Ouch! That hurt!" But wait, cats can't talk. So, how do we know when they're in pain? It's all in the signs. Maybe they're not eating, or they're hiding more than usual.
Perhaps they're not as playful or are limping a bit. It's essential to be observant. Cats are masters at hiding pain, but that doesn't mean they should suffer in silence.
Let's be proactive, get regular check-ups, and always be on the lookout for any changes. After all, our kitties rely on us to have their backs!
Final Words: Let's Paws and Reflect 🐾
Well, there you have it, fellow cat lovers! We've journeyed through the intricate maze of our feline friends' emotions. It's a wild ride, isn't it?
From understanding their disdain for that funky costume to realizing the importance of a clean litter box, every bit counts. Cats might be mysterious, but with a sprinkle of love and a dash of understanding, we can make their world purr-fect.
So, what do you think? Got any cat-tales of your own? Share them in the comments below. Let's keep the cat chat going!