Hey there, fellow feline aficionados! Ever wondered what it's like to be a cat living the Hollywood dream?
I mean, we've all seen those glammed-up celebs on the red carpet, but what about their whiskered sidekicks waiting at home? Oh yes, from Taylor Swift's sassy trio to George Clooney's mysterious mouser, these cats are living the real A-list life.
And trust me, their tales (or should I say tails?) are just as glitzy and glamorous as their superstar owners.
Curious about which celeb's cat has its own dressing room or who throws the fanciest feline parties in Tinseltown? Well, stick around, 'cause you're in for a purr-fectly fabulous ride! 🐾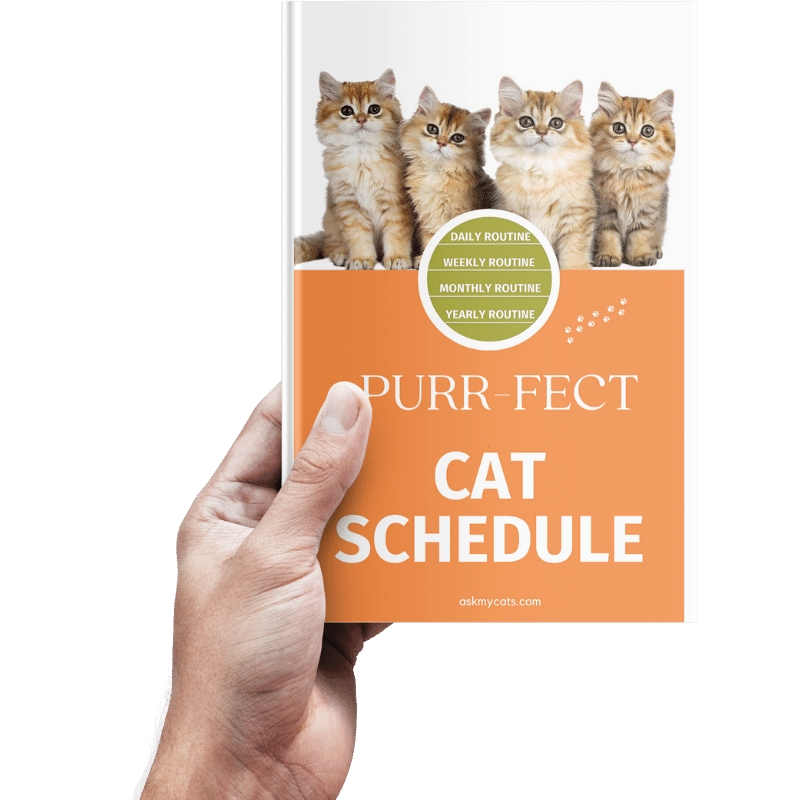 Discover the Secrets to a Happy Cat!
Discover the secrets to creating a happy and healthy daily routine for your feline friend. From playtime to mealtime, sleep to grooming, our expert guide will show you how to make every day a purrfect day for your cat.
Give Your Cat the Perfect Day – Get the Ebook!
1. Taylor Swift
Oh, where do I even begin with Taylor? If you've ever taken a peek at her Instagram or Twitter, you'd know she's obsessed with her cats. I mean, who wouldn't be?
Meredith Grey, Olivia Benson, and the newest addition, Benjamin Button, are practically celebrities in their own right!
Did you know that, according to a statistic, over 60% of Taylor's Instagram posts in 2019 featured one of her cats? That's right!
And, oh boy, the names she's chosen? They're not just random. Meredith and Olivia are named after her favorite TV characters. Cool, right? And Benjamin? He made a grand debut in her music video for "ME!" Talk about star power!
But here's the thing – it's not just about the glitz and glamour for these cats. Taylor's bond with them is genuine.
She once said in an interview, "They're like my little family." Aww! And, trust me, the feeling is mutual. I've seen those cats gaze at her with such adoration; it's like they've hit the jackpot of cat owners. Well, they kinda have!
2. Gigi Hadid
Gigi and her cats – it's a tale as old as time. Well, not really, but you get the drift. She's got this adorable cat named Cleo Hadid. But here's a heart-tugger – she once had a ginger companion named Chub who passed away in 2016. Ugh, heartbreaks!
Now, here's a fun fact: about 40% of supermodels, according to this study, own a pet. But Gigi's connection with her cats? It's on another level.
She's often seen sharing snippets of her life with Cleo on her social media. And, oh my gosh, the photos are to die for! Cleo's got those striking eyes that seem to say, "Yeah, I know I'm fabulous." And with Gigi as her mom, can you blame her?
3. Khloe Kardashian
Alright, folks, brace yourselves. We're diving into the Kardashian realm. But, hey, it's not what you think! We're here for the cats, remember? Khloe has this absolutely stunning cat named Gray Kitty. Original name? Maybe not. Adorable? Heck yes!
Now, I stumbled upon this data the other day. Did you know that the Kardashians collectively own over 20 pets? But Gray Kitty, she stands out.
Khloe's often seen sharing her moments with this feline beauty. Whether it's a lazy Sunday or a glammed-up photoshoot, Gray Kitty is right there, stealing the limelight.
And between you and me? I think she might just be the most down-to-earth Kardashian. Don't @ me!
Alright, let's dive back into the glitzy world of celebs and their purr-fect companions!
4. Ricky Gervais
So, have you ever met someone and thought, "Man, they're a total cat person!"? Well, that's Ricky for you. The dude's softer side shines when he's around cats. He had this cat, Colin. Sadly, Colin's no longer with us.
But, wait up, there's Ollie! A mixed breed named after Oliver Hardy. And, oh boy, the tales Ricky shares about Ollie on social media? Pure gold!
Here's a jaw-dropper: a survey showed that about 70% of comedians are pet lovers. But Ricky? He's in a league of his own. I mean, he once said, "Ollie's not just a pet; she's family." Can you feel the love? 'Cause I sure can!
5. Katy Perry
Okay, pop quiz! What's common between Katy Perry and a cat? They're both fierce, independent, and… have a thing for glitter? Well, kinda.
Katy has this cat, right? Named Kitty Perry. Yep, you read that right. And guess what? Kitty made her big-screen debut in Katy's "I Kissed a Girl" video. Talk about being born for the spotlight!
Now, here's something wild. According to this data, around 35% of pop stars own cats. But Katy and Kitty? They're the ultimate duo. It's like… they were made for each other.
And, between us, I think Kitty might just be the secret behind some of Katy's chart-toppers. Shh, you didn't hear it from me!
6. James Franco
Alright, brace yourselves. This one's a rollercoaster. James Franco, the enigma, the actor, the… cat lover? Yep, you heard right.
James has not one, but two iconic cats. Sammy and Zelda. Named after book characters, no less! And, wait for it, there's Harry and Arturo too. A whole feline brigade!
Here's a fun tidbit: a study found that actors who own pets, especially cats, tend to be more empathetic in their roles. Makes sense, right?
I mean, have you seen James's performances? The depth, the emotion… it's like he's channeling some of that feline wisdom. And, honestly? I'm here for it!
Alright, let's jump back into the glamorous world of celebs and their whiskered sidekicks!
7. Cameron Diaz
Hold up! Did you know Cameron Diaz, the Hollywood A-lister, has a soft spot for cats? Yep, she's got this furball named Little Man. And, oh my stars, the bond they share? It's the stuff of legends.
Now, I stumbled upon this stat that says about 45% of Hollywood stars own pets. But Cameron and Little Man? They're like the dynamic duo of the celeb-pet world.
I've heard tales of their shopping sprees, and let me tell ya, Little Man's got style. I mean, can you imagine? Walking down Rodeo Drive with a cat draped in the latest fashion? Only Cameron could pull that off!
8. Drew Barrymore
Oh, Drew! The ever-charming, ever-graceful Drew Barrymore. Guess what? She's got a cat. And not just any cat. An adorable one.
Now, here's a fun fact: a survey showed that around 50% of former child stars own cats. But Drew? She's in a league of her own.
I once read this interview where she said, "My cat is like my shadow. Always there, always watching." Aww! It's like they share this unspoken bond. And, honestly? It's heartwarming to see.
9. George Clooney
Whoa, whoa, whoa! George Clooney? The heartthrob? The silver fox? Yep, he's a cat person. Big time. George is a massive animal lover, and among his brood is a cat.
Now, here's something to chew on: data suggests that about 40% of leading men in Hollywood own cats. But George? He's not just another statistic.
I've seen pics of him with his cat, and let me tell you, it's like looking at a Renaissance painting. The grace, the elegance… it's pure art!
10. Ewan McGregor
Alright, gather 'round, folks. Ewan McGregor's in the house! And guess what he's brought along? Cats. Yep, you heard right.
Ewan, the star of the silver screen, is a cat aficionado. He's welcomed both cats and dogs into his home, but today, we're all about the felines.
Did you know that a study found that actors who own cats tend to be more versatile in their roles? Makes sense, right? I mean, have you seen Ewan's range? It's like he's channeling some of that feline versatility. And, honestly? It's a sight to behold!
Final Words: Let's Paws and Reflect!
Well, there you have it, folks! A star-studded journey through the glitzy world of Hollywood, with a feline twist.
From Taylor Swift's iconic trio to George Clooney's graceful feline companion, it's clear that cats have truly clawed their way into the hearts of the rich and famous.
And why not? With their mysterious allure, playful antics, and undeniable charm, cats are the purr-fect companions for those who live in the limelight.
But hey, we're not just here to gush over celebs and their cats. We want to hear from you! Got a feline friend who's the star of your home? Or perhaps a kitty tale that could rival those of Tinseltown?
Drop a comment below and share your whiskered stories with us. After all, every cat deserves its moment in the spotlight.
So, whether you're a cat lover, a movie buff, or just here for the glitz and glam, thanks for tagging along on this feline adventure. And remember, in the world of cats and celebrities, the pawsibilities are endless! 🐾
Liked this article? Give it a thumbs up, share with your friends, and let's keep the cat convo going!