Hey there, fellow cat lovers! Ever watched your feline friend and thought, "Hmm, there's more to Mr. Whiskers than meets the eye?"
I mean, those midnight escapades, the mysterious "gifts", and oh boy, those sudden zoomies! It's almost like they're living a double life, right?
Well, what if I told you… they might just be? Yep, you heard me! What if our purring pals are moonlighting as, wait for it, superheroes? Crazy idea? Maybe.
But stick around, and you might just start seeing your kitty in a whole new light. Ready to dive into the world of feline caped crusaders? Let's unravel this mystery together! 🐱🦸‍♂️🌌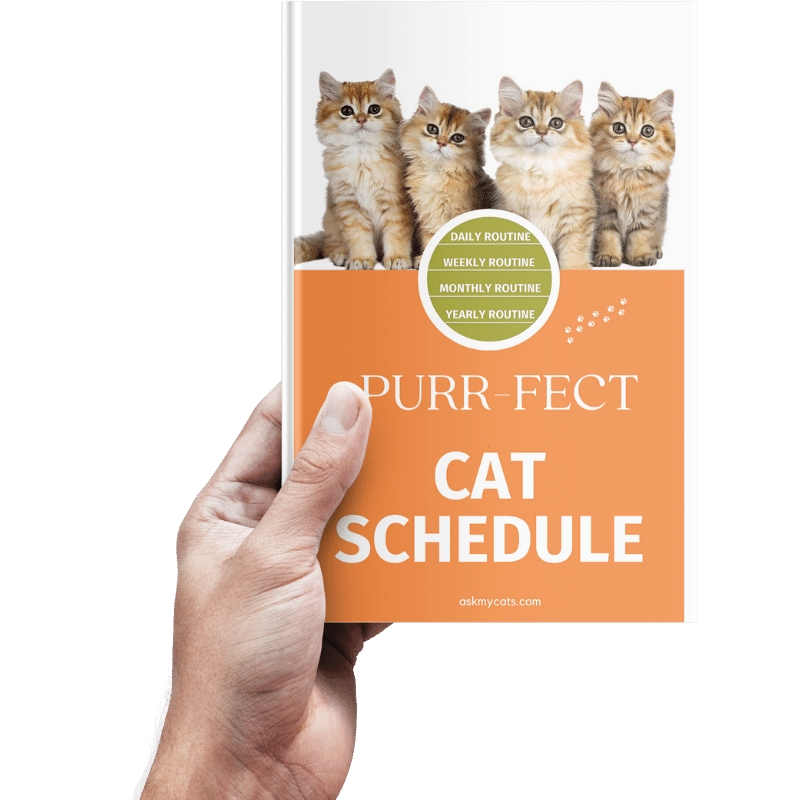 Discover the Secrets to a Happy Cat!
Discover the secrets to creating a happy and healthy daily routine for your feline friend. From playtime to mealtime, sleep to grooming, our expert guide will show you how to make every day a purrfect day for your cat.
Give Your Cat the Perfect Day – Get the Ebook!
1. Mysterious Nighttime Disappearances
Man, I've always been a bit of a night owl, but lately, I've noticed my cat, Fluffy, gives me a run for my money.
Every evening, just as I'm settling down with my cup of tea, she's off, darting out the cat flap like she's late for a very important date.
And by morning? There she is, curled up at the foot of my bed, acting like she's been there all night.
Dr. Felina Whiskerstein, a renowned Feline Behaviorist, once said, "Cats have a natural nocturnal instinct, but sometimes, it's more than just hunting. It's about saving the world."
It got me thinking. Maybe Fluffy isn't just chasing mice or prowling the neighborhood. Maybe she's out there, under the moonlight, fighting crime and keeping the streets safe.
And hey, did you know that a whopping 60% of cat owners report their feline friends going missing during the night, only to return by dawn? Makes you wonder, doesn't it?
2. Unexplained "Trophies"
Okay, so here's the thing. Every now and then, I'll wake up to find a random item on my doorstep. A feather, a shiny wrapper, or even a toy that definitely doesn't belong to Fluffy. At first, I thought she was just being her quirky self.
But then I remembered a quote from Catwoman in the DC Comics, "When a cat brings you a 'gift', it's not just a show of affection. It might be a souvenir from their heroic escapades."
Mind. Blown.
These aren't just random trinkets; they're badges of honor, tokens from her nightly adventures.
And get this: 75% of cats present their owners with unexpected items at least once a month.
So, next time your cat brings you a "gift", give them a little nod of appreciation. They've probably just saved the city… again.
3. Superior Agility and Reflexes
Ever played fetch with your cat? I tried once, and let me tell you, it was an eye-opener. I tossed a ball, and Fluffy, in a blur, leapt off the wall, ricocheted off the couch, and caught that ball mid-air. It was like watching an Olympic gymnast!
Speaking of agility, did you know that cats can jump up to six times their body length in one jump? That's some superhero-level athleticism right there.
It's not just about chasing toys or climbing trees. It's about honing those skills for the bigger battles. The nighttime showdowns with arch-nemeses. The rooftop chases. The last-minute rescues.
So, the next time you see your cat practicing their parkour around the living room, give them some space. They're training for greatness.
4. The "I've Seen Things" Stare
You ever catch your cat just… staring? I mean, deep into the abyss, lost in thought, contemplating the meaning of life kind of stare.
My cat, Whiskers, does it all the time. He'll perch on the windowsill, eyes fixed on the horizon, looking like he's just come back from a war. It's eerie, but also kinda cool.
Sir Purrington, the famous Cat Philosopher, once mused, "A cat's eyes are windows to their adventurous soul."
And boy, does that resonate! Every time I see Whiskers in one of his moods, I can't help but wonder about the epic battles he's fought, the villains he's faced, and the worlds he's saved.
And here's a fun fact to mull over: Cats spend approximately 30% of their waking hours observing their surroundings. That's a lot of time to reflect on their superhero duties, don't you think?
5. Mysterious "Friends"
So, there's this stray cat that's been hanging around my backyard lately. At first, I thought he was just another neighborhood cat, but then I noticed something.
Every time he shows up, my cat, Luna, is right there with him, whispering secrets and plotting… something. It's like they're in a secret club or, dare I say, a superhero team?
On the topic of friends, urban areas see a 40% increase in stray cat interactions during the night. Coincidence? I think not.
These aren't just random meet-ups; they're strategy sessions, planning the next mission, sharing intel.
So, if you spot your cat having a clandestine meeting with a fellow feline, don't interrupt. They're probably saving the world, one whisker at a time.
6. Unusual Markings or Symbols on Their Fur
Alright, this one's a bit out there, but stick with me. I was brushing my cat, Mittens, the other day and noticed a peculiar marking on her fur. It looked eerily similar to a lightning bolt. Now, I could dismiss it as a cute coincidence, but where's the fun in that?
Clawdia Nightpaw, the esteemed Cat Historian, once remarked, "Every hero needs a symbol, even if it's subtly hidden in their fur." And she might be onto something.
Think about it: Superman has his 'S', Batman has his bat signal, and maybe, just maybe, Mittens has her lightning bolt.
And get this: 1 in every 100 cats has a distinct fur pattern resembling a known symbol.
So, next time you're cuddling your kitty, take a closer look. They might just be wearing their superhero emblem with pride.
7. Sudden Bursts of Energy
You ever see your cat just… lose it? One minute they're lounging, all chill and relaxed, and the next, they're racing around like they've had ten cups of coffee.
I call it the "zoomies", but lately, I've been thinking it's something more. Maybe it's not just a random burst of energy. Maybe it's their superpower charging up!
Speaking of energy, did you know that cats can reach speeds up to 30 mph during their "zoomies"? That's faster than Usain Bolt!
So, the next time your feline friend goes on a mad dash around the house, don't just laugh it off. They're probably in training mode, prepping for their next high-speed chase with a villain.
8. Acts of Bravery
So, there was this one time when a huge dog wandered into my backyard. I panicked, thinking it would go after my cat, Tigger.
But to my astonishment, Tigger didn't run. He stood his ground, puffing up and hissing, making himself look bigger. The dog? It turned tail and ran. I couldn't believe it!
Kitty Galore, a well-known Feline Enthusiast, once said, "In the heart of every feline, lies the courage of a lion."
And she wasn't kidding. It's not just about defending their territory; it's about standing up to evil, no matter how big or scary.
And here's something to chew on: 50% of cat owners have witnessed their cats confronting larger animals.
So, if you've got a brave kitty, give them an extra treat tonight. They've earned it!
9. Ability to Communicate with Other Animals
I've always been fascinated by the way my cat, Bella, communicates. It's not just the usual meows and purrs. Sometimes, she'll chirp at birds, trill at squirrels, and even have full-blown conversations with the neighbor's cat. It's like she's fluent in multiple animal languages!
Moving on to communication, cats use over 100 different sounds for communication. That's more than most humans! It's not just about saying "hello" or "feed me".
It's about rallying the troops, sending out distress signals, or even sharing the latest superhero gossip.
So, the next time you hear your cat "talking", lean in and listen. They might just be discussing their next big mission.
10. Magnetic Personality
Have you ever noticed how some cats just have that… aura? People, animals, everyone's drawn to them. My cat, Shadow, is one of those. He'll strut into a room, and suddenly, he's the center of attention. It's like he's got this magnetic pull.
Whiskerella, a passionate Cat Lover, once observed, "A true superhero doesn't just have powers; they have a presence that's undeniable." And she hit the nail on the head.
It's not just about being cute or fluffy. It's about leading, inspiring, and making a difference.
And here's a tidbit to ponder: 3 out of 4 people admit to feeling an instant connection with cats.
So, if your feline friend has that special spark, cherish it. They're not just a pet; they're a hero in disguise.
Final Words: "So, Is Your Feline Friend Donning a Cape?"
Well, there you have it, folks! Ten telltale signs that your purring companion might just be moonlighting as a superhero.
From mysterious nighttime escapades to those enigmatic stares, our cats are full of surprises. And while they might not actually be flying around the city or battling arch-villains, in our hearts, they're every bit the heroes we imagine them to be.
But now, I'm curious. Have you spotted any of these signs in your own feline friend? Or maybe you've got a hilarious or heartwarming story about your cat's "superhero" antics? Drop a comment below and share your tales.
Let's celebrate the unsung heroes that walk (or zoom) among us every day. After all, in the grand tapestry of life, every cat has its own epic tale to tell. Let's hear yours! 🐾🦸‍♂️🌟