Cat purring is probably one of the most extensively researched and meticulously discussed topics amongst cat experts and enthusiasts. While it is well-known that cats generally purr when they are feeling content and joyful, you may be surprised to find that some cats also purr while eating.
It can seem like a bizarre trait at first, but safe to say, it is a perfectly conventional behavior amongst cats.
Hop on to the rest of the article to know more about cats purring while eating.
Key Takeaways

Cats can purr and eat at the same time due to the structure of their larynx.
Purring while eating is normal behavior for cats.
Purring while eating can be a sign of contentment and joy.
Cats may also purr while eating as a way to self-soothe or signal contentment.
Purring before mealtime is likely a way for cats to indicate hunger and request food.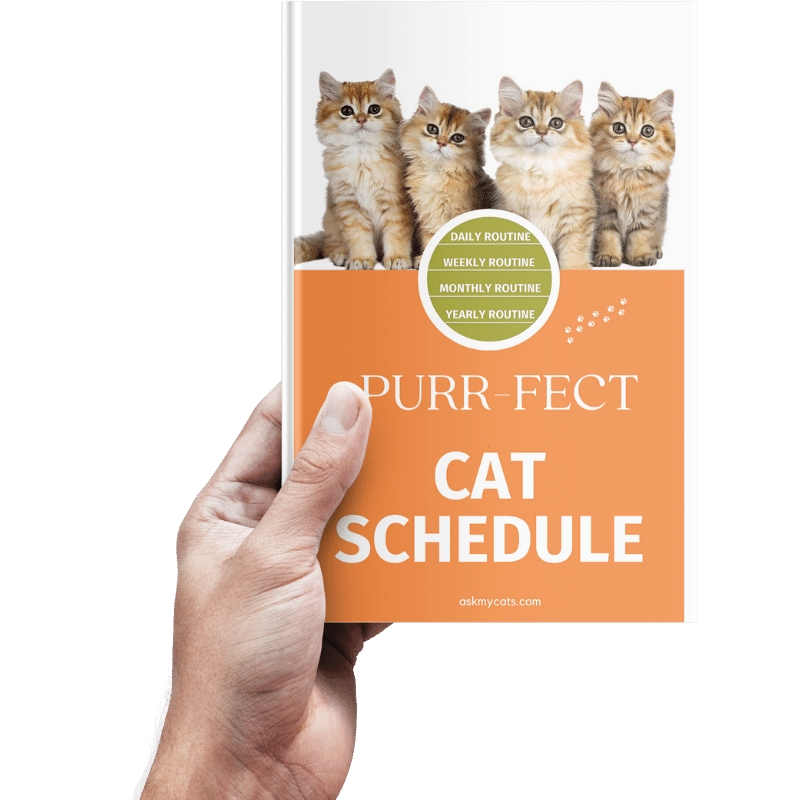 Discover the Secrets to a Happy Cat!
Discover the secrets to creating a happy and healthy daily routine for your feline friend. From playtime to mealtime, sleep to grooming, our expert guide will show you how to make every day a purrfect day for your cat.
Give Your Cat the Perfect Day – Get the Ebook!
Can Cats Purr and Eat At The Same Time?
Yes, interestingly, cats can purr and eat at the same time.
This is because of the anatomical structure of a cat's larynx i.e the voice box. While eating, cats use their mouth and teeth to chew and their esophagus to swallow.
However, this process does not in any way hinder or obstruct the voice box of cats. Although the exact mechanism through which cats purr is still shrouded in doubt, we do know that the internal laryngeal muscles are the probable source.
This is proven by the fact that there is an absence of purring in cats with laryngeal paralysis.
Research suggests that the vocal cords in a cat's throat vibrate due to the muscles present and as the cat inhales and exhales, the air hit these vibrating muscles, emanating the purring sound.
It is nearly impossible for us humans to eat and talk, or eat and breathe in at the same time, but cats clearly manage to do it quite seamlessly.
Interesting Read: Why Does My Cat Want Me To Watch Her Eat?
Is It Normal For My Cat To Purr While Eating?
Yes, it is normal for a cat to purr while eating. Cats purring has no interlinkages with the esophagus i.e the tube that facilitates the movement of food in cats, and so it is perfectly common to see a cat purring while eating.
According to research, "The cat's brain vibrates the muscles that control its voice box; a region of the brain that serves as a signal to the muscles that compose the cat's voice box.

When the cat sounds distressed or whines, it indicates that he is struggling with a difficult time, whether you are looking for him or he is finding it difficult. When a kitten chases food, he or she will blend his or her usual meow with a mutton sound.

It takes between 20 and 40 breaths per minute for a cat to recover, and his or her respiratory motion is also restricted."
Seasoned cat owners will recognize that their kittens often purr when dinner time is approaching. It is a call for attention that your little furball is hungry.
Purring is basically an expression of emotions, and cats can purr when they are eating to convey their liking for the food.
Interesting Read: Is Purring Involuntary In Cats?
Why Do Cats Purr While Eating?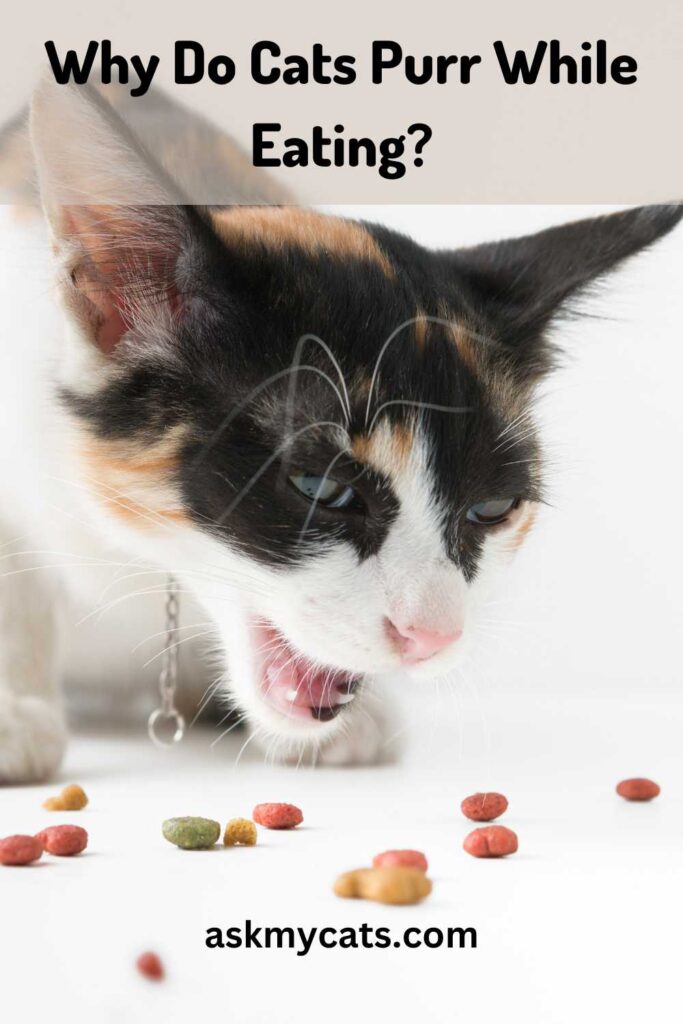 Now that we have answered that cats can purr while eating and that it is normal for them to do so, let us also explore the reasons behind this occurring.
If you're breaking out the cat food around dinner time and your cat begins to purr, you can likely assume it's out of hunger. You may even notice that some cats purr as they eat."
Thus, when cats start purring before dinner time, it is likely that they are hungry and are imploring you to feed them some yummy food.
When cats purr while eating, it is usually a sign of contentment and joy. After all, who doesn't feel like they are floating on cloud 9 after having their bellies full?
You would also like to read: Why Do Cats Purr When You Stroke/Pet Them?
Possible Reasons for Cats Purring While Eating
| Reason | Explanation |
| --- | --- |
| Contentment | Cats purr when they are happy and relaxed, so they may be purring while eating because they enjoy their food. |
| Self-Soothing | Purring is a self-soothing behavior for cats, so they may be using it to calm themselves down while eating. |
| Social Signaling | Cats also use purring as a way to communicate with other cats and humans, so they may be purring to signal contentment. |
| Physical Stimulation | Eating can be a pleasurable physical sensation for cats, so they may purr as a way to enhance that experience. |
| Multitasking | Some cats are just really good at purring, so they might do it while eating just because they can. |
Types of Food That Might Make Cats Purr More Often
| Type of Food | Explanation |
| --- | --- |
| Wet Food | Wet food is more aromatic and flavorful than dry food, which might make cats purr more often. |
| Fish | Many cats love the taste and smell of fish, so they might purr more while eating it. |
| Treats | Cats often associate treats with positive experiences, so they may purr while enjoying them. |
| Homemade Meals | Cats may purr more often when they eat homemade meals, which can be made with fresher ingredients and tailored to their preferences. |
Interesting Read: Why Does My Cat Purr When He Sees Me?
Frequently Asked Questions
Why do cats purr?
The most widely accepted reason behind cat purring is an expression of happiness, contentment, and joy. However, cat experts today assert that purring is also a way for cats to show feelings of stress, fear, duress, or anxiety.
Why is my cat purring in her sleep?
Cats purring in their sleep is similar to humans sleep-talking. It is merely a response to the events taking place in our dreams. If your cat is having a good dream, then the purring could suggest joy, while if she is having a nightmare, then it would reflect duress. 
Final Thoughts
In a nutshell, cats can and do purr while eating. As their esophagus is not attached to their voice box, it enables them to purr easily while they are eating.
Cats purr before dinner time because they are hungry and are calling your attention for food. When they purr while eating, it usually means that they are very satisfied with what they are having.
Interesting Read: Do Cats Know When To Stop Eating?
References