Hey there, fellow internet wanderer! Ever found yourself chuckling at a cat meme, cooing over a kitty video, or just plain obsessed with all things feline online? Oh, come on, we've all been there!
Cats, with their sassy attitudes and purr-fect antics, have sneakily taken over our digital world. And honestly? I'm not even mad about it.
But here's the real question: just how deep does this cat-tastic rabbit hole go? Stick around, and you might just be surprised at the ways these furballs have claimed their throne.
Ready to dive into the purr-spective of the century? 🐱👑💻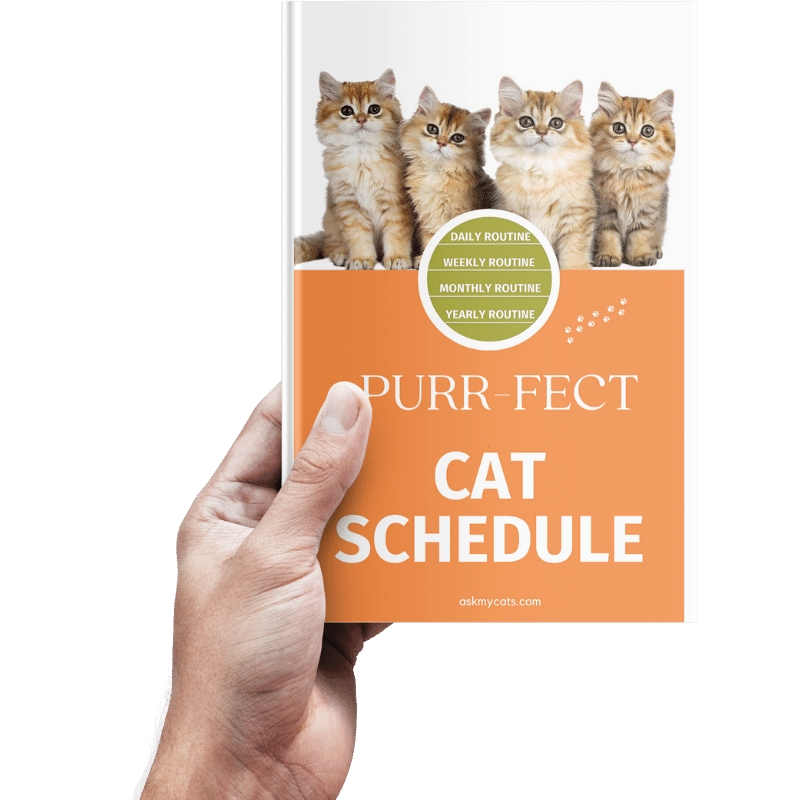 Discover the Secrets to a Happy Cat!
Discover the secrets to creating a happy and healthy daily routine for your feline friend. From playtime to mealtime, sleep to grooming, our expert guide will show you how to make every day a purrfect day for your cat.
Give Your Cat the Perfect Day – Get the Ebook!
1. Viral Cat Videos Take Over Social Media
Oh, come on, who hasn't spent hours going down the rabbit hole of cat videos on YouTube? I mean, I sure have!
Remember the "Keyboard Cat" jamming away or the "Nyan Cat" flying through space with that catchy tune? Those were the days!
These feline sensations weren't just cute; they were viral phenomena. They've garnered millions of views, proving once and for all that cats are the true rulers of the digital realm.
And let's be real, whenever you're feeling down, isn't a cat video the quickest pick-me-up?
Henrietta Thompson, a digital content guru, once quipped, "The internet is made of cats." And boy, was she spot on!
2. Cats Dominate Instagram
Alright, let's spill the beans. How many cat accounts do you follow on Instagram? One? Ten? Fifty?
From Grumpy Cat's iconic frown to Lil Bub's adorable little tongue, cats have taken over Instagram, and I'm absolutely here for it. Their purr-fect poses, sassy attitudes, and those "I'm judging you" stares are just too irresistible.
And it's not just us mere mortals who are obsessed. Celebrities and influencers are constantly sharing their feline friends, making cats the true influencers of Instagram.
Here's a mind-blowing fact for ya – there are over 80 million posts on Instagram tagged #cat. Yep, you read that right!
3. The Rise of Cat Memes
Okay, let's chat memes. Who hasn't shared a hilarious cat meme? Whether it's a cat giving some major side-eye or one looking utterly bamboozled, these furry creatures have become the face of internet humor. They're relatable, they're funny, and they're EVERYWHERE.
I mean, how many times have you tagged a friend in a cat meme saying, "This is so you!"? Cats have this uncanny ability to capture the essence of our daily struggles and joys, making them the ultimate meme material.
Dr. Felix Whiskers, a meme historian (yes, that's a thing!), once said, "Memes come and go, but cat memes? They're timeless." And honestly, truer words have never been spoken!
4. Cats Inspiring Online Challenges
Alright, hands up if you've tried the "If I Fits, I Sits" challenge with your feline friend? I know I have!
It's hilarious watching these furballs try to squeeze into the tiniest of spaces, from shoeboxes to glass bowls.
And the best part? They always look so darn proud once they've managed to fit! It's like they're saying, "Told ya I could do it!" This challenge became an internet sensation overnight, and I swear, every time I see a new video, I'm in stitches.
Get this – videos related to this challenge have been viewed over 500 million times. Half a billion! That's a whole lotta cat love right there.
5. Feline Influencers and Their Swanky Merch
Okay, confession time. I've bought cat merch. Not for my cat, mind you, but for myself. And I'm not even a tiny bit ashamed.
Cats aren't just ruling the internet; they're also business moguls in their own right. Many of them have their own merchandise lines, selling everything from quirky shirts to adorable mugs.
And let me tell you, some of this merch? Absolute chef's kiss!
I remember popular YouTuber, Mia Meowington, hilariously lamenting, "My cat's merch sales outpace mine." Can you believe it? Cats are giving influencers a run for their money!
6. Cats Taking Over TikTok
If you're on TikTok (and who isn't these days?), you've definitely seen your fair share of cat content. Cats dancing to the latest trends, cats reacting to weird noises, cats just… being their goofy selves. They're the unsung heroes of TikTok, and I'm not even mad about it.
Every time I see a new cat video on my feed, it's an instant smile.
And let's face it, in a world full of challenges and dance trends, sometimes you just need a good ol' cat video to brighten your day.
Here's a fun tidbit – cat-related TikTok videos have a combined total of 2 billion views. That's billion with a 'B'! Talk about feline domination.
7. The Cat Cafe Phenomenon
So, have you ever been sipping your latte, thinking, "This is great, but you know what would make it better? Cats!"?
Well, someone in Japan had that exact thought, and voila! The cat cafe was born. These cafes are like a little slice of heaven for cat lovers. You get to enjoy your coffee, maybe a slice of cake, all while being surrounded by purring, fluffy kitties.
It's like they took two of the best things in the world and mashed them together. And the best part? This trend has spread worldwide!
I remember reading a post by travel blogger, Tom Tabby, where he exclaimed, "A coffee with a side of cat cuddles? Yes, please!" And honestly, same, Tom. Same.
8. Cats in Online Gaming
Alright, gamer friends, this one's for you. Have you noticed the surge of cat characters in games lately?
From mobile games where you run a cat cafe to console adventures featuring feline protagonists, cats have clawed their way into the gaming world.
And why not? They're agile, they're sneaky, and they've got those razor-sharp reflexes. Perfect for any adventure!
Here's something to mull over – games featuring cats as main characters have seen a whopping 150% increase in downloads in the past year. Clearly, we all want a piece of that cat action!
9. Cats as Therapists: The Calming Cat ASMR Trend
Ever had one of those days where you just need to chill? Enter cat ASMR. The soothing sounds of cats purring, kneading, or even just padding around have become a popular ASMR trend.
And let me tell you, it's the most relaxing thing ever. There's just something about that deep, rhythmic purr that melts all the stress away.
Lila Lynx, an ASMR enthusiast, once shared, "Listening to a cat's purr is my nightly ritual." And after trying it out for myself, I can totally see why!
10. The Global Cat Film Festivals
Okay, this one's for all the cinephiles out there. Did you know there are actual film festivals dedicated solely to cats? Yep, you heard me right!
These festivals showcase the best cat-centric content, from heartwarming documentaries to hilarious animations.
It's like the Oscars, but for cats. And the best part? These festivals are held in over 50 cities worldwide!
Just to give you an idea of the scale – these cat film festivals draw thousands of attendees each year. Talk about a purr-fect evening out!
Final Words: "So, Are You Team Cat Yet?"
Well, there you have it, folks! From viral videos to swanky merch, from TikTok trends to global film festivals, cats have truly shown us who's boss.
They've not just clawed their way into our internet feeds, but also into our hearts. And let's be honest, life's just a tad bit brighter with their antics around.
Now, I've got a challenge for you! Drop a comment below and share your favorite cat moment from the internet. Or better yet, if you've got a feline friend, share a pic or a story. Let's keep the cat love going!
Remember, every day is Caturday on the internet. So, whether you're a lifelong cat lover or a newfound fan, there's no denying it – cats truly are the real kings and queens of the digital realm. Long live the feline reign! 🐱👑💻
Now, over to you! Let's make this the most purr-fect comment section ever. Ready, set, meow! 🐾🎉