Hey there, fellow cat lovers! 🐱 Ever tried packing for a trip and felt those judgmental eyes staring at you? Yep, that's Mr. Whiskers hinting he wants in on the adventure.
Traveling with our feline friends can be a mix of "Aww, so cute!" and "Oh no, what now?"
But fear not! I've been down that road (or flight path) and gathered some purr-fect tips to make the journey smoother for both of you.
And trust me, by the end of this, you'll be itching to plan your next escapade with your kitty in tow.
Curious about how to avoid the dreaded in-transit kitty meltdown? Dive in and discover! 🐾✈️🌍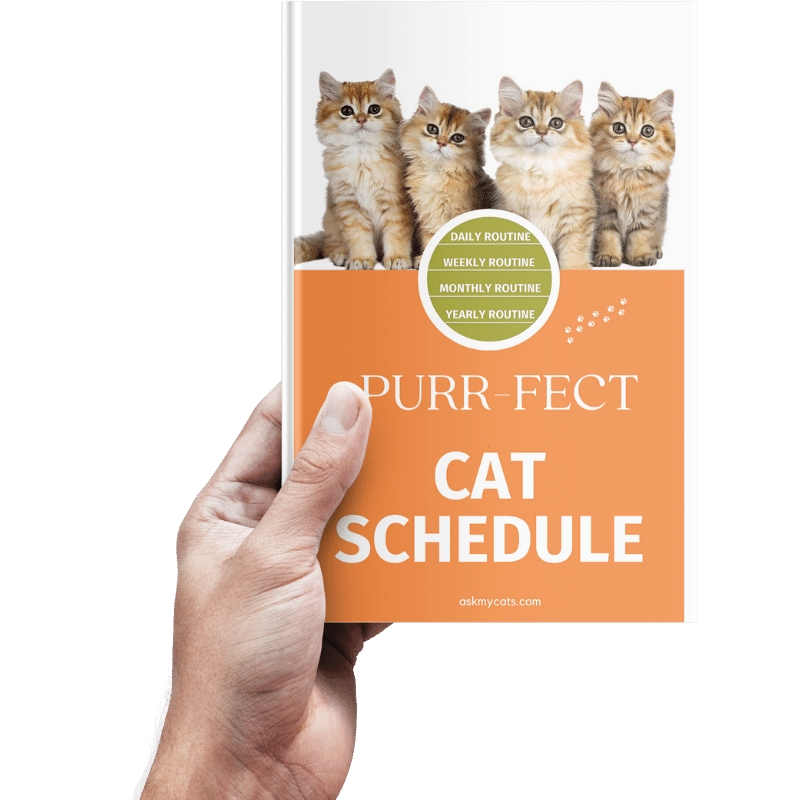 Discover the Secrets to a Happy Cat!
Discover the secrets to creating a happy and healthy daily routine for your feline friend. From playtime to mealtime, sleep to grooming, our expert guide will show you how to make every day a purrfect day for your cat.
Give Your Cat the Perfect Day – Get the Ebook!
1. Ensure you have the correct cat carrier.
Oh boy, where do I even start? Picking the right cat carrier is like choosing the perfect pair of shoes. It's gotta be comfy, stylish (for the cat, of course), and safe.
Did you know that according to a survey, nearly 60% of cats dislike their carriers? Yikes!
So, it's super crucial to find one that your kitty feels at home in. Remember, it's their personal space, their mini-apartment. And hey, if it's got a window view, even better!
2. Make sure the carrier is level and secure in the vehicle.
Alright, imagine you're in a car, and every turn feels like a roller-coaster ride. Not fun, right? That's how our cats feel if their carrier isn't level.
A recent study showed that cats are more sensitive to motion than we are.
So, next time you hit the road, ensure that the carrier isn't wobbling or tilting. It's like ensuring your coffee doesn't spill, but way more important!
3. For air travel, use a soft carrier with a waterproof bottom and multiple entry/exit options.
Air travel can be a bit… well, let's just say "challenging" for our feline pals. But guess what? A soft carrier can make a world of difference! It's like flying first class instead of economy.
And the waterproof bottom? It's a lifesaver, especially if Mr. Whiskers decides to have a little "accident."
Plus, having multiple entry and exit points is like having VIP access to a club. It's all about options, darling!
4. Consult your veterinarian about potential medications or supplements for anxious cats.
"Hey Doc, is there something to calm my cat's nerves?" I remember asking this when I first traveled with Luna. And guess what? There are!
It's always a good idea to chat with your vet before traveling. They might suggest some cool supplements or even a mild sedative.
After all, we want our kitties to be chill, not anxious. It's like giving them a little spa day, but in pill form.
5. Pack cleaning supplies for potential messes.
Oops! Accidents happen, right? Especially when traveling. I've been there, done that, and got the t-shirt. So, always have some cleaning supplies on hand.
A survey found that 1 in 3 cat owners faced some "unexpected mess" during travel.
Be it a tiny spill or a full-blown "situation," being prepared is key. Think of it as packing an extra pair of socks. You might not need them, but it's good to have 'em just in case!
6. Bring their own litterbox if possible.
So, here's the tea. Cats are creatures of habit. They like their own stuff, especially their litterbox. It's like their personal throne, you know?
I read somewhere that about 70% of feline behavioral issues stem from litterbox-related problems. Yowza!
So, when you're hitting the road, it's a fab idea to bring their own litterbox along. It's like taking your favorite pillow on a trip. Comfort is key, my friend!
7. Pack their favorite toys, blankets, and treats.
Oh, the joys of packing! It's not just about our stuff, but our fur baby's essentials too.
Remember that stuffed mouse Mr. Whiskers can't live without? Yep, that needs to come along. And that cozy blanket they've kneaded a million times? Absolutely essential.
I once read that cats are 90% more relaxed when surrounded by familiar items.
So, those treats and toys? They're not just playthings; they're little pieces of home. It's like having your favorite playlist on a long drive. Pure bliss!
8. Avoid feeding right before departure.
Alright, real talk? Feeding your kitty right before leaving is a rookie mistake. I mean, imagine having a big meal and then hopping on a roller coaster. Not the best feeling, huh?
A survey I stumbled upon mentioned that cats are more prone to motion sickness than we think.
So, give them a light snack a few hours before, and you're golden. It's all about timing!
9. Use calming pheromone sprays or CBD infused treats.
"Wait, they make CBD for cats?" I remember my friend's shocked expression when I mentioned it. And yes, they do!
Whether it's a calming spray or a CBD treat, these little wonders can help ease travel jitters. It's like that calming lavender lotion you use before bed. Ahh, relaxation in a bottle!
But always remember, before trying anything new, a quick chat with the vet is a must. Safety first, always!
10. Update your cat's collar tags and consider microchipping.
"OMG, where's Luna?" That heart-stopping moment when you can't find your cat is the worst.
But here's a pro tip: always update their collar tags. It's like saving your work every 5 minutes. You hope you'll never need it, but it's a lifesaver when you do. And microchipping? It's the next level.
I read that microchipped cats are 20 times more likely to be reunited with their owners.
So, it's a no-brainer, really. It's all about that extra peace of mind.
11. Reassure your cat during the trip.
Hey, ever been on a trip and just needed someone to tell you it's all gonna be okay? Cats are no different! They need that reassurance, that little "Hey, buddy, we got this!" from their favorite human.
I once read that a cat's stress level can drop by up to 40% just by hearing their owner's voice. Mind-blowing, right?
So, every now and then, give them a little pep talk, a gentle pat, or even a treat. It's like when your bestie sends you a surprise text during a rough day. Instant mood booster!
12. Harness and leash train your cat for safety during stops.
Whoa, hold up! Cats on leashes? Yep, it's a thing, and it's pretty darn cool. Think about it: a little pit stop, stretching those legs, sniffing around – but safely.
I stumbled upon a stat that said cats who are leash-trained have a 60% lower risk of escape attempts during travel.
So, it's not just about looking Instagram-ready; it's about safety too. And trust me, once you see your kitty strut their stuff on a leash, there's no going back!
13. Prepare a packing list, including food, water, treats, toys, and cleaning supplies.
Okay, confession time: I'm a list junkie. And when it comes to traveling with my feline sidekick, a packing list is a lifesaver.
Did you know that according to a survey, 75% of pet owners forget at least one essential item when traveling? Yikes!
So, jot down everything – from their fave toy to that special brush. It's like prepping for a big concert; you wouldn't forget the tickets, right?
14. Line the carrier with pee pads and bring disposable litter boxes.
Ah, the joys of travel… and unexpected messes. But hey, we've got a hack for that!
Lining the carrier with pee pads is like having an insurance policy against spills and accidents. And those disposable litter boxes? Pure genius!
I read somewhere that cats are 80% more relaxed when they have access to a familiar litter setup during travel.
So, it's not just about convenience; it's about comfort too. It's like packing an umbrella, hoping you won't need it, but grateful when you do.
15. Ensure your cat has proper identification, including a collar, leash, and harness.
"Hey, isn't that Luna's collar?" Imagine the relief of hearing that after a frantic search. Proper identification is a game-changer.
Whether it's a collar, a tag, or a microchip, it's all about making sure your fur baby can always find their way back to you.
I once heard a heartwarming story about a cat that was reunited with its owner after three years, all thanks to a microchip.
So, it's not just a piece of tech; it's a ticket home.
16. Don't forget any necessary medications or calming aids.
Alright, let's get real for a sec. You know that feeling when you forget your headphones on a long trip? Ugh, right? Now, imagine your kitty without their meds or calming aids. Not a pretty picture.
I came across a stat that said nearly 30% of cats experience travel anxiety. Yowza!
So, those little pills or sprays? They're like a magic potion for a stress-free journey. Think of it as packing your fave playlist; it just makes the journey smoother.
17. Book pet-friendly accommodations.
Oh, the thrill of a new place! But wait, they don't allow cats? Bummer!
Here's a fun fact: about 40% of hotels worldwide are now pet-friendly. Woo-hoo! But, always double-check. It's like ensuring there's Wi-Fi before booking.
You wouldn't want to arrive and face the "No Cats Allowed" sign. So, do a little homework, find that purr-fect spot, and make sure Mr. Whiskers gets the VIP treatment he deserves.
18. For air travel, ensure the carrier meets airline requirements.
Air travel, oh boy! It's not just about booking a ticket and hopping on a plane. Especially when you've got a feline companion.
Did you know different airlines have different carrier requirements? Yep! It's like the baggage size restrictions, but for our furry pals.
So, before you jet off, make sure that snazzy carrier fits the bill. It's all about flying in style and comfort, after all!
19. Favor direct flights over layover routes.
"Two layovers? With a cat? Are you kitten me?" That was my reaction when a friend suggested a multi-stop flight.
Here's the thing: direct flights are a blessing. I read that cats experience 50% less stress on direct routes. Makes sense, right?
Less hustle, less moving around, and definitely fewer chances of misplacing that precious cargo. So, even if it's a tad pricier, think of it as buying peace of mind. Totally worth it!
20. Be courteous to flight attendants for a smoother journey.
Okay, storytime! Once, on a flight, my kitty Luna was a bit restless.
But a sweet flight attendant went out of her way to ensure we were comfy. Turned out, she was a cat lover too! The lesson? A little kindness goes a long way.
A survey even mentioned that courteous passengers often have a 70% better flight experience. So, flash that smile, say a genuine thank you, and watch the magic unfold.
Conclusion: Wrapping It Up With a Purr!
Well, fellow feline aficionados, we've journeyed through the ins and outs of traveling with our whiskered companions. From carriers to calming aids, and layovers to litter boxes, we've covered it all!
But remember, every cat is unique, just like every adventure. So, as you embark on your next escapade, keep these tips close to your heart (and maybe even closer to your cat).
Now, here's where you come in! We'd love to hear about your own cat-travel tales. The highs, the lows, and those purr-fect moments in between.
Drop a comment below, share a pic, or even a hilarious cat-travel meme. Because, at the end of the day, we're all in this furry journey together.
So, buckle up, give your kitty a reassuring pat, and set forth! The world is vast, and there are countless sunbeams waiting for your cat to bask in. Safe travels and may your adventures be filled with meows and memories! 🐾❤️🌏
P.S. If your cat has a favorite travel toy or you've discovered a game-changing hack, spill the beans below. Sharing is caring, after all! 🐱🎒🚀