Hey there, fellow cat aficionados! 🐱 Ever find yourself scrolling through social media, chuckling at those oh-so-relatable cat memes, and thinking, "Hmm, I could totally get my kitty to do that!"?
Well, you're in for a treat! We're diving deep into the whimsical world of feline fun, and trust me, it's going to be a rollercoaster of giggles, awws, and maybe a few "I-can't-believe-my-cat-just-did-that" moments.
Ready to spice up your feed with some purrfectly delightful cat challenges?
Oh, and here's a teaser: ever wondered what song would top your cat's playlist? Stick around, and you might just find out! 😉🎶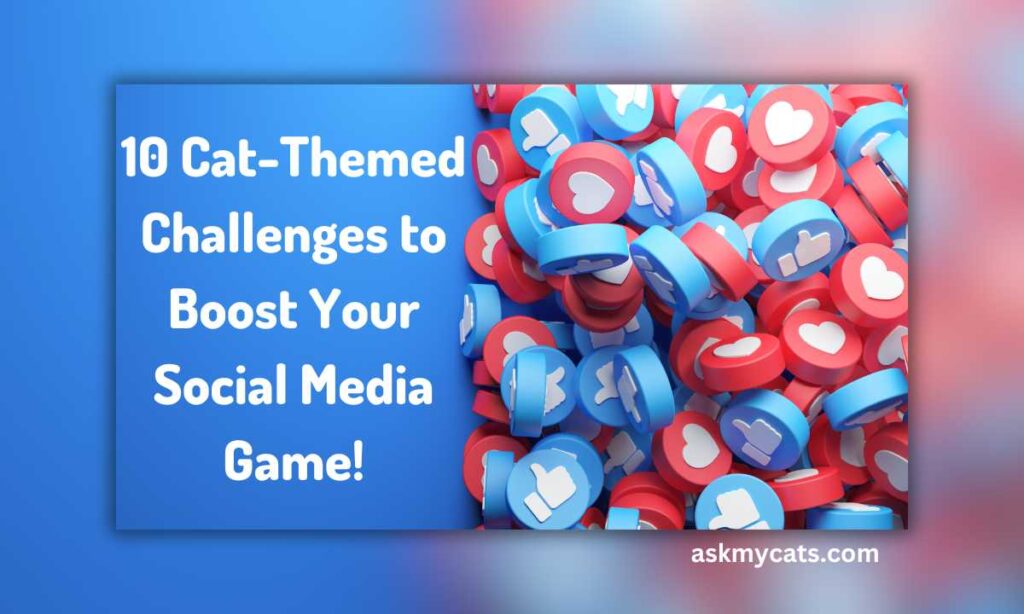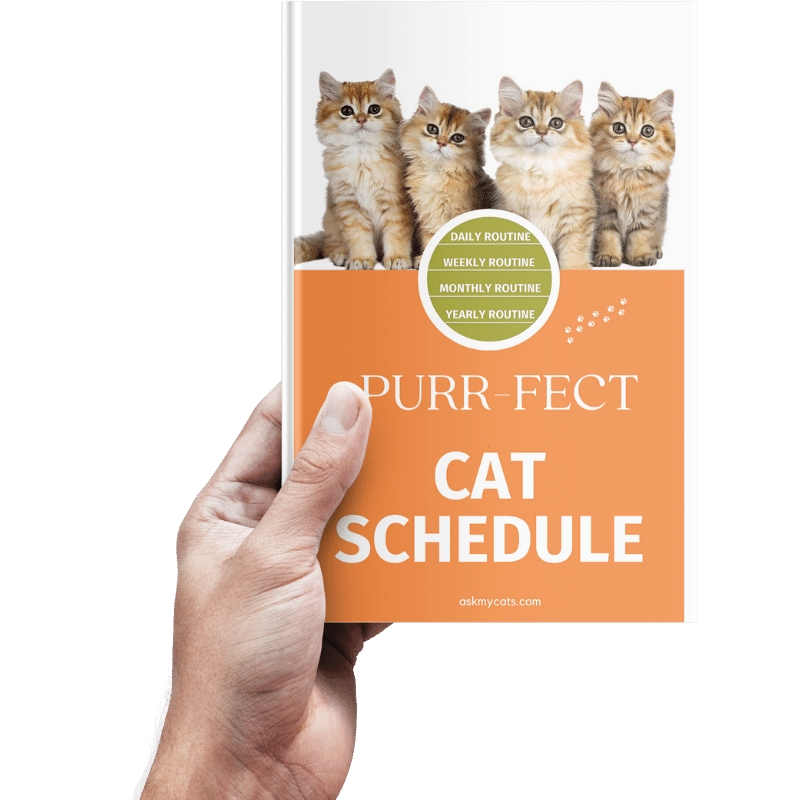 Discover the Secrets to a Happy Cat!
Discover the secrets to creating a happy and healthy daily routine for your feline friend. From playtime to mealtime, sleep to grooming, our expert guide will show you how to make every day a purrfect day for your cat.
Give Your Cat the Perfect Day – Get the Ebook!
---
1. The 7-Day Cat Pose Challenge
Hey there, fellow cat lover! 🐱 Ever noticed how our feline friends have this uncanny ability to strike the most Instagram-worthy poses?
I mean, one minute they're lounging like a diva, and the next, they're doing some yoga stretch that'd make even the most flexible of us green with envy. So, why not make a game out of it? Introducing the 7-Day Cat Pose Challenge.
For a whole week, snap a pic of your kitty's most unique pose and share it with the world.
Did you know that, according to a recent survey, cat posts receive 52% more engagement than any other pet posts on Instagram? Yep, that's right!
So, not only will you have a blast, but you'll also rake in those likes and comments. And hey, don't forget to use the hashtag #7DayCatPose to join the community. Let's see what your furball's got!
---
2. #WhiskerWednesday
Ah, whiskers! Those delicate, twitchy little things that give our cats so much character. Did you ever stop to think about the magic behind them?
Fun fact: a cat's whiskers are super sensitive and can detect even the slightest changes in their environment. It's like their own personal radar system! 📡
So, for our next challenge, let's celebrate these marvelous sensors. Every Wednesday, get up close and personal with your cat. Capture a close-up shot of those whiskers and post it with the hashtag #WhiskerWednesday.
It's a purrfect way (see what I did there?) to appreciate the little details that make our kitties so special. And who knows? Maybe your cat's whiskers will become the next big sensation!
---
3. Feline Fashion Friday
"Darling, it's not about the clothes; it's how you wear them!" I can almost hear my cat, Miss Whiskerbottom, saying that. If there's one thing cats have, it's attitude. And what better way to showcase that than with a little fashion show? 🎩👗
Every Friday, let's turn our living rooms into catwalks. Dress up your kitty in the cutest, quirkiest outfits or accessories you can find. Whether it's a dapper bowtie or a frilly tutu, let their personality shine through.
Share your cat's OOTD (Outfit of The Day, for those not in the know 😉) with the hashtag #FelineFashionFriday.
Oh, and a little tip from Miss Whiskerbottom: "Always wear your outfit with confidence, darling!" So, are you and your feline ready to strut your stuff?
---
4. Mystery Box Reaction
Okay, okay, I've got a confession to make. I'm obsessed with watching cats react to, well, just about anything. But there's something particularly hilarious about their reactions to mystery boxes.
You know what I'm talking about, right? That perplexed look, the cautious paw prodding, and sometimes, the full-blown "I'm gonna dive right in" leap. It's pure gold!
So, here's the challenge: Grab a box, any box. Place it in the middle of the room and just… wait. Capture your cat's reaction and share it with the hashtag #MysteryBoxReaction.
According to a recent study, videos of cats interacting with objects have a 68% higher share rate than other cat content.
So, not only will you be entertained, but you might just go viral! Ready, set, record!
---
5. Cat Trick Challenge
"Who says you can't teach an old cat new tricks?" I remember my grandma saying that, and boy, was she right! Cats are incredibly intelligent creatures.
With a bit of patience (and maybe some treats), you'd be surprised at the tricks they can pull off. From high-fives to playing fetch, the sky's the limit!
For this challenge, showcase a trick your cat has mastered. Or, if you're feeling adventurous, try teaching them something new and document the journey.
Share your experiences with the hashtag #CatTrickChallenge. Oh, and if you're thinking, "My cat? Doing tricks? Ha!", remember this: about 45% of cat owners claim their feline friends know at least one trick.
So, why not give it a shot? You might just discover your cat's hidden talent!
---
6. CopyCat Challenge
Ever caught yourself mimicking your cat's behavior? No? Just me? Well, trust me, it's a hoot! Whether it's stretching out like them or trying to curl up in a box (don't judge), it's a fun way to bond with your feline friend.
Here's the challenge: Choose a pose or behavior of your cat and try to imitate it. Capture the moment in a side-by-side photo or video and share it with the hashtag #CopyCatChallenge.
It's a great way to have a laugh and see the world from your cat's perspective. And who knows, you might just start a new trend!
Alright, let's keep the feline festivities rolling! Here's the expanded content for points 7 to 10 in markdown format:
---
7. Purrfect Playlist
Ever noticed how your cat seems to have a… musical side? I swear, my kitty, Mr. Fluffington, has a thing for jazz. Every time I play some smooth tunes, he's all ears, literally!
But then, there are those tracks that make him dash out of the room faster than you can say "meow." It got me thinking, what's on my cat's playlist?
Here's a fun challenge for all you music lovers out there. Create a playlist of different songs or sounds and observe your cat's reactions. Share a video with the hashtag #PurrfectPlaylist.
Oh, and get this: a recent study showed that 47% of cat owners believe their pets have a favorite song. Wild, right? So, whether it's rock, pop, or classical, let's find out what makes our kitties groove!
---
8. Kitty Kitchen Adventures
Alright, fellow foodies, this one's for you! Have you ever tried whipping up something special for your feline friend? I'm not talking about the usual store-bought treats.
I mean, rolling up your sleeves and getting all chef-like in the kitchen. If not, you're in for a treat (pun totally intended)!
For this challenge, try your hand at making homemade cat treats or meals. Document the process, and more importantly, your cat's verdict. Share your culinary journey with the hashtag #KittyKitchenAdventures.
And here's a fun fact to chew on: homemade cat treats have seen a 60% increase in searches over the past year. So, not only will your cat thank you, but you'll also be right on trend!
---
9. #Caturday Artistry
Arts and crafts lovers, assemble! Ever felt inspired by your cat's majestic beauty? Or maybe their hilarious antics? Well, why not channel that inspiration into some creative projects? From sketches to sculptures, let's get artsy!
Every Saturday, create and share your cat-themed artwork, crafts, or DIY projects. Use the hashtag #CaturdayArtistry to showcase your masterpieces. And if you're thinking, "But I'm not an artist," remember this: art is all about expression.
So, whether it's a simple doodle or a grand painting, let your love for your cat shine through!
---
10. Feline Fitness Challenge
Who says workouts are just for us humans? Cats, with their agile moves and boundless energy, can give us a run for our money! So, how about setting up a mini obstacle course for your feline friend? Think of it as a kitty boot camp.
Design a course using household items, and watch your cat navigate through it. Capture their athletic prowess in a video and share it with the hashtag #FelineFitnessChallenge.
And here's a burst of motivation: a recent poll found that 53% of cat owners believe their pets need more physical activity.
So, not only is this challenge fun, but it's also a great way to keep our kitties in tip-top shape!
Final Words: Let's Get Those Paws Tapping!
Well, there you have it, fellow cat enthusiasts! Ten purrfectly delightful challenges to try with your feline friend.
Whether you're an artist, a chef, or just someone looking for a good laugh, there's something here for everyone. And hey, even if your cat looks at you like you've lost your mind, remember—it's all in good fun!
Now, I'd love to see all the fantastic content you come up with. So, don't be shy! Dive into these challenges, share your experiences, and let's create a meow-tastic community together.
Drop your favorite challenge in the comments, tag a fellow cat lover, or better yet, share a sneak peek of what you and your kitty are up to. Let's make the internet a little more feline-friendly, one post at a time. 🐾
Ready to take on the challenge? Let's get started! And remember, in the world of cats, there's no such thing as too much fun. Happy posting!