Cat dental hygiene is often overlooked, but it plays a crucial role in maintaining your feline companion's overall health. Regular dental cleanings are necessary to prevent dental problems such as tooth decay and gum disease.
However, it's essential to be aware of the potential risks associated with cat teeth cleaning.
In this article, we will explore the importance of dental cleaning for cats, its safety, what to expect during the procedure, pros and cons, signs indicating the need for dental cleaning, and how often your cat's teeth should be checked by a veterinarian.
Key Takeaways

Cat dental hygiene is crucial for overall health, preventing tooth decay and gum disease.
Pros of cat teeth cleaning: maintenance of oral hygiene, reduced risk of heart disease, improved overall health and quality of life.
Cons of cat teeth cleaning: requirement of anesthesia, potential expenses, stress or discomfort during the procedure.
Signs indicating the need for dental cleaning: bad breath, swollen gums, refusal to eat hard food, broken/discolored/loose teeth, swelling of the face and mouth, difficulty eating/dropping food from the mouth.
Frequency of veterinary teeth checks: juniors (up to 2 years) every 6 months, adults and seniors once a year, seniors (11+ years) every 6 months.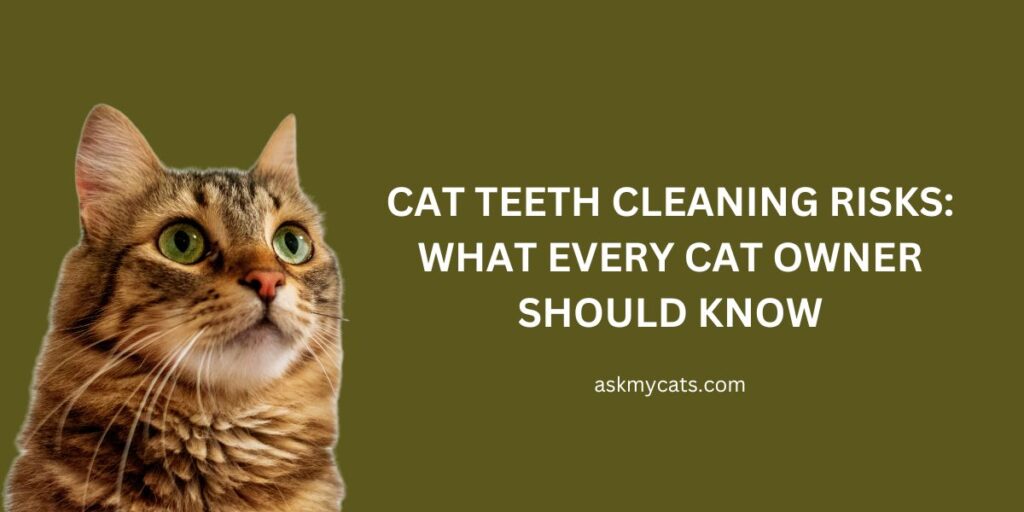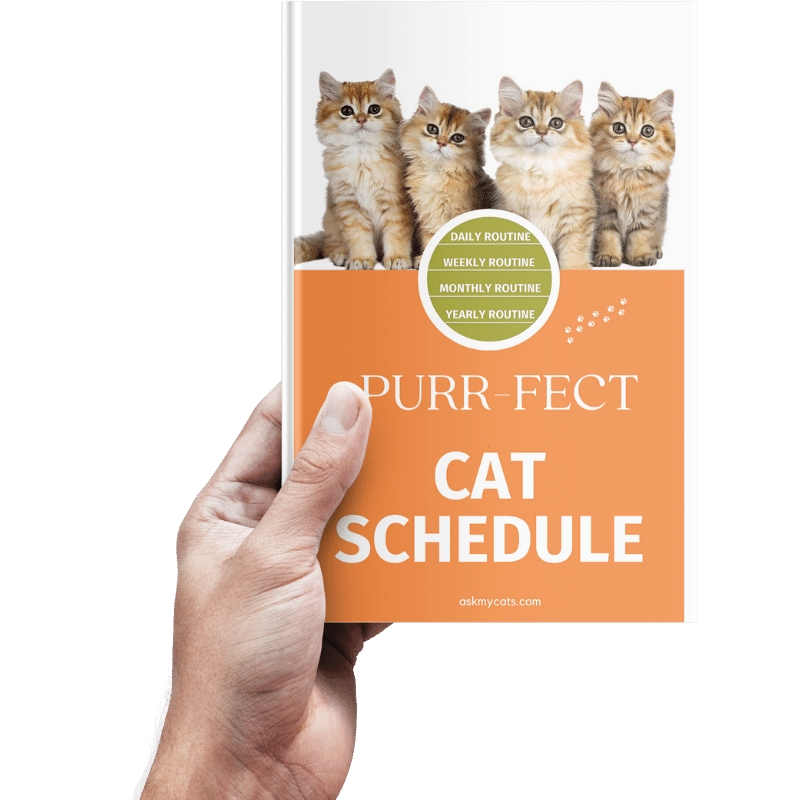 Discover the Secrets to a Happy Cat!
Discover the secrets to creating a happy and healthy daily routine for your feline friend. From playtime to mealtime, sleep to grooming, our expert guide will show you how to make every day a purrfect day for your cat.
Give Your Cat the Perfect Day – Get the Ebook!
Why Do Cats Need Dental Cleaning?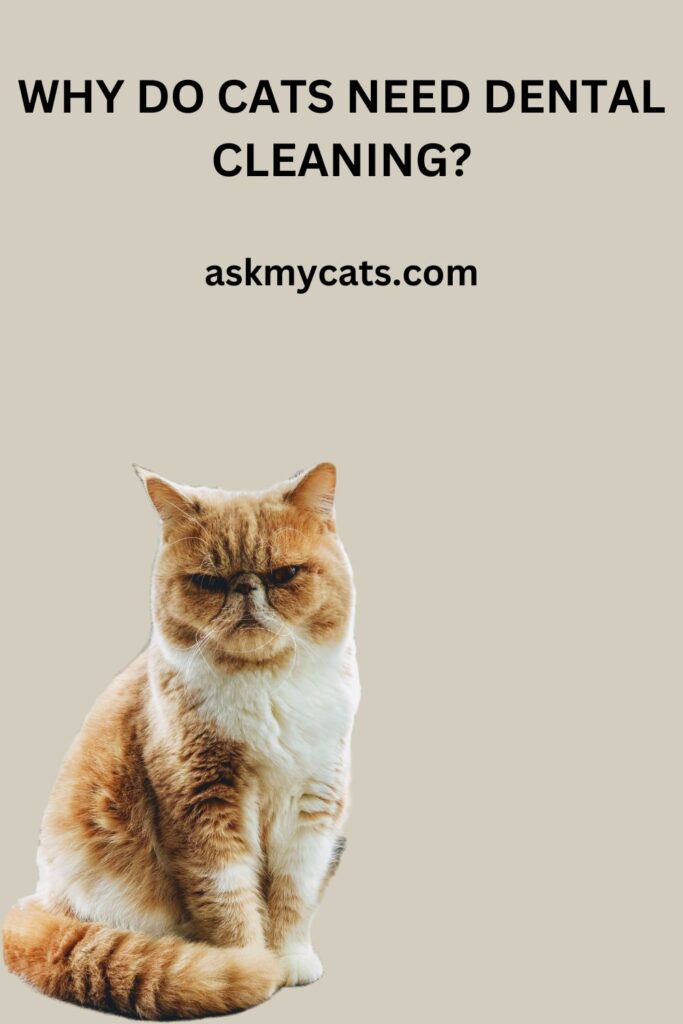 Maintaining good oral hygiene is essential for cats, just as it is for humans. Dental cleaning plays a vital role in keeping teeth and gums healthy.
Here's why cats need dental cleaning:
1. Significance of Dental Cleaning for Oral Hygiene
Cats are susceptible to dental problems such as plaque and tartar buildup, gum disease, and tooth decay.
Regular dental cleanings help remove these issues and prevent the progression of oral diseases. It ensures that their teeth and gums stay clean, reducing the risk of painful infections and other complications.
2. Potential Impact on Overall Health, including Heart Disease
Dental problems in cats can have far-reaching effects beyond their oral cavity. The bacteria present in plaque and tartar can enter the bloodstream and spread to vital organs, including the heart.
This can lead to serious health conditions such as endocarditis (inflammation of the heart lining) or other cardiovascular problems. By maintaining good dental health through regular cleanings, the risk of developing such systemic diseases is significantly reduced.
3. Preventive Measures through Regular Dental Cleanings
Prevention is key when it comes to cat dental care. By scheduling regular dental cleanings, typically performed by a trained veterinarian or veterinary technician, you can proactively address any potential dental issues before they escalate.
These cleanings involve a thorough oral examination, removal of plaque and tartar buildup, and a chance to identify any underlying problems.
Additionally, your veterinarian can provide valuable guidance on home dental care practices, such as brushing your cat's teeth or using dental treats, to supplement their professional cleanings.
Check Out: How Much Does Cat Teeth Cleaning Cost?
Safety of Cat Teeth Cleaning
When it comes to cat teeth cleaning, ensuring the safety of the procedure is of utmost importance.
Here's why it's crucial to have dental cleanings performed by trained professionals and understand the associated risks of anesthesia:
1. Importance of Trained Professionals
Cat teeth cleaning should always be performed by trained veterinarians or veterinary technicians who have the necessary expertise and experience in dental care for animals.
They are skilled in conducting thorough oral examinations, identifying dental issues, and using specialized dental tools effectively and safely.
Their expertise ensures that the cleaning procedure is performed with precision, minimizing the risk of complications.
2. Anesthesia and Associated Risks
In many cases, anesthesia is necessary for cat teeth cleaning to ensure the cat remains still and comfortable during the procedure. While anesthesia carries inherent risks, it is generally considered safe when proper precautions are taken.
The administration of anesthesia allows the veterinarian to perform a thorough cleaning without causing stress or discomfort to the cat. It also facilitates the examination and treatment of potential dental problems more effectively.
3. Low Risk of Death from Anesthesia
It is natural to have concerns about the risks associated with anesthesia during cat teeth cleaning. However, it's essential to understand that the risk of death from anesthesia is very low when appropriate measures are in place.
Before administering anesthesia, a preoperative evaluation is typically performed, which includes blood work and assessing the cat's heart and lung health.
These evaluations help identify any potential risks or underlying conditions that could affect the cat's response to anesthesia.
When dental cleanings are performed by trained professionals who follow established protocols, the risk of complications is significantly reduced. Veterinary teams are trained to monitor cats closely during the procedure, ensuring their safety and well-being.
What to Expect During Cat Teeth Cleaning?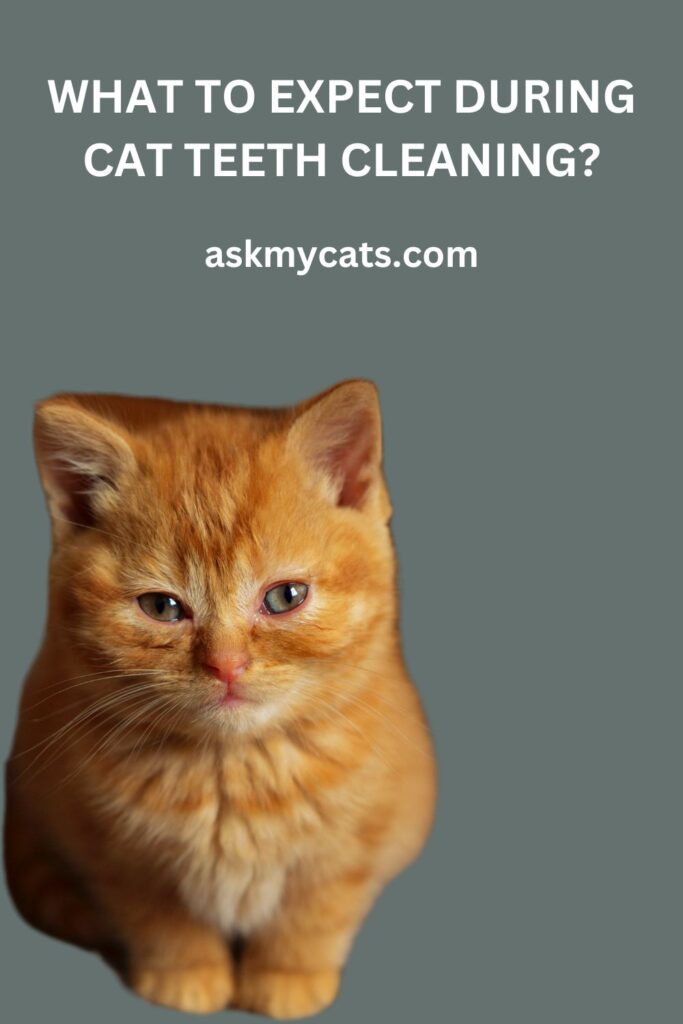 When you bring your cat in for a dental cleaning, there are several key elements to anticipate. Understanding the process will help you prepare and ensure a successful dental cleaning experience for your cat.
Here's what you can expect during cat teeth cleaning:
1. Oral Examination
The dental cleaning procedure begins with a thorough oral examination performed by a veterinarian or veterinary technician.
They will assess the overall condition of your cat's teeth and gums, looking for signs of dental problems such as plaque, tartar buildup, gum inflammation, or tooth decay. This examination helps identify any underlying issues that may require additional treatment.
2. Specialized Dental Tools
To remove plaque and tartar buildup, specialized dental tools are used. These tools include scalers and curettes designed to carefully scrape away plaque and tartar from the tooth surfaces and below the gum line.
The veterinary team will utilize their expertise to ensure effective plaque removal without causing harm to the teeth or gums.
3. Anesthesia for Comfort and Safety
In most cases, anesthesia is administered during cat teeth cleaning to ensure the comfort and safety of the cat. Anesthesia allows the veterinary team to work more efficiently without causing stress or discomfort to your cat.
It also minimizes the risk of injury from sudden movements during the procedure. Prior to administering anesthesia, the veterinarian will evaluate your cat's overall health and may perform preoperative blood work to assess any underlying conditions that could impact the anesthesia process.
3. Post-Procedure Monitoring and Recovery
After the dental cleaning is complete, your cat will be closely monitored during the recovery period. The veterinary team will observe vital signs, such as heart rate and respiration, to ensure a smooth recovery from anesthesia.
Some cats may require a short period of time to fully wake up and regain their balance. Once your cat is awake and alert, it will be allowed to recover in a quiet, comfortable area.
During the recovery period, it's essential to follow any post-operative care instructions provided by your veterinarian. This may include dietary recommendations, pain management, and guidelines for at-home dental care.
Monitoring your cat's behavior and appetite after the procedure is important, as any changes could indicate complications or the need for further veterinary attention.
Interesting Read: Cat Behavior After Teeth Cleaning
Common Risks Associated with Cat Teeth Cleaning
| Risk | Description |
| --- | --- |
| Anesthesia-related complications | Cats undergoing professional teeth cleaning require anesthesia, which poses potential risks and side effects. Common complications include respiratory issues, cardiac problems, and adverse reactions to anesthesia. |
| Dental instrument injuries | Improper handling of dental instruments during cleaning can lead to injuries such as gum lacerations, oral tissue damage, and tooth fractures. |
| Bacterial infections | Invasive dental procedures can introduce bacteria into the bloodstream, potentially causing infections in other parts of the body, such as the heart, liver, or kidneys. |
| Allergic reactions to cleaning agents | Cats may develop allergic reactions to the cleaning agents used during professional teeth cleaning, leading to symptoms like itching, swelling, or difficulty breathing. |
| Stress and anxiety | The process of cat teeth cleaning can be stressful for feline patients, leading to increased anxiety, fear, and potential behavioral issues. |
| Post-operative discomfort and pain | Cats may experience discomfort, pain, or sensitivity in their mouth and gums after teeth cleaning, requiring additional care and management. |
Pros of Cat Teeth Cleaning
1. Maintenance of Good Oral Hygiene and Prevention of Dental Problems:
Regular dental cleanings help remove plaque and tartar buildup from your cat's teeth, preventing dental issues such as gum disease, tooth decay, and bad breath.
By maintaining good oral hygiene, you can enhance your cat's overall dental health and reduce the risk of painful infections or tooth loss.
2. Reduced Risk of Heart Disease:
Dental problems, when left untreated, can lead to bacterial infections that may enter the bloodstream. These bacteria can then travel to the heart, potentially causing conditions such as endocarditis.
By addressing dental issues through cleanings, you can reduce the risk of heart disease and promote your cat's cardiovascular health.
3. Improved Overall Health and Quality of Life for Cats:
Maintaining good oral health has a positive impact on your cat's overall well-being. By preventing dental problems, you can help your cat avoid pain, discomfort, and potential complications associated with dental issues.
This, in turn, contributes to their overall quality of life, allowing them to eat, groom, and play comfortably.
Cons of Cat Teeth Cleaning
1. Requirement of Anesthesia, Which Carries a Small Risk:
To perform thorough dental cleanings, anesthesia is often required to ensure the cat remains still and cooperative during the procedure. Although the risks associated with anesthesia are generally low, there is always a small inherent risk.
However, preoperative evaluations and appropriate monitoring significantly minimize these risks, making anesthesia a safe option for dental cleanings.
2. Potential Expenses Associated with Dental Cleanings:
Cat teeth cleanings may involve professional fees, anesthesia costs, and any additional treatments required for dental issues. These expenses can vary depending on the complexity of the procedure, the clinic's location, and the specific needs of your cat.
It's essential to consider the financial aspect and discuss the costs with your veterinarian to make informed decisions about your cat's dental care.
3. Stress or Discomfort During the Procedure:
Some cats may experience stress or discomfort during dental cleanings, particularly due to the use of anesthesia and the invasive nature of the procedure.
However, the professional veterinary team strives to minimize stress by providing a calm environment, closely monitoring the cat's well-being, and ensuring a smooth recovery process.
It's important to discuss any concerns with your veterinarian and explore techniques to help alleviate stress, such as pre-and post-procedure relaxation strategies.
Interesting Read: How to Keep Your Cat's Teeth Clean Without Brushing?
Signs Indicating the Need for Dental Cleaning
Cats, unlike humans, are not prone to showing obvious signs of dental pain. Therefore, regular dental checkups and awareness of potential signs indicating the need for dental cleaning are essential.
Here are common indications that your cat may require dental cleaning:
Bad Breath: Persistent bad breath, also known as halitosis, is one of the most noticeable signs of dental problems in cats. Foul odor from the mouth can be caused by bacterial buildup, gum disease, or tooth decay. If your cat's breath consistently smells unpleasant, it may indicate the need for a dental cleaning.
Swollen Gums: Healthy gums should appear pink and firm. If you notice redness, swelling, or inflammation in your cat's gums, it could be a sign of gingivitis or periodontal disease. These conditions often result from the accumulation of plaque and tartar, and professional dental cleaning may be necessary to address the issue.
Refusal to Eat Hard Food: Cats with dental problems may have difficulty chewing or experience pain while eating. Consequently, they may avoid hard food and show a preference for softer options. If your cat suddenly starts refusing or struggling with hard kibble, it could indicate dental issues that require attention.
Broken, Discolored, or Loose Teeth: Visible abnormalities in the teeth should be promptly addressed. Broken, discolored, or loose teeth can indicate dental trauma, advanced decay, or periodontal disease. These conditions often necessitate dental cleaning and potential tooth extractions to alleviate pain and prevent further complications.
Swelling of the Face and Mouth: Swelling around the face, particularly in the cheek or jaw area, can indicate dental abscesses or infections. These conditions require immediate attention, as they can be extremely painful for cats. Dental cleaning, along with appropriate treatment, can help resolve the underlying cause of the swelling.
Difficulty Eating or Dropping Food from the Mouth: Cats experiencing dental pain may exhibit difficulties while eating. They may chew on one side of their mouth or drop food while eating due to discomfort. If you observe such eating behavior, it could be indicative of dental problems requiring dental cleaning.
Interesting Read: Home Remedies for Cat Tartar Removal
Frequency of Veterinary Teeth Checks For Cats
Regular veterinary teeth checks are essential for maintaining your cat's oral health and detecting dental issues early on. The frequency of these check-ups may vary depending on your cat's life stage.
Here's a breakdown of the recommended check-up intervals based on different life stages:
Junior Cats (Up to 2 Years Old): During the junior stage, which encompasses the first two years of a cat's life, rapid changes and development occur. It is recommended to have veterinary teeth checks every six months during this period. These frequent check-ups allow the veterinarian to monitor the growth of adult teeth, address any dental abnormalities, and establish a strong foundation for long-term oral health.
Adult Cats (3 to 6 Years Old) and Mature Cats (7 to 10 Years Old): For otherwise healthy adult cats and mature cats, annual veterinary teeth checks are generally sufficient. These check-ups, conducted once a year, focus on preventive measures and maintaining optimal well-being. The veterinarian will assess the overall oral health, perform dental cleanings if necessary, and provide recommendations for at-home dental care.
Senior Cats (11 Years and Older): Senior cats require more frequent veterinary teeth checks due to age-related health issues that may affect their dental health. It is recommended to have dental check-ups every six months for senior cats. These regular examinations allow for close monitoring of dental conditions such as tooth decay, periodontal disease, and other age-related dental issues. Early detection and intervention are crucial to managing these conditions effectively and preserving your senior cat's oral health and comfort.
In addition to the specific life stages, the American Veterinary Medical Association (AVMA) recommends that a cat's teeth and gums should be checked at least once a year by a veterinarian.
These annual dental check-ups serve as an opportunity to detect any early signs of dental problems and maintain a healthy mouth.
Alternatives to Professional Cat Teeth Cleaning
| Alternative | Description |
| --- | --- |
| Regular home dental care | Consistent at-home dental care, such as tooth brushing with feline-specific toothpaste, can help prevent plaque buildup and tartar. Must Read: How to Brush a Cat's Teeth: Step-by-Step Guide |
| Dental treats and toys | Specialized dental treats or toys designed to promote oral health can help reduce tartar and improve dental hygiene in cats. |
| Prescription dental diets | Certain cat food formulas are designed to support dental health by reducing plaque and tartar formation. |
| Water additives and oral gels | These products can be added to a cat's drinking water or applied directly to their teeth to help control plaque and freshen breath. |
| Regular veterinary check-ups | Routine dental examinations by a veterinarian can help identify early signs of dental issues and provide appropriate treatment. |
| Non-anesthetic dental cleanings | Some veterinary clinics offer non-anesthetic dental cleanings as a less invasive option for cats with mild dental problems. |
Frequently Asked Questions
Can I clean my cat's teeth at home?
While at-home dental care, such as brushing your cat's teeth, can help maintain oral hygiene, professional dental cleanings are necessary to address tartar buildup and detect underlying issues. Your veterinarian can guide you on the best dental care practices for your cat.
How can I reduce the stress during my cat's dental cleaning?
To minimize stress, choose a reputable veterinary clinic experienced in handling dental cleanings. Ask about pre- and post-procedure relaxation techniques and discuss any concerns you have with your veterinarian.
Can dental cleanings prevent heart disease in cats?
Dental cleanings can help reduce the risk of heart disease in cats. By maintaining good oral health and preventing bacterial infections, you can minimize the chances of bacteria entering the bloodstream and potentially affecting the heart.
Are there any alternatives to anesthesia for cat teeth cleaning?
Anesthesia is typically used for cat teeth cleaning to ensure the cat's comfort and safety during the procedure. It allows for thorough cleaning and examination. Discuss any concerns about anesthesia with your veterinarian.
How long does it take for a cat to recover from a dental cleaning?
The recovery time after a dental cleaning can vary. Most cats recover quickly from anesthesia, but they may need a short period of monitoring to ensure a smooth recovery. Your veterinarian will provide specific post-procedure care instructions.
Final Words
Maintaining proper dental hygiene for your cat is essential to prevent dental problems and ensure their overall well-being. While cat teeth cleaning is generally safe, it's important to be aware of the associated risks, such as the use of anesthesia.
Regular veterinary checkups and discussions with your veterinarian will help determine the frequency of dental cleanings your cat requires. By staying vigilant and addressing dental issues promptly, you can help your feline friend lead a healthier and happier life.
Interesting Read: The Importance of Teeth Cleaning for Older Cats
References