Hey there, fellow night owls and cat lovers! Ever found yourself jolted awake by a furry paw at 3 AM? Oh, the joys of cat parenting, right?
We adore our whiskered companions, but let's be real: those midnight "playtimes" can be a tad exhausting. So, what's the secret to syncing our sleep schedules with our feline friends?
Well, buckle up, because I've got some purr-fect tips coming your way. And trust me, by the end of this, you'll be wondering: "Why didn't I think of that sooner?"
Ready to dive into the world of peaceful cat nights? Let's pounce right in! 🐾💤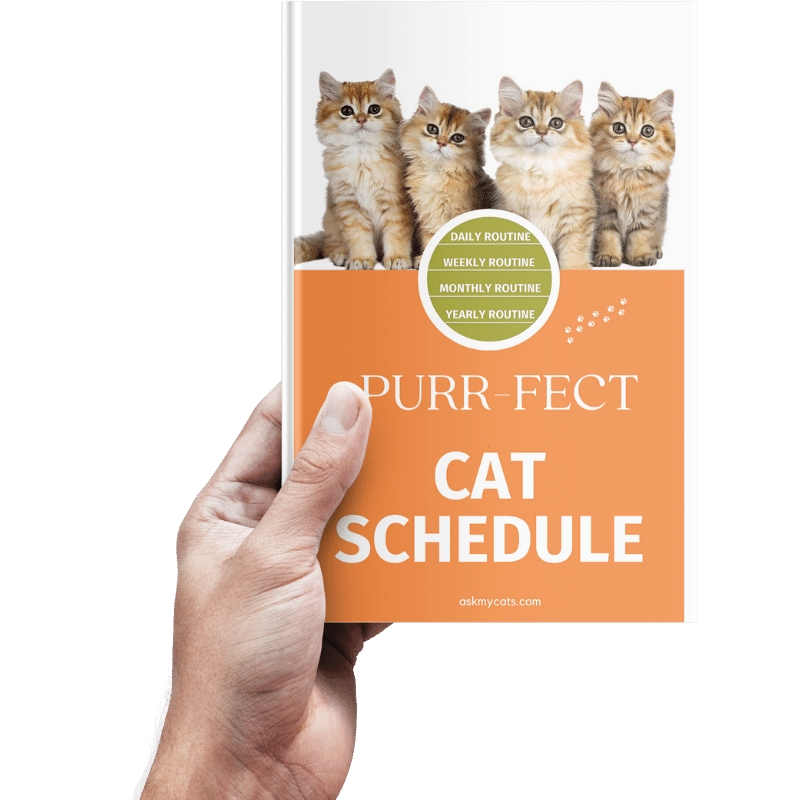 Discover the Secrets to a Happy Cat!
Discover the secrets to creating a happy and healthy daily routine for your feline friend. From playtime to mealtime, sleep to grooming, our expert guide will show you how to make every day a purrfect day for your cat.
Give Your Cat the Perfect Day – Get the Ebook!
1. Rule out medical and emotional issues.
Hey there, fellow cat lover! So, you're trying to catch some Z's, but your feline friend has other plans? Before we jump into any fancy tricks or lifestyle changes, let's start with the basics.
It's super important to make sure our kitties aren't acting out because of some underlying medical or emotional issues.
Just like us, they can have off days or feel under the weather. A sudden change in their behavior might be their way of saying, "Hey, something's not right!"
So, before you try any other tactics, it might be a good idea to pay a visit to your vet. They can help rule out any health concerns that might be causing your cat's nighttime antics.
2. Understand age-related sleep changes in older cats.
Alright, moving on! Did you know that as our cats age, their sleep patterns can change? It's kinda like how some of us start waking up earlier as we get older (or so I've heard!).
Older cats might experience shifts in their sleep-wake cycle. This can mean they're up and about more during the night. It's not them being stubborn or trying to annoy us; it's just a natural part of aging for some kitties.
So, if you've got a senior cat on your hands, understanding this can help you adjust your expectations and find ways to adapt. Maybe it's about finding them a cozy spot to rest or adjusting their feeding times. Remember, patience is key!
3. Recognize and address restlessness or insomnia.
Now, here's a fun fact: cats can experience insomnia. Yep, you read that right! Just like us, they can have nights where they toss and turn (or, in their case, run and pounce).
If your cat seems restless at night, it could be due to a variety of reasons. Maybe they're not getting enough physical activity during the day, or perhaps there's something in their environment that's bugging them. It's essential to play detective a bit.
Try to figure out what might be causing their restlessness. Once you pinpoint the cause, you can take steps to address it. And trust me, both you and your cat will be purring in contentment once you do!
4. Address chronic stress, especially in multi-cat homes.
Hey, fellow feline fanatic! So, here's the tea: cats can get stressed out too. And just like us, when they're stressed, they might not sleep as well.
This is especially true if you're living in a multi-cat household. Sometimes, our furry friends can get a bit territorial or just feel overwhelmed with all the other personalities around.
It's like living in a bustling household with roommates; sometimes, you just need a little space, right?
If you notice your cats getting a bit hissy with each other or marking their territory more than usual, it might be a sign they're feeling the pressure.
Consider giving each cat their own space or toys. And hey, maybe even set up some separate feeding areas. A little peace can go a long way!
5. Engage in evening play sessions with interactive toys to tire them out.
Alright, onto some fun stuff! You know how after a good workout, all you want to do is crash on the couch? Well, our cats aren't that different.
Engaging them in some active play, especially in the evening, can help tire them out. Think of it as their little kitty workout. Grab some interactive toys, laser pointers, or feather wands, and get that playtime in!
It's a win-win. They get to burn off some energy, and you get to enjoy some adorable cat antics.
By the time bedtime rolls around, they'll be more than ready to snuggle up and drift off to dreamland.
6. Spend quality time bonding with your cat.
Last but not least, let's talk bonding. Our cats aren't just pets; they're family. And like any family member, they crave some quality time with us.
Spending time with your cat isn't just about play; it's also about those quiet moments. Maybe it's a gentle petting session, some soft talking, or even just sitting together in the same room.
These moments help your cat feel secure and loved. And when they feel safe and cherished, they're more likely to sleep soundly through the night.
So, amidst the hustle and bustle of life, don't forget to take a moment and just 'be' with your cat. It'll make a world of difference!
7. Use puzzle toys and offer a small meal at bedtime for feeding.
Hey there, cat whisperer! Ever noticed how our feline buddies are little geniuses in disguise? They love a good challenge, especially when it comes to food. Enter puzzle toys!
These nifty gadgets not only give your cat a mental workout but also slow down their eating. It's like turning mealtime into a fun game.
And speaking of meals, here's a little trick: try offering a small meal right before bedtime. You know that post-dinner slump we humans get? Cats get it too!
A little snack can make them feel all cozy and sleepy, setting the stage for a peaceful night.
8. Use an automatic feeder for nighttime feeding.
Okay, let's get a bit techy! If your cat's the type to give you those 3 AM "feed me" nudges (and let's be honest, which cat isn't?), an automatic feeder might just be your new BFF.
These gadgets can be set to dispense food at specific times. So, if your kitty gets peckish in the wee hours, they'll have a little snack waiting for them.
And the best part? You get to sleep through it all! It's a game-changer, trust me. Plus, it ensures your cat has a steady supply of food, which can be great for their metabolism.
9. Offer appropriate elevated bedding.
Alright, onto some kitty interior design! Cats LOVE high places. It's in their nature. High spots make them feel safe and give them a great vantage point to survey their kingdom (aka your living room).
So, when it comes to bedtime, consider offering them some elevated bedding options. Whether it's a cat tree with a cozy nook or a special perch by the window, these spots can become their favorite sleeping zones.
And hey, it might just keep them off your bed (unless, of course, you enjoy those midnight toe attacks!).
10. Restrict bedroom access if needed.
Hey, fellow cat enthusiast! So, here's a bit of a controversial one. Some of us love snuggling with our cats at night, but sometimes, for the sake of a good night's sleep, we might need to set some boundaries.
If your kitty is the type to play "attack the human toes" at 2 AM or just can't resist knocking things off your nightstand, it might be time to consider restricting bedroom access. It's not about being mean; it's about setting limits.
And hey, with a comfy bed of their own (maybe that elevated one we talked about?), they won't even miss yours. Well, maybe just a little!
11. Set up a designated nighttime sleeping space for your cat.
On the topic of beds, let's chat about creating a special nighttime nook for your feline friend. Think of it as their own little bedroom.
Find a quiet corner in your home, add a comfy bed, some of their favorite toys, and voilà! A perfect kitty retreat. This space gives them a sense of security and routine.
Over time, they'll learn that when night falls, that's their go-to spot for some restful slumber. And who knows, they might just prefer it over your bed (or at least we can hope)!
12. Consider adopting a companion cat for entertainment.
Alright, brace yourself for this one: what if the solution to your cat's nighttime antics is… another cat? I know, I know, it sounds counterintuitive. But hear me out!
Cats are social creatures. Having a buddy can provide them with constant entertainment and companionship. They can play, groom, and yes, even nap together. It's like having a sleepover every night!
Of course, it's essential to ensure the cats get along and have enough space. But if done right, a companion cat can be a game-changer in ensuring peaceful nights for everyone involved.
13. Install bird feeders for daytime distraction.
Hey there, fellow cat parent! Ever noticed how our feline buddies can spend hours just staring out the window? It's like their version of Netflix. So, why not make it even more entertaining for them?
Installing bird feeders outside your windows can provide hours of harmless entertainment for your cat. They get to watch the birds, maybe even daydream a little about chasing them, all while staying safely indoors.
It's a fantastic way to keep them engaged during the day, so by nighttime, they're all tuckered out and ready for some shut-eye. Plus, it's a treat for the birds too!
14. Be mindful of significant environmental changes.
Okay, real talk time. Cats, as much as we love them, can be a tad… well, sensitive. A change in their environment, like moving to a new house or even rearranging the furniture, can throw them off their game.
If you've recently made some changes around the house and noticed your cat's sleep pattern is a bit wonky, that might be the culprit. It's essential to give them time to adjust and maybe even provide some extra comfort and reassurance.
A familiar toy or blanket can help them feel more at home in a new setting. Remember, change can be hard for our furry friends, but with a little patience, they'll settle right in.
15. Ensure a safe and secure sleeping environment.
Last but definitely not least, let's talk safety. Just like us, cats need to feel safe to sleep soundly. This means ensuring their sleeping spot is away from loud noises, sudden lights, or any other potential disturbances.
If you live in a busy area, maybe consider some noise-cancelling solutions or blackout curtains. And if there are other pets in the house, make sure everyone respects each other's space.
A safe and secure environment can make a world of difference in your cat's sleep quality. After all, everyone deserves a peaceful night's rest, right?
Final Words: Let's Hear Your Purr-fect Stories!
Well, there you have it, my fellow cat aficionados! A treasure trove of tips to help both you and your feline friend catch those much-needed Z's.
But hey, every cat is unique, and so is every cat-parenting journey. I'd absolutely love to hear about your nighttime tales (or should I say "tails"?).
Did any of these tips work wonders for you? Or maybe you've got a secret trick up your sleeve that you're willing to share with the community? Drop your stories, tips, and maybe even those adorable cat photos in the comments below.
Let's create a cozy corner of the internet where we can all share, laugh, and maybe even learn a thing or two.
Remember, at the end of the day (or night), it's all about love, understanding, and finding that purr-fect balance. Sleep tight, and may your nights be filled with sweet dreams and contented kitty purrs! 🐱💤