Hey there, fellow cat enthusiasts! 🐱 Ever caught your furball twitching in their sleep and wondered, "What's going on in that fuzzy head?" Or maybe you've been jolted awake by a midnight kitty zoom session?
Ah, the mysterious world of feline sleep. It's a mix of wild instincts, quirky habits, and, of course, those oh-so-adorable snuggles.
Dive in with me as we unravel the secrets of our cats' slumber.
And trust me, by the end, you'll be looking at your snoozing kitty in a whole new light. Ready for a purr-fectly intriguing journey? Let's pounce right in! 🐾🌙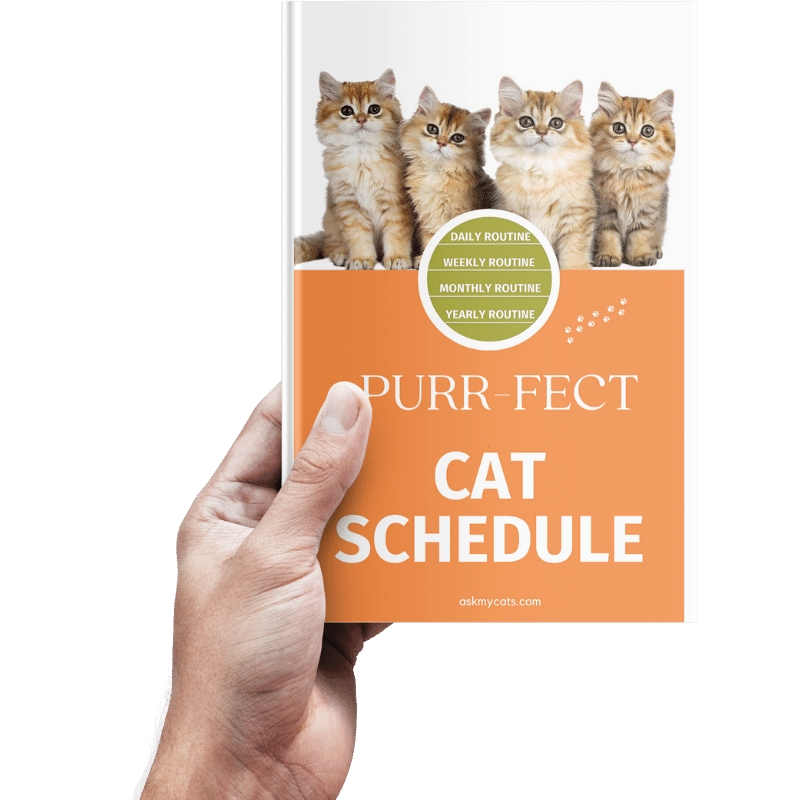 Discover the Secrets to a Happy Cat!
Discover the secrets to creating a happy and healthy daily routine for your feline friend. From playtime to mealtime, sleep to grooming, our expert guide will show you how to make every day a purrfect day for your cat.
Give Your Cat the Perfect Day – Get the Ebook!
1. Dreaming Cats
Oh, boy! Have you ever watched your cat twitching and moving its paws while sleeping and wondered, "What's going on in that furry little head?"
Well, guess what? Cats dream, just like us! Researchers reckon they dream for about 30-40% of their snooze time. Imagine that!
So, next time you see Whiskers chasing something in her sleep, she might just be reliving that epic mouse chase from yesterday. Or perhaps she's dreaming of an all-you-can-eat tuna buffet? Who knows! But it's pretty darn cute to think about.
2. REM Sleep
Alright, let's get a bit science-y here, but stick with me! So, you know that deep sleep phase where you dream of winning the lottery or flying? That's called REM (Rapid Eye Movement) sleep.
And guess what? Cats have it too! Their REM cycles are a tad shorter than ours, clocking in at around 6 minutes. But during this phase, they're in deep dreamland.
So, if you ever spot your cat's eyes darting around under its closed lids, bingo! They're in the REM zone. It's like they have their own mini-movies playing in their heads. Cool, right?
3. Snoring Felines
Okay, confession time. I've snored once or twice in my life (don't judge!). But did you know cats can snore too? Especially those squish-faced breeds like Persians and Himalayans.
It's like music to my ears hearing a cat snore. It's a sign they're in a super deep, relaxed sleep.
But, if you're worried about your cat's snoring, especially if it's a new thing, maybe have a chat with your vet. Better safe than sorry, right?
4. Crepuscular Creatures
Here's a fancy word for you – "crepuscular." Sounds like something out of Harry Potter, huh? But it simply means creatures that are most active during dawn and dusk.
And yep, you guessed it, cats fall into this category. It's a throwback to their wild ancestors who loved a good hunt during these times.
So, if you've ever wondered why your cat gets the "zoomies" at the crack of dawn or right when you're settling in for the evening, now you know. They're just embracing their inner wildcat!
5. Sleep Duration
So, here's the deal. If you ever feel like your cat is the ultimate nap champion, you're not wrong! On average, these little furballs sleep for about 12-16 hours a day.
I mean, can you imagine? That's like half a day, every day! But wait, there's more. Kittens and older cats? They can clock in a whopping 20 hours of sleep.
Talk about living the dream! It's like they've mastered the art of the siesta. And here I am, struggling to get my 8 hours in. Life's not fair, huh?
6. Selective Sleep Spots
Ever found your cat snoozing in the weirdest places? Top of the fridge, inside a shoebox, or even on your freshly laundered clothes? Classic cat move!
They're super picky about where they catch their Z's. It's all about feeling safe and cozy. And if they choose to sleep next to you or on your lap? Oh, you should feel honored!
It's their way of saying, "Hey, I trust you. Now, don't move. I'm comfy." It's like being chosen by royalty. All hail the cat!
7. Warmth Seekers
Alright, pop quiz! Where's the warmest spot in your house? If you said "wherever the cat is," ding ding ding! You're right!
Cats are like little heat-seeking missiles. They'll find that one sunny spot on the floor, or that warm laptop keyboard, or even your warm lap. It's all about the coziness for them.
So, next time you can't find your cat, just look for the warmest place around. Bet you'll find them there, purring away in bliss.
8. Weather's Influence
Okay, this one's a bit wild. Ever noticed your cat sleeping more when it's gloomy or rainy outside? It's not just you imagining things.
Weather does influence their sleep patterns. It's like they have this internal barometer that says, "Oh, it's raining? Perfect nap weather!" And off they go to dreamland.
But hey, can you blame them? There's something so soothing about the sound of rain. Makes me want to curl up with a blanket and join them!
9. Always Alert
Okay, so picture this: you sneak up to your snoozing cat, thinking you'll give them a gentle surprise, and BAM! Before you know it, they're wide awake, staring at you with those big, round eyes. It's like they've got built-in radar or something!
Even in the deepest of slumbers, cats remain on high alert. It's a throwback to their wild days when they had to be ready to pounce or flee at a moment's notice.
So, next time you're thinking of playing a sneaky game with your cat, remember – they're always one step ahead!
10. Evolutionary Sleep
Alright, history lesson time! (But don't worry, it's a cool one.) Cats' sleeping habits aren't just random; they're rooted deep in their evolutionary past.
Back in the day, wild cats had to conserve energy for important stuff like hunting and avoiding predators. And what better way to save up energy than by taking a good ol' nap?
So, when you see your domestic kitty sleeping the day away, just remember – they're channeling their inner wildcat. It's like they're saying, "I might be napping now, but I'm ready for action when the time comes!"
11. Nocturnal Nature
Ever been jolted awake by your cat zooming around the house at 3 am? Yep, we've all been there. Cats are naturally nocturnal creatures.
While we're all about the daytime hustle, cats are all about the nighttime vibes. It's when they're most active and alert.
So, if you're ever wondering why your feline friend is throwing a solo midnight party, just remember – it's in their DNA. And hey, if you can't beat 'em, join 'em! (Or, you know, invest in some earplugs.)
12. Energy Conservation
Let's get real for a sec. If there was an Olympic event for "Best Napper," cats would take home the gold every time. They're not just lazy (okay, maybe a little); they're strategic!
Cats sleep to conserve energy. Whether it's for their next play session, a sudden sprint, or just chasing that pesky red laser dot, they like to be ready and raring to go.
So, the next time someone says cats are lazy, you can drop some knowledge on them. Cats aren't lazy; they're just energy-efficient!
Wrapping It Up: The Feline Sleep Chronicles
Well, there you have it, folks! The ins and outs, the ups and downs, and the nitty-gritty of our feline friends' sleep habits. Who knew there was so much going on behind those closed eyes?
From dreaming of mouse chases to channeling their inner wildcat, cats truly are the masters of the snooze button.
Got a quirky cat sleep story of your own? Drop it in the comments! We'd love to hear about your kitty's zany sleep antics.
And remember, whether they're zooming around at midnight or snoring on your lap, every cat nap has a tale to tell. Sweet dreams, cat lovers! 🐾💤