Hey there, fellow cat enthusiasts! 🐱 Ever wondered if your feline friend could break a world record?
I mean, we all know they're champions at knocking things off shelves, but what about the real, jaw-dropping, "you've-gotta-be-kitten-me" kind of records?
Well, buckle up, because we're diving whiskers-first into the world of record-breaking kitties. From toe-tally amazing toes to purr-loudly purrs, these cats are not just breaking records; they're shattering them!
Ready to be amazed? Trust me, by the end of this, you'll be looking at your own furball and thinking, "What's your secret, whiskers?" 🐾🌟
Alright, let's dive into the fascinating world of feline wonders! 🐱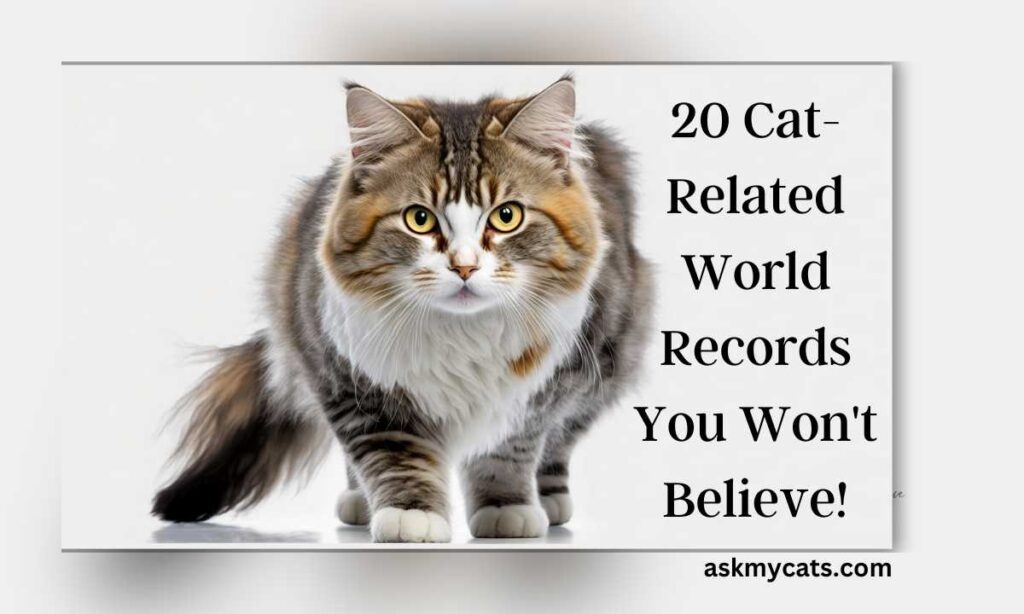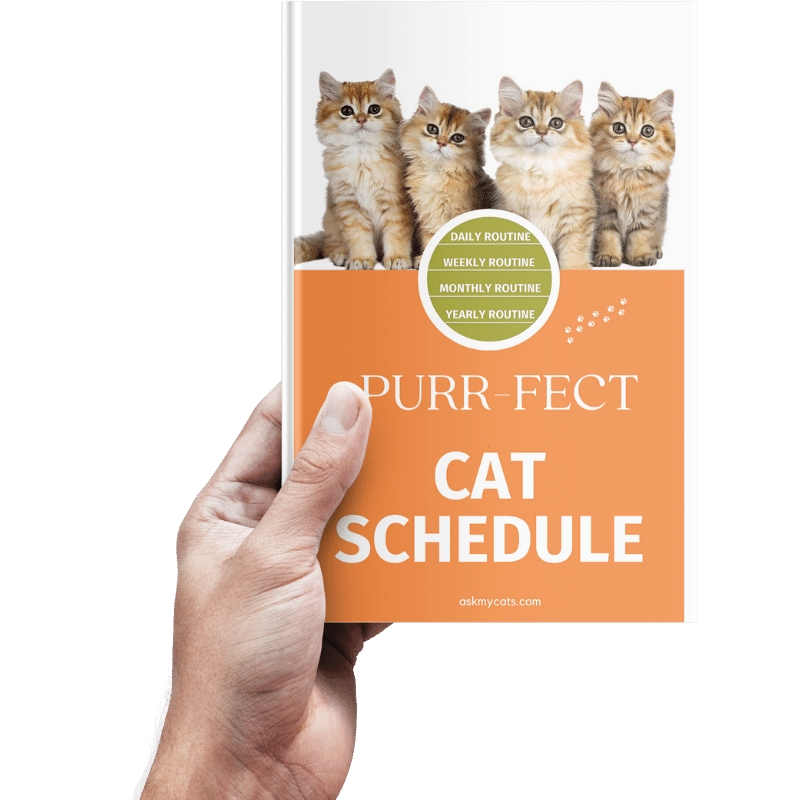 Discover the Secrets to a Happy Cat!
Discover the secrets to creating a happy and healthy daily routine for your feline friend. From playtime to mealtime, sleep to grooming, our expert guide will show you how to make every day a purrfect day for your cat.
Give Your Cat the Perfect Day – Get the Ebook!
Unbelievable Cat Records That'll Blow Your Mind!
1. The Tale of Creme Puff: The Oldest Cat Ever Recorded
Oh boy, where do I start? Have you ever heard of Creme Puff? This fabulous feline from Austin, Texas, lived an astonishing 38 years and 3 days.
That's like… well, ancient in cat years! To put it into perspective, the average cat lives to be around 15 years old.
So, Creme Puff was like the grand old dame of the cat world. I mean, imagine all the yarn balls she must've played with in her lifetime! 😲
2. Flossie: The Living Legend
Now, let's chat about Flossie. This British tortoiseshell cat was recognized as the oldest living cat at the ripe age of 26 years and 316 days in 2022.
That's like being 120 in human years! Whoa! And guess what? She's still kicking, playing, and purring her way through life.
It's like she's sipping from the fountain of youth or something. Cheers to Flossie! 🥂
3. Arcturus Aldebarran Powers: The Towering Feline
Okay, folks, let's shift gears a bit. Ever met a cat that looked down at you? No? Well, meet Arcturus Aldebarran Powers.
This Savannah cat is no ordinary kitty. He's been crowned the tallest cat in the world!
I mean, if he were a human, he'd probably be a basketball player. Just imagine him swatting a toy mouse into a hoop! 🏀
4. Cygnus Regulus: The Tail Master
Speaking of impressive physical features, let's talk tails.
Cygnus Regulus, a majestic Maine Coon, doesn't just swish any tail; he flaunts the longest tail on a domestic cat, measuring a whopping 17.58 inches. That's longer than some of my shoes!
Every time he walks by, it's like watching a royal procession. All hail the tail! 🎉
5. Merlin: The Purr Machine
Last but not least, let's talk about Merlin. Now, this isn't the wizard, but he sure has a magical purr.
This black-and-white house cat from Torquay, England, doesn't just purr; he ROARS! Well, not literally, but his purr was measured at a deafening 67.8 decibels.
To put that in context, that's as loud as a conversation or background music.
Imagine trying to watch TV with that kind of background noise! "Shush, Merlin, I'm trying to hear the news!" 😂
6. Jake: The Toe-tally Amazing Cat
Okay, first up, let's talk toes. Most cats have 18 toes, right? But Jake, this ginger tabby from Bonfield, Ontario, decided to one-up (or should I say, nine-up?) his fellow felines.
He's rocking a whopping 28 toes! That's seven on each paw!
I mean, can you even imagine his manicure bills? "Excuse me, I'd like a pedicure for… 28?" 😹
7. Missi: The Whisker Wonder
Now, onto whiskers. Missi, a Maine Coon from Finland, doesn't just have whiskers; she's got the longest whiskers in the world, measuring 7.5 inches.
I mean, talk about facial hair goals!
I bet she can feel a mouse sneeze from a mile away with those sensors. "Achoo! Oops, Missi felt that." 🐭
8. The Mysterious Cat from Kingham: Litter Legend
Alright, here's a story that'll make your jaw drop. Somewhere in Kingham, Oxfordshire, a Burmese/Siamese cat became a legend. Why?
She gave birth to 19 kittens in a single litter! Nineteen! I can't even handle one kitten on a sugar rush, let alone nineteen.
Sadly, four of these kittens were stillborn, but the record still stands. Hats off to the supermom! 🎩
9. Waffle: The Jumping Jack
Jumping into our next record (see what I did there?), let's talk about Waffle the Warrior Cat. This feline athlete doesn't just jump; he soars.
He's recorded a jump of 7 feet! That's like… well, taller than most humans.
Next time you think about teasing a cat with a toy just out of reach, think of Waffle. He'll get it! 🚀
10. Altair: The Tail Trendsetter
Last on our list for now is Altair, a silver Maine Coone with a tail that's the talk of the town. Measuring 16.07 inches long, it's the longest tail on a living domestic cat.
It's like having a feathered boa attached to your rear end! Altair, darling, you're setting trends and we're here for it. Werk it! 💃
11. Hercules: The Liger King
Hold onto your catnip, because this one's wild! Have you ever heard of a liger? It's a lion-tiger hybrid, and Hercules is the king of them all.
Living at Myrtle Beach Safari in South Carolina, this big boy isn't just large; he's the largest living cat in the world.
Weighing in at a jaw-dropping 922 pounds and stretching over 131 inches in length, he's the true definition of a gentle giant.
I mean, if he were in the wild, he'd probably have his own zip code! 🦁🐯
12. Tinker Toy: The Pocket-Sized Purrer
From the largest to the smallest, let's chat about Tinker Toy. This blue point Himalayan-Persian cat was the size of… well, a tinker toy!
Measuring just 2.75 inches tall and 7.5 inches long when fully grown, he could probably fit in your pocket.
Imagine having a pocket-sized kitty companion! "Oh, this? It's just my cat, Tinker Toy. No big deal." 😺
13. Stewie: The Stretchy Star
Alright, let's stretch our imaginations a bit. Picture a cat. Now, stretch it… keep going… a bit more… and voila! You've got Stewie, the longest domesticated cat in the world.
This Maine Coon from Reno, Nevada, measured an incredible 48.5 inches long. I bet he never had trouble reaching the top shelf! 📏
14. Didga: The Trickster
Who says you can't teach an old cat new tricks? Didga, the record holder for the most tricks done by a cat in one minute, begs to differ.
With 20 tricks up her furry sleeve, she's the Houdini of the cat world.
From skateboarding to high-fiving, she's got a trick for every occasion. "Didga, show 'em your stuff!" 🎩
15. Maru: The YouTube Sensation
Last but not least, let's dive into the digital realm. Maru, a Scottish Fold from Japan, isn't just any cat; he's a YouTube sensation!
With his love for boxes and his adorable antics, he's garnered over 325 million views.
Talk about being internet famous! "Oh, you haven't seen Maru's latest video? You're missing out!" 🎥
16. Colonel Meow: The Fur-tastic Phenomenon
Let's kick things off with Colonel Meow. Now, this isn't your average fluffy kitty. This Persian-Himalayan mix once held the record for the longest fur on a cat.
I mean, talk about a hairdo! With fur that seemed to go on for days, he was the ultimate fluff ball.
I can't even imagine the grooming sessions. "Another hairball, Colonel? Must've been a fur-tastic day!" 🦁
17. Sophie Smith: The Fur Queen
But wait, there's more in the fur department! Sophie Smith, a gorgeous feline from Oceanside, California, strutted her way into the record books, surpassing Colonel Meow with even longer fur.
It's like she's wearing a feathered gown 24/7. "Sophie, darling, who are you wearing tonight?" "Oh, just my fabulous self!" 💅
18. Carmen's Cat Collection: The Ultimate Cat Lady
Now, for all you cat lovers out there, have you ever thought about collecting cat-related items? Well, Carmen de Aldana from Guatemala took it to a whole new level.
She's got a staggering collection of 21,321 different cat-related items. From figurines to paintings, she's got it all.
I mean, talk about commitment! "Another cat mug, Carmen? Well, why not!" 🐈‍⬛
19. Stewie's Stretch: The Long Feline
Remember our friend Stewie from earlier? Well, he's back with another record. Not only is he the longest domesticated cat, but he also held the record for the longest stretch.
I mean, imagine him doing yoga! "And now, Stewie, let's move into the elongated cat pose." 🧘‍♂️
20. Didga's Skateboarding Saga
Hold onto your cat hats because Didga's back with another trick. This time, she's on wheels! Yep, Didga holds a record for skateboarding.
She's not just pushing it around; she's doing actual tricks on it. Talk about feline finesse! "Didga, can you teach my cat to do that? No? Worth a shot!" 🛹
Final Words
Alright, my fellow feline fanatics, we've journeyed through the world of record-breaking kitties, from the tiniest toe beans to the fluffiest of tails. These cats have not just pounced into the record books, but also into our hearts. 🐾❤️
But here's the thing: every cat is unique, every purr is special, and every meow tells a story. So, I've got a challenge for you!
Why not share a quirky fact or a heartwarming tale about your own feline friend? Drop a comment, share a photo, or even a video.
Let's celebrate the everyday magic of our purrfect companions. After all, who knows? Your kitty might just be the next whisker-twitching sensation waiting to be discovered! 🌟🐱
Stay pawsome, keep those tails high, and remember: in the world of cats, every day is a new adventure. Until next time, meow on! 🎉🐈‍⬛🎈