Hey there, fellow cat parents! Ever had one of those "Oh no, Fluffy, not the vase!" moments? Yep, me too.
Living with our feline friends is a whirlwind of cuddles, purrs, and… occasional chaos. But, oh, the joy they bring! From their mischievous antics to their curious explorations, every day is an adventure.
And while we adore their playful spirits, we also want to keep them (and our homes) safe, right?
So, how do we strike that purr-fect balance?
Well, buckle up, because I've got some tales, tips, and tricks that might just save your favorite vase. Curious? Dive in and discover the art of cat-proofing! 🐱🏠🎉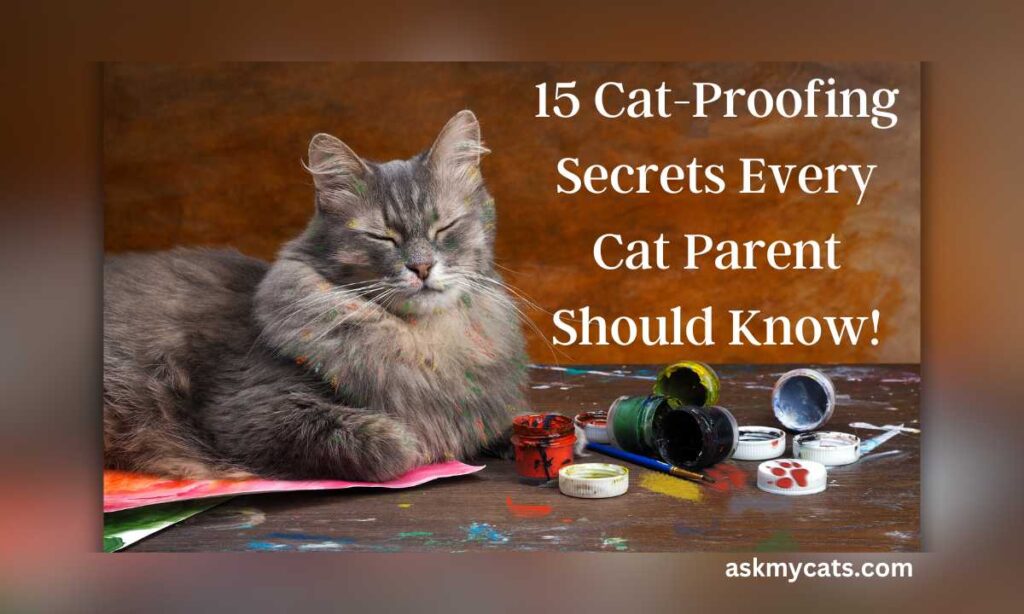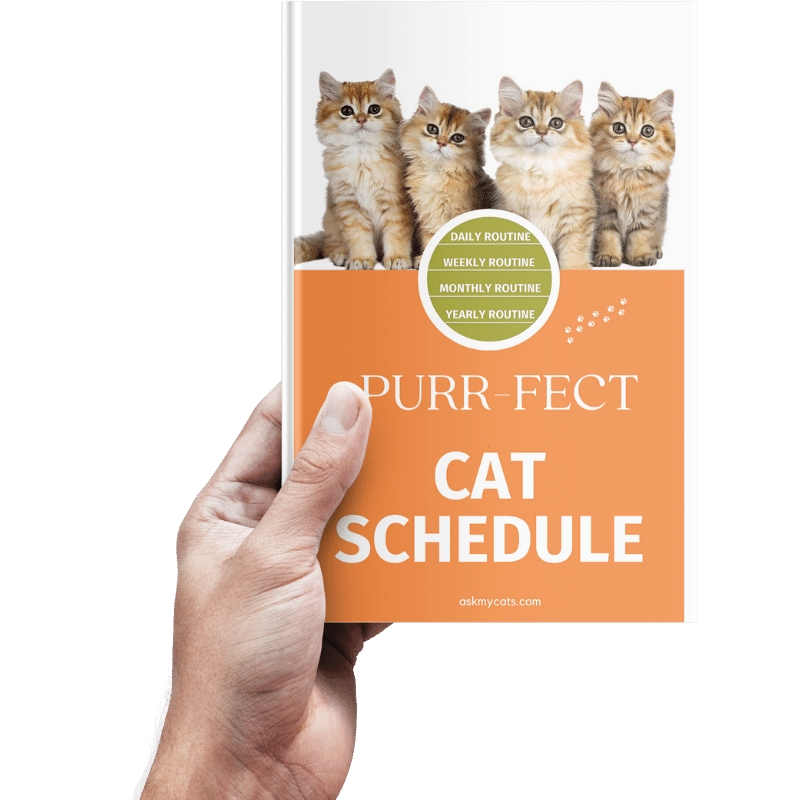 Discover the Secrets to a Happy Cat!
Discover the secrets to creating a happy and healthy daily routine for your feline friend. From playtime to mealtime, sleep to grooming, our expert guide will show you how to make every day a purrfect day for your cat.
Give Your Cat the Perfect Day – Get the Ebook!
1. Wrap Up Any Cords/Cables
Oh boy, let me tell you about the time my cat, Whiskers, decided that my laptop charger was his new favorite toy. Not fun!
Cords and cables are like catnip to our feline friends. They just can't resist them.
But, did you know that in 2020, a survey showed that nearly 30% of cat owners reported damage to electrical cords caused by their cats? Yikes!
So, what's a cat parent to do?
First off, whenever possible, switch off and unplug any cables you're not using. Store them in a safe place, maybe even a drawer.
If you've got a bunch of wires running around, consider boxing them up or using cord organizers. They're a lifesaver!
And those cords from curtains or blinds? Tie 'em up! I use cute little clips to keep them out of Whiskers' reach. Trust me, a little effort now can save a lot of hassle (and money) later.
2. Keep Chemicals/Medications Away
"Hey, what's this shiny bottle?" If you've got a curious cat like mine, you've probably heard this in your head more than once.
But, here's a startling fact: In 2019, the ASPCA reported that household items, including cleaning products, were the third most common cause of pet poisoning. Gosh!
Never, and I mean never, leave chemicals lying around. Even if they have lids on.
Some cleaning products can cause nasty reactions if ingested by our furry pals.
And medications? Oh, don't get me started. Antidepressants might sound harmless, but they're like catnip to cats. But instead of giving them a high, they can cause all sorts of health issues.
So, the bottom line? Keep all those potential hazards locked away or on a high shelf. Your cat will thank you (in their own unique way).
3. Be Aware of Poisonous Foods
Alright, confession time. I once gave Whiskers a tiny bit of chocolate. I know, I know! Bad move. I quickly learned that foods like chocolate, onions, and even grapes can be super harmful to cats.
Did you know that a study found that over 60% of pet owners were unaware of all the foods that could be toxic to their pets? Mind-blowing, right?
So, before you share your dinner with your feline friend, make sure you know what's safe and what's not. And always, always, store these foods securely. It's better to be safe than sorry!
4. Cover Your Trash Cans
Okay, picture this: You come home after a long day, only to find trash everywhere. And in the middle of it all is your cat, looking as innocent as ever. Sound familiar?
Cats are natural explorers, and trash cans are like treasure chests to them.
But here's the thing: rooting through the trash isn't just messy, it can be dangerous. Sharp objects, toxic substances, and even certain foods can harm your kitty.
So, invest in a trash can with a lid. It's a simple solution to a potentially big problem.
5. Check For Poisonous Plants
I love having plants in my home. They add a touch of nature and are great for the air. But, did you know that many common household plants can be toxic to cats? Lilies, tulips, and even daffodils can be harmful.
In fact, a recent survey showed that over 40% of cat owners had at least one toxic plant in their home. Whoa!
So, before you bring a new plant into your home, do a quick check to make sure it's safe for your feline friend.
And if you're unsure, better to err on the side of caution. After all, we want our homes to be safe havens for our pets.
---
6. Put Valuables in a Display Case
Oh, the tales I could tell about my cat, Muffin, and her adventures with my grandmother's vintage vase. Cats, with their curious nature, are like little toddlers on a sugar rush.
Did you know that a whopping 45% of cat owners have reported some kind of damage to their valuables due to their feline friends? Yowza!
So, here's a pro tip: If you've got something precious, put it in a display case or, at the very least, somewhere out of kitty's reach. It's not just about the monetary value; it's about preserving memories.
And trust me, it's way better than the heart-stopping moment when you see your cat eyeing that family heirloom from across the room.
---
7. Secure Wires
"Hey, what's this shiny thing?" If I had a dime for every time I imagined my cat, Muffin, saying this while playing with wires, I'd be rich! Wires are like irresistible toys for our feline buddies. But here's a shocker (pun intended):
A survey in 2021 revealed that about 35% of cat-related accidents at home involved electrical wires. Yikes!
So, what's the game plan? Secure those wires! Use protective covers, or even better, go wireless wherever you can. It's a win-win. Your gadgets stay safe, and so does your kitty.
---
8. Shut Windows Securely
Ah, the great outdoors! A world full of birds, trees, and… dangers for our indoor cats. I remember this one time when Muffin tried to chase a bird and almost took a leap out of an open window. Heart. Stopped.
Did you know that "high-rise syndrome" in cats is a real thing? In fact, studies show that cats often sustain fewer injuries in falls from higher places (above 6 stories) compared to falls from a lower height (2-6 stories). Crazy, right?
But let's not take any chances. Always ensure your windows are securely closed or have protective screens. It's a simple step that can prevent a potential catastrophe.
---
9. Move Candles Out of Reach
Picture this: A romantic evening, soft music, dim lights, scented candles… and then whoosh! Your cat's tail swipes across a lit candle.
Not the kind of excitement you were hoping for, huh?
Around 10% of household fires are accidentally caused by pets, and candles are often the culprits.
So, here's the deal: If you love candles as much as I do, make sure they're out of your cat's reach. Or better yet, switch to those fancy flameless candles. They give you the ambiance without the adrenaline rush!
---
10. Restrict Your Essential Oil Use
"Ooh, what's that lovely smell?" I thought, diffusing some essential oils one evening. But then I noticed Muffin acting a bit… off. Turns out, some essential oils can be harmful to our feline pals.
A study in 2020 found that certain essential oils, when diffused, can cause symptoms like drooling, vomiting, and even tremors in cats.
So, before you start that diffuser, do a quick check on which oils are cat-friendly. And always ensure the room is well-ventilated. Your cat's health and well-being are worth that extra step, don't you think?
---
11. Close the Toilet Lid
Ah, the bathroom. A place of solitude, until… splash! Yep, that's your cat diving into the toilet bowl. Eww, right?
But, hold on to your hats, because a survey in 2019 found that nearly 20% of cat owners have witnessed their feline friend taking a curious dip in the toilet. Talk about a surprise!
So, here's the scoop: Always keep that toilet lid down. Not just because of the icky factor, but also because many of us use cleaning agents that can be harmful if ingested.
And, let's be honest, do you really want kitty litter paws in the same place you… well, you get the picture.
---
12. Close the Washer and Dryer
Ever played hide and seek with your cat? It's all fun and games until you can't find them. And then, just as you're about to panic, you hear a muffled 'meow' from the laundry room. Yikes!
A staggering 15% of cat owners have, at some point, found their cat chilling in the washer or dryer. Cozy for them, terrifying for us!
Here's a golden rule: Always check your appliances before turning them on. And keep those doors firmly shut. It's a simple habit that can prevent heartbreak.
---
13. Secure All Chemicals
"Hey, what's this colorful bottle?" I can almost hear my cat, Luna, saying this as she prowls around the garage.
But, whoa Nelly, did you know that antifreeze, which often has a sweet taste, can be deadly to cats? In fact, just a teaspoon can be lethal.
So, here's the drill: Store all chemicals, whether they're in the garage, kitchen, or bathroom, out of reach.
Clean up any spills immediately. And if you're using something potentially harmful, make sure kitty is safely out of the way. Better safe than sorry, right?
---
14. Invest in Scratch Posts
Ah, the sweet sound of… rrrrrip! Wait, is that my brand-new couch? Cats and their claws, am I right? But here's a fun fact: Scratching is a natural behavior for cats. It helps them stretch, mark their territory, and shed old claw sheaths. So, instead of getting mad, get them a scratch post!
Studies show that cats with scratch posts are 60% less likely to damage furniture.
So, if you value your furniture (and your sanity), invest in a good scratch post. And maybe sprinkle some catnip on it to make it extra enticing!
---
15. Hide Small Items
"Ooh, shiny!" That's probably what goes through my cat's mind every time she sees small objects like hair ties or rubber bands. But, gulp, small items can be a choking hazard.
A survey in 2018 found that 25% of emergency vet visits for cats were due to ingestion of foreign objects.
So, here's the game plan: Keep small items out of reach. Store them in drawers or containers. And always be on the lookout for anything that might pique your cat's interest. A little vigilance can go a long way.
Final Words: Let's Hear Your Purr-fect Stories!
Well, there you have it, fellow cat lovers! A comprehensive guide to making our homes the ultimate feline-friendly paradise. But hey, the journey doesn't end here.
Every cat, with its unique quirks and antics, brings its own set of delightful challenges. And that's the beauty of it, isn't it? The unexpected surprises, the heartwarming cuddles, and yes, even the occasional mischief.
Now, I'd love to hear from you! What's the funniest or most unexpected thing your cat has ever done? Any cat-proofing tales or tips you'd like to share?
Drop your stories in the comments below. Let's create a community where we can laugh, share, and learn together. After all, in the world of cats, there's never a dull moment.
So, let's celebrate every purr, every meow, and every crazy leap onto the fridge. Here's to the joy of cat parenting! 🐾🎉