Hey there, fellow cat lovers! Ever tried setting up a playdate for your whiskered pal and thought, "Is this even a thing?" Well, spoiler alert: it totally is! And oh boy, is it a game-changer.
From the early days of kittenhood to navigating the feline social scene, there's a whole world of whiskers, purrs, and playful pounces waiting to be explored.
But here's the kicker: there's a method to the madness. Curious? Well, stick around, and let's dive into the ultimate guide to cat playdates. Trust me, by the end, you'll be itching to set up your own feline fiesta! 🐱🎉🎈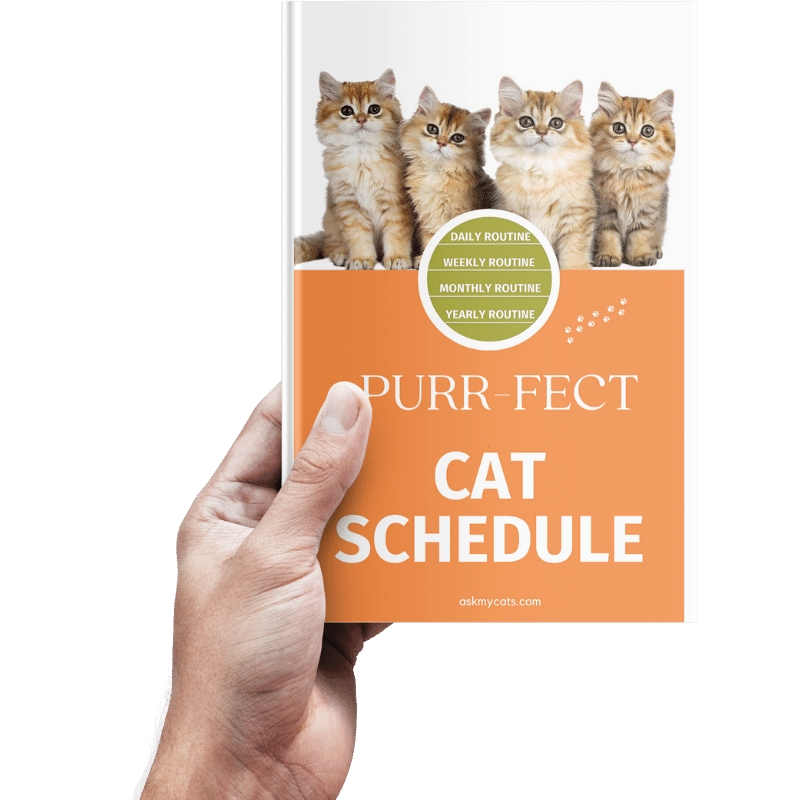 Discover the Secrets to a Happy Cat!
Discover the secrets to creating a happy and healthy daily routine for your feline friend. From playtime to mealtime, sleep to grooming, our expert guide will show you how to make every day a purrfect day for your cat.
Give Your Cat the Perfect Day – Get the Ebook!
1. Recognize the Importance of Playdates
Hey there, fellow cat lover! 🐾 Ever wondered why we even bother setting up playdates for our feline friends? Well, let me spill the beans!
The Social Butterflies in Disguise
Cats, believe it or not, have a social side. Sure, they've got this rep for being aloof and independent, but deep down? They're just like us, craving interaction and a bit of fun.
Did you know that despite their famous "I-don't-need-anyone" attitude, many cats come from a colony setting? Yep, that's right! Historically, they're used to being around their kin.
Benefits Galore!
Alright, let's dive into the nitty-gritty. Why should you even consider a playdate for Mr. Whiskers?
Exercise: Let's face it, our indoor furballs sometimes don't get the workout they need. A playdate? It's like a mini gym session for them! According to a study I stumbled upon, indoor cats are more prone to obesity. Yikes! Playdates can be their ticket to shedding those extra ounces.
Mental Stimulation: Ever seen your cat chase a laser dot? That's their brain working overtime! Playdates offer a smorgasbord of new sights, sounds, and scents. It's like giving their brain a fun puzzle to solve.
Improved Behavior: Here's the kicker. Cats that socialize tend to be, well, nicer. They're less likely to shred your favorite couch or ambush your feet at 3 AM.
A Little Heart-to-Heart
Between you and me, I tried setting up a playdate for my kitty, Luna, last month. I was a tad nervous, not gonna lie.
But seeing her play and interact? Totally worth it! She was pooped by the end, and I swear she gave me a little "thank you" nuzzle.
So, next time you're sipping your coffee and watching your cat stare longingly out the window, maybe it's time to ring up a fellow cat parent.
Set up that playdate! Your feline buddy will thank you, and who knows, you might just make a new human friend too. Cheers to that! 🥂
2. Start Introductions Early
Oh, the joys of youth! Remember when we were kids, and making friends was as easy as sharing a toy in the sandbox?
Well, cats aren't much different. The younger they are, the more open they tend to be to new experiences.
Why Early Matters
You see, when kittens are introduced to playdates between 7 to 12 weeks, it's like enrolling them in preschool. This is their crucial stage, where they start picking up lifelong habits.
So, introducing them to other feline buddies during this time can set the stage for a lifetime of social butterfly behavior. Cool, right?
The Kitten Window
Now, here's a fun fact for you: Most kittens are super receptive to new things until they're about 14 weeks old.
So, if you've got a young furball at home, now's the perfect time to get them out there meeting their peers. It's like their golden window of opportunity!
3. Health First
Alright, before we dive into the fun stuff, let's talk health. Just like you wouldn't send your kid to school with a cold, the same goes for our feline friends.
Vaccination – The First Line of Defense
Did you know that in 2019, about 70% of cats in the U.S. were vaccinated? That's a huge number, and for a good reason!
Vaccinations are like the superhero shields for our pets. So, before setting up that playdate, ensure both kitties are up-to-date with their shots. It's a non-negotiable!
The Big Tests
Now, here's a table to break down some essential health checks:
| Health Check | Why It's Important |
| --- | --- |
| FelV/FIV Test | These are the big baddies in the cat world. Testing negative means your cat is free from two major feline diseases. |
| Flea Preventatives | Nobody likes uninvited guests, especially if they're itchy! Ensuring both cats are on flea preventatives keeps the playdate fun and flea-free. |
A Quick Chat with the Vet
And hey, if you're ever in doubt, a quick chat with your vet can clear things up. They're like the cat whisperers, always in the know!
4. Choosing the Right Playmate
So, you've decided to set up a playdate for your feline friend. Yay! But wait, it's not just about picking any random cat from the neighborhood. Oh no, it's like setting up your bestie on a blind date; you've got to be picky!
The Personality Puzzle
Ever met someone and thought, "Wow, we just click!"? Cats are the same. Some are the life of the party, while others prefer to chill in the corner.
Now, imagine pairing a super-chill cat with one that's bouncing off the walls. Yikes! So, it's essential to match energy levels and temperaments.
The Perfect Pair
Did you know that according to a 2020 survey, about 65% of cat owners believe their cats have "best friends" among other pets? Yep, it's a thing!
So, when looking for a playmate, think about your cat's personality. If they're a bit on the shy side, maybe avoid that boisterous kitty from next door.
5. Neutral Territory is Key
Alright, onto the next big thing – location, location, location! Just like we might feel a tad awkward walking into someone else's home for the first time, cats can feel the same way.
The Scent of a Place
Cats are all about scents. It's like their version of reading a room.
So, when introducing two cats, a neutral spot where neither has marked their territory can be a game-changer. It's like meeting at a coffee shop for the first time; no one's turf, no awkwardness.
First Impressions Matter
Here's a fun tidbit: Studies show that cats can take anywhere from 5 minutes to 5 hours (or more!) to get comfortable in a new environment. So, patience is key.
And hey, if they don't hit it off right away, don't sweat it. There's always next time.
6. Gradual Introductions
Okay, picture this: You're at a party, and someone suddenly pushes you into a conversation with a total stranger. Awkward, right? Well, our feline friends feel the same way about sudden introductions.
The Scent Swap
Before the big meet-and-greet, try swapping toys or bedding between the two cats. It's like giving them a sneak peek of what's to come. They get a whiff of each other's scent without the face-to-face pressure. Neat, huh?
The First Glimpse
Once they're familiar with each other's scent, let them see each other. Maybe through a glass door or a baby gate. It's like waving across the room before walking over for a chat.
The Big Meet
Alright, now for the main event! But remember, let them take the lead. If they're curious and approach each other, great! If not, give them space. It's all about baby steps.
7. Consistency in Meetings
So, you've had the first playdate. Yay! But here's the thing: One-off meetings might not seal the deal. It's like catching up with an old friend; the more you meet, the stronger the bond.
Regular Rendezvous
According to a 2018 study, cats that have regular playdates tend to be more social and less aggressive. So, think of it as a recurring coffee date. The more they meet, the more comfortable they get.
Building Trust
Consistency helps build trust. It's like when we see a familiar face in a crowd; it's comforting. The same goes for our cats. Regular meetings can turn initial curiosity into a lasting friendship.
8. Safety Precautions
Hey, ever heard the saying, "It's all fun and games until someone loses an eye"? Well, we definitely don't want that happening on our watch, especially not during a cat playdate!
Reading the Room
You know, cats have this whole non-verbal communication thing down to an art. A flick of the tail, a twitch of the ear, and bam! They've said a whole paragraph.
So, it's super important to be alert to any signs of aggression or discomfort. If you see the fur on their back rising or hear a low growl, it might be time to intervene.
The Exit Strategy
Alright, here's a pro tip: Always have an exit strategy. Whether it's a separate room or a quick distraction with a toy, be ready to separate the cats if things get heated.
It's like having a fire exit – you hope you never need it, but it's good to know it's there.
9. The Role of Toys and Play
Okay, let's lighten things up a bit! Who doesn't love toys? I mean, I still have my favorite teddy from when I was a kid. And guess what? Cats are no different.
Breaking the Ice
Toys can be a fantastic way to break the ice. It's like when you're at a party, and someone brings out a board game. Suddenly, everyone's engaged, laughing, and having a good time.
So, next time you're setting up a playdate, bring out the feather wands and laser pointers. You'll have them chasing and playing in no time!
The Benefits of Play
Now, here's a cool stat for you: A 2017 study found that cats that play for at least 15 minutes a day are 60% less likely to exhibit behavioral issues. That's huge!
Play stimulates their minds, keeps them active, and strengthens their bond with other cats and you.
10. Socialization Beyond Playdates
Hey, ever thought about how we humans socialize in so many different ways? From coffee dates to group chats, we're always connecting. Well, our feline friends have their own social circles too, and it's not just limited to playdates.
The Broader Picture
Socialization for cats isn't just about meeting other cats. It's about the whole shebang – interactions with humans, other animals, and even their environment.
Think about it. When your cat sits by the window, watching the world go by, they're socializing in their own unique way.
The Signs and Challenges
Now, here's something interesting. Cats that are well-socialized tend to be more curious, playful, and less fearful.
On the flip side, a cat that hasn't had much social exposure might be more skittish or aggressive. It's like when we've been cooped up at home for too long – we get a bit antsy, right?
11. Building a Community
Alright, let's talk community. You know, the whole "it takes a village" thing? Well, it's not just about raising kids; it's about raising cats too!
Connect and Share
Playdates aren't just for our feline friends; they're for us too! While our cats are busy making friends, we get to connect with other cat parents. We can share stories, swap tips, and maybe even set up a kitty playgroup. How cool would that be?
The Support Network
Now, here's a table to break down the perks of a cat community:
| Perk | Why It's Awesome |
| --- | --- |
| Advice Swap | Got a cat conundrum? Someone in the community probably has an answer. |
| Emergency Help | If you ever need a hand, there's always someone to call. |
| Cat-Sitting | Going on vacation? Swap cat-sitting duties with a fellow cat parent. |
Final Words: Let's Paws and Reflect
Well, there we have it, fellow feline aficionados! From the early days of kittenhood to building a bustling cat community, we've journeyed through the ins and outs of creating the purr-fect playdate.
But hey, this isn't where our tale ends. Oh no, it's just the beginning!
Every cat is a universe of quirks, purrs, and playful pounces. And every playdate? Well, it's a new chapter in their adventure book. So, as we wrap up, I've got a little challenge for you.
Why not share your most memorable cat playdate story in the comments below? Or better yet, post a pic of your feline friend in action. Let's create a thread filled with whiskers, tails, and tales!
Remember, in the world of cats, every day is a new opportunity for fun, friendship, and a few fur-tastic memories.
So, let's get out there, spread the love, and make every playdate a story worth sharing. 🐾❤️📖