Hey there, fellow cat enthusiasts! 🐱 Ever heard someone say, "Cats have nine lives," and thought, "Wait, really?" Or maybe you've been told that cats hate water, only to find your feline friend splashing in the sink.
The world of cats is filled with myths, tales, and, let's admit it, a few hairballs of misinformation.
So, let's dive into the purr-fect world of our feline companions and debunk some of these whisker-twitching myths.
Ready for some cat-tastic revelations? Hold onto your catnip; this is going to be a wild ride!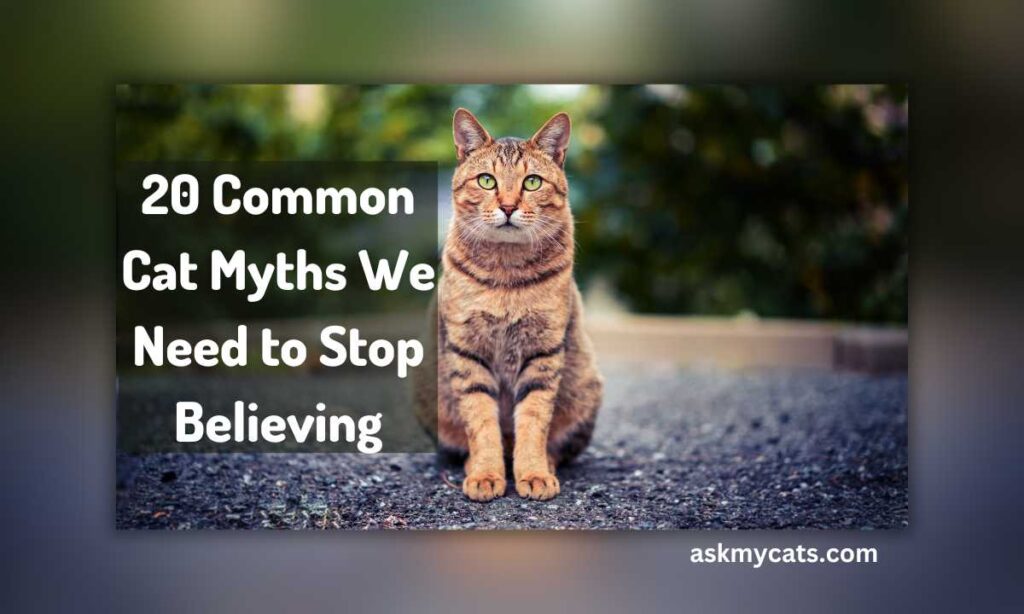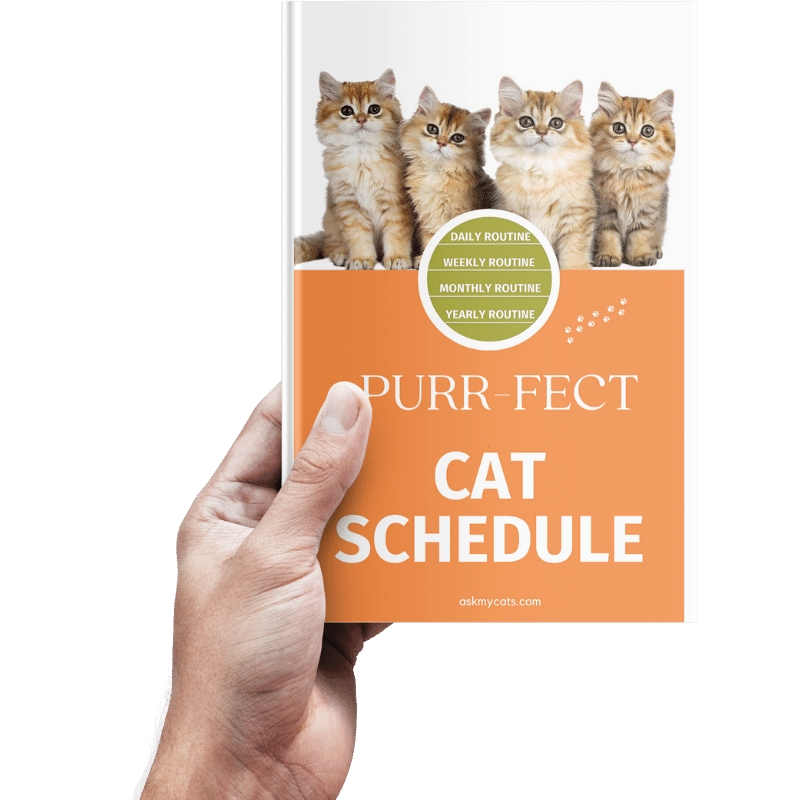 Discover the Secrets to a Happy Cat!
Discover the secrets to creating a happy and healthy daily routine for your feline friend. From playtime to mealtime, sleep to grooming, our expert guide will show you how to make every day a purrfect day for your cat.
Give Your Cat the Perfect Day – Get the Ebook!
1. Cats are not affectionate.
Oh, come on now! Who came up with this one? I've had cats that would snuggle up to me tighter than a pair of skinny jeans after Thanksgiving dinner.
Sure, some felines might have a bit of an independent streak, but that doesn't mean they're void of affection.
Remember that time when you were feeling down, and your kitty just knew and came over to give you some purr therapy? That's love, my friend.
And hey, just because they don't always show affection in the same way our tail-wagging canine buddies do doesn't mean it's not there. It's just…cat style!
2. Cats like being left alone.
Alright, I'll admit, sometimes after a long day, I wish I could channel my inner cat and have some alone time.
But thinking that cats always want to be left alone? That's a stretch. Sure, they might not be as in-your-face as some other pets (looking at you, Golden Retrievers), but they still crave interaction.
Ever noticed how your cat mysteriously appears the moment you sit down? Or how they can't resist joining your Zoom call? It's because they want to be around you! They're just, you know, playing it cool.
3. Cats have nine lives.
Oh boy, wouldn't that be something? Imagine having nine chances to redo that embarrassing thing you did at the office party.
But alas, our feline friends are just as mortal as we are. This myth probably started because cats are such agile and resilient creatures.
I mean, have you seen a cat slip and then play it off like they meant to do that? Classic cat move. But, in reality, they've got one precious life, just like the rest of us.
So, let's make sure we help them live it to the fullest!
4. Cats always land on their feet.
"Hey, watch this!" said no cat ever before doing a backflip. But seriously, while cats do have this uncanny ability called the "righting reflex," it doesn't mean they're immune to injuries.
This reflex starts appearing when kittens are 3-4 weeks old and is usually perfected at 7 weeks. It's all thanks to their flexible backbone and lack of a collarbone.
But, and this is a big BUT, it doesn't mean they should be put in situations where they could fall. High places without barriers? A big no-no. Let's keep our kitties safe, folks!
5. Black cats bring bad luck.
Really? We're still on this? Look, I've walked under ladders, broken mirrors, and yes, I've had black cats cross my path.
And guess what? I'm still here, and I didn't turn into a frog. Black cats are just like any other cats. They're fluffy, they're cute, and they're probably plotting world domination. But bad luck? Nah. In many cultures, black cats are actually seen as good luck.
So, the next time a black cat crosses your path, give them a little nod of respect. They might just spare you when the feline uprising happens.
6. Cats can be vegan or vegetarian.
Hold up! Before you start swapping out your kitty's tuna for tofu, let's get something straight.
Cats are obligate carnivores. That's a fancy way of saying they need meat to thrive. Their bodies require certain nutrients, like taurine, that they can only get from animal sources.
I mean, imagine if someone tried to force you to live on a diet of just kale and quinoa. You'd be dreaming of pizza in no time, right?
So, while you might be rocking the plant-based life (and more power to you!), let's make sure our feline friends get the meaty goodness they need.
7. Cats don't like dogs.
Ah, the age-old cats vs. dogs debate. But here's the tea: it's not always a "versus" situation. I've seen cats and dogs that are thicker than thieves, always getting into mischief together.
And then, of course, there are those that…well, let's just say they have a more "love from a distance" kind of relationship. It's all about personalities and introductions.
If you're thinking of introducing a cat to your doggo (or vice versa), take it slow. With a little patience, they might just become the next dynamic duo!
8. Cats only purr when they are happy.
Oh, if only it were that simple! Purring is like a cat's Swiss Army knife of communication. Sure, they purr when they're content, like when they're getting those perfect chin scratches.
But they also purr when they're nervous, in pain, or even when they're hungry. It's like their version of sending mixed signals.
So, the next time your cat's purring away, take a moment to check in with them. They might just be trying to tell you something!
9. Pregnant women can't have cats.
Whoa, Nelly! Let's clear this one up. The main concern here is a parasite called Toxoplasma gondii, which can be found in cat feces. But with a few precautions, there's no reason to part with your feline friend.
First off, if you've had cats for a while, there's a good chance you've already been exposed and are immune. Score!
But if you're still worried, just delegate the litter box duties to someone else (hey, any excuse to get out of cleaning, right?). And always wash your hands after petting your cat. Simple, right?
10. Cats can see in complete darkness.
Alright, I'll admit, it'd be super cool if cats had some kind of superhero night vision. And while they do have better night vision than us mere mortals, they can't see in total darkness.
Those big, beautiful eyes are designed to capture as much light as possible, but they still need a little bit to work with.
So, if you've ever tripped over your cat in the dark, now you know why they didn't move out of the way. They probably didn't see you coming!
11. Cats should drink milk.
Ah, the classic image: a cute kitty lapping up a bowl of milk. But wait a sec! While it might look picture-perfect, most adult cats are lactose intolerant.
Yep, that means that milk can upset their little tummies. "But they love it!" you might say. And sure, some cats do enjoy the taste.
But remember when you ate that entire chocolate cake and regretted it later? It's kinda like that.
If you really want to treat your feline friend, there are special cat milk products out there that won't give them a bellyache. Cheers to that!
12. Cats only eat when they're hungry.
Oh, if this were true, my cat wouldn't be trying to steal my pizza right now. Cats, much like us, can eat for a variety of reasons.
Boredom, curiosity, or just because it's there. Ever found your cat trying to nibble on something they shouldn't? It's not always hunger; sometimes it's just them being their quirky selves.
So, while it's essential to ensure they have a balanced diet, don't be surprised if they occasionally try to snag a bite of your sandwich. Sharing is caring, right?
13. Cats can't be trained.
Whoever said this never met a cat with a passion for treats! While they might not fetch your slippers (unless they're in a particularly playful mood), cats can definitely learn tricks and commands.
Ever seen those cool videos of cats high-fiving their owners? That could be you! The trick is finding the right motivation (hint: treats) and a whole lot of patience.
Remember, cats march to the beat of their own drum, but with some persistence, you can teach them a thing or two.
14. Cats are too independent to be good pets.
Well, excuse me! Just because they're not always following you around like a shadow (although some do!) doesn't mean they're not awesome companions.
Cats have this amazing ability to be there when you need them. Feeling down? Boom, there's a cat on your lap. Watching a movie? Suddenly, there's a cat by your side.
They might not always be in your face, but they're always there when it counts. And honestly, isn't that the best kind of friend to have?
15. When cats wag their tails, it means they are happy.
Oh, how I wish this were as straightforward as it sounds. But cats, being the complex creatures they are, use their tails to communicate a whole range of emotions.
Wagging can mean they're annoyed, excited, or just plain curious. It's like trying to decipher a secret code.
But with a little observation and a lot of love, you'll soon get the hang of it. Just remember, a flicking tail in cat language might just be their way of saying, "Hey, give me some space!"
16. Declawing cats is okay.
Oh boy, where do I start with this one? Imagine someone telling you, "Hey, let's remove the tips of your fingers. It's totally fine!" Yikes, right?
Declawing isn't just about removing a cat's nails. It involves amputating the last bone of each toe. Ouch!
Not only is it painful, but it can also lead to behavioral and health issues down the line. Cats use their claws for everything – climbing, playing, and defending themselves.
So, before you even think about declawing, consider alternatives like nail caps or regular trimming. Your kitty will thank you!
17. Cats are cold and aloof.
Really? Tell that to the cat who insists on sitting on my keyboard every time I try to work. Or the one who headbutts me every morning for cuddles.
Cats have a wide range of personalities. Some might be a bit reserved at first, but with time and patience, they often come out of their shells.
And those who are already outgoing? Well, let's just say you'll have a furry shadow following you around.
So, the next time someone says cats are aloof, just smile, nod, and think of all the purr-filled moments you've shared with your feline friend.
18. Cats are low-maintenance pets.
Okay, I'll admit, they might not need daily walks like dogs, but that doesn't mean you can just leave a bowl of food out and call it a day.
Cats need stimulation, playtime, and yes, even training. Ever tried litter training a kitten? It's an adventure, to say the least.
And let's not forget about regular vet check-ups, grooming, and all the love and attention they crave.
So, while they might not be as demanding as some pets, they still need your time and care. But trust me, the headbutts, purrs, and playful antics make it all worth it!
19. Cats hate water.
Well, I wouldn't go booking a beach vacation with your cat just yet, but not all of them despise water.
I've seen cats who love to play with dripping faucets or even join their owners in the shower. Yep, you read that right.
But, of course, there are those who would rather face the vacuum cleaner than a drop of water. The key is to introduce them slowly and make sure it's a positive experience.
And if your cat's not a fan? That's okay too. Just make sure they have plenty of dry, cozy spots to curl up in.
20. All cats love catnip.
Ah, catnip. The feline equivalent of a double espresso. But did you know that not all cats are affected by it? It's actually genetic! Around 30-50% of cats don't respond to catnip at all.
So, if you've ever waved a catnip toy in front of your cat and got nothing but a blank stare, now you know why. But for those who do love it? Oh boy, get ready for some wild and wacky antics.
Just remember to use it in moderation. We don't want our kitties getting too wired, now do we?
Final Words: Let's Paws and Reflect!
Well, there you have it, folks! We've journeyed through the feline world, debunking myths and setting the record straight.
Cats truly are enigmatic creatures, aren't they? But that's what makes them so fascinating.
Whether you're a seasoned cat owner or just a curious cat admirer, I hope this article shed some light on these wonderful creatures.
Got a cat myth or story of your own? Drop it in the comments below! Let's keep the cat-tastic conversation going. 🐾