Hey there, fellow feline fanatics! 🐱 Ever found yourself watching your cat and thinking, "What on earth are you up to?" I mean, one minute they're chasing their tail, and the next, they're staring intently at… absolutely nothing.
Cats, with their quirky antics and mysterious ways, are nature's little enigmas. And while we adore them to bits, they sure leave us scratching our heads sometimes.
But here's the kicker: even science is often left in the dark when it comes to our whiskered wonders.
Ready to dive into some of the most baffling cat mysteries that even the experts can't explain? Trust me; you're in for a purr-fectly perplexing ride! 🐾🔍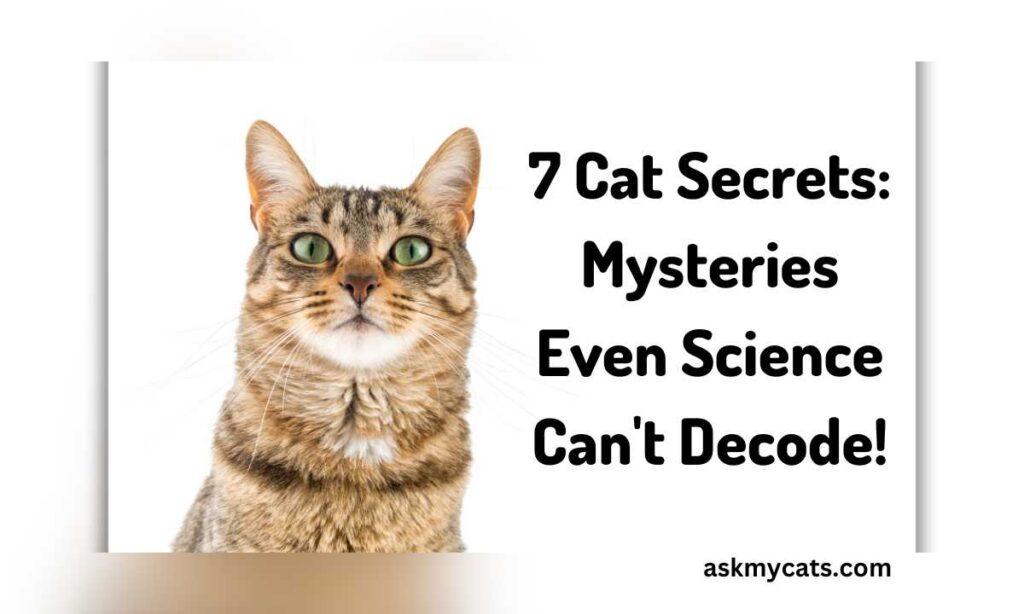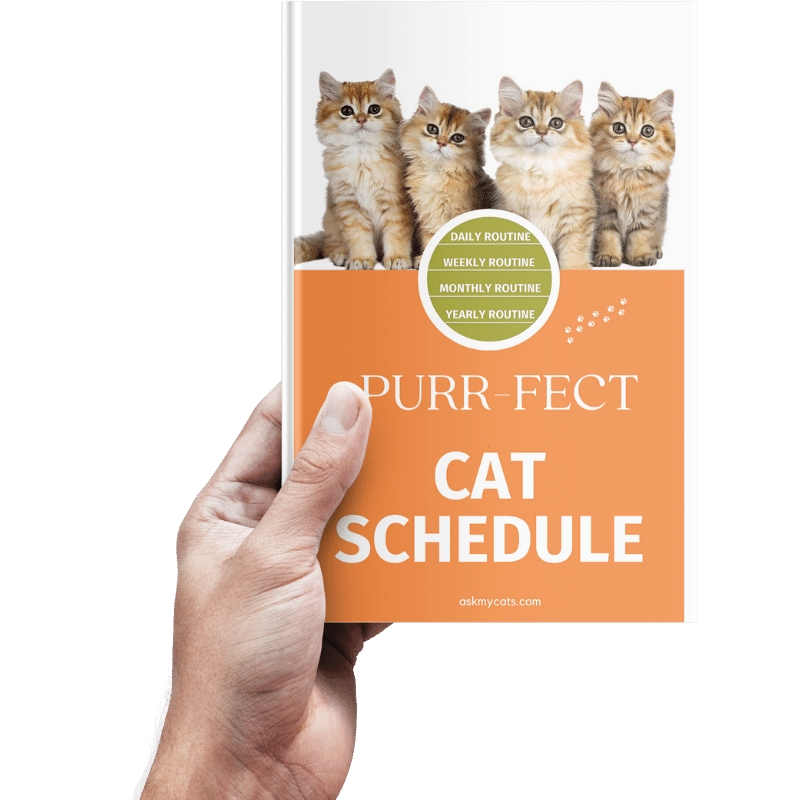 Discover the Secrets to a Happy Cat!
Discover the secrets to creating a happy and healthy daily routine for your feline friend. From playtime to mealtime, sleep to grooming, our expert guide will show you how to make every day a purrfect day for your cat.
Give Your Cat the Perfect Day – Get the Ebook!
1. The Purring Enigma
Ah, the soothing sound of a cat's purr. Ever nestled with your feline friend and wondered, "How on earth do they do that?"
Well, you're not alone! Science has been scratching its head over this one for ages.
Some theories suggest that cats purr by rapidly contracting and relaxing their laryngeal (voice box) muscles. But here's the kicker: we still don't know why they do it.
"Is it because they're happy?" you might ask. Maybe. But cats also purr when they're stressed, injured, or even giving birth. Talk about mixed signals!
And get this: some studies hint that a cat's purr can accelerate the healing of bones and tissues. Whoa! Nature's little vibrational healer, huh?
But again, it's all speculation. Science, you've got some catching up to do!
2. The Cat's Righting Reflex
"Look, Ma, no hands!" If cats could talk, they'd probably say this every time they took a tumble.
These agile creatures have an uncanny ability to always land on their feet, thanks to the "righting reflex." But how do they do it? Well, it's a combination of a flexible backbone and a lack of a collarbone.
But, and here's the fun part, even with all our high-tech gadgets and slow-motion cameras, science still can't pinpoint the exact mechanics of this feline acrobatics.
I once asked my vet, "Why do cats always land on their feet?" She chuckled and replied, "Because they've had millions of years of practice!"
But on a serious note, while most cats do land on their feet, it's not always a safe landing. So, no tossing Mr. Whiskers off the balcony, okay?
3. The Mysterious Nighttime Zoomies
Ever been jolted awake at 3 a.m. by the sound of your cat sprinting around the house like a bat out of hell? Yep, the notorious nighttime zoomies.
But why, oh why, do our feline friends get these sudden bursts of energy in the dead of night?
Evolution might have an answer. Cats are crepuscular, which means they're most active during dawn and dusk. But that doesn't explain the midnight madness, does it?
Some say it's pent-up energy. Others think it's their wild hunting instincts kicking in. I once joked with a fellow cat owner, "Maybe they're just trying to keep us on our toes!"
We had a good laugh, but deep down, we're all still wondering. And science? Well, it's still scratching its head, just like the rest of us.
4. The Cat's Sixth Sense
Ever watched your cat suddenly stare at a blank wall, or act all jumpy before a storm? Makes you wonder, doesn't it? Do they see ghosts? Or perhaps they've got some sort of sixth sense?
Well, here's a fun fact: there are reports of cats acting all weird before earthquakes. A study in Japan even found that 236 cases of erratic animal behavior were observed before a major quake. But cats? They topped the list!
"Maybe they're just feeling the vibrations?" I mused to a friend once. She replied, "Or maybe they're just time-traveling wizards in disguise!" We both chuckled, but the mystery remains.
While their heightened senses might give them an edge, science is still, well, kinda clueless about the full extent of their premonitory powers.
So, the next time Fluffy stares at the ceiling, maybe it's time to grab that emergency kit. Just in case!
5. The Enigma of Catnip
Ah, catnip! The feline equivalent of a wild party. But here's a puzzler: why does it send some cats into a frenzy, while others just give it a bored sniff and walk away?
Around 30% to 50% of cats are immune to its effects. Genetics, it seems, plays a role. But what about the rest? Why do they roll, jump, and act all loopy?
I remember asking a pet store owner, "What's in this stuff?" He winked and said, "Magic!" But on a more scientific note, catnip contains a compound called nepetalactone. It's believed to mimic feline pheromones, causing all that euphoria.
But, and here's the twist, science still can't explain the whole shebang. Why the wild reactions? Why the immunity in some? And most importantly, why do cats seem to hallucinate? Aliens? Magic? Who knows!
6. The Secretive Sandpaper Tongue
Ever been licked by a cat and thought, "Ouch, that's rough!"? It's like they've got tiny sandpapers in there.
But why? Close-up images (for those who've dared to zoom in) reveal tiny, backward-facing spines called papillae. These little doohickeys help them groom and strip meat from bones. Handy, right?
But here's where it gets wild: some researchers believe these spines might also help cats drink. Yep, they might use a combo of gravity and inertia to pull up liquids. Mind-blowing!
I once chatted with a biologist about it. "It's like they have a built-in comb and straw," she said. I laughed, "Nature's Swiss Army knife, huh?"
But even with all our tech and studies, we're still piecing together the puzzle. How exactly does it work? Why the rough texture?
And, seriously, why does it feel like a mini spa treatment when they groom themselves but like sandpaper on our skin? Science, you've got some explaining to do!
7. The Cat's Mysterious Communication
Alright, cat owners, ever been on the receiving end of that slow, deliberate blink from your feline overlord? It's like they're trying to tell us something.
Some say it's a "cat kiss" or their way of saying, "Hey, we're cool." But then there are the tail flicks, the ear twitches, and the chirpy meows. It's like they've got their own Morse code going on!
I remember asking my neighbor, a self-proclaimed "cat whisperer", about it. "It's all in the eyes," he said, mimicking a slow blink. I tried it on my cat, and she blinked back!
Was it a fluke? Or had we just had a heart-to-heart? The truth is, while we've decoded some of their signals, there's a ton we're still clueless about.
Why the chirps when they see birds? Why the kneading on our laps? And seriously, what's with the midnight serenades? Cats, you mysterious creatures, keep those secrets coming!
Final Words: The Feline Enigma: What's Your Take?
Well, there you have it, fellow cat enthusiasts! A whirlwind tour through the baffling, bewitching world of our feline friends.
From purring puzzles to midnight melodies, cats never cease to amaze and mystify. And while science has given us some clues, it seems our kitties still have the upper paw when it comes to keeping secrets.
But here's the fun part: what do you think? Ever witnessed a quirky cat behavior that left you stumped? Or maybe you've got a theory or two of your own?
Dive into the comments and share your feline tales, theories, and tidbits. After all, unraveling the cat conundrum is way more fun when we do it together.
So, let's get chatting and keep the cat mysteries alive! 🐾🔍🐱