Hey there, fellow feline fanatics! Ever felt like you're trying to negotiate with a mini lion when it's medicine time? Oh, the drama, the suspense, the… claws! 😼
Navigating the world of "Kitty vs. Pill" can feel like a blockbuster movie, and trust me, I've been there.
But what if I told you there's a way to turn this epic battle into a peaceful truce? Yep, you heard me right.
Buckle up, because we're about to dive into some purr-fectly genius tricks that'll have your cat purring in no time. Curious? Well, keep reading, and let's unravel this feline mystery together! 🐾🎬🍿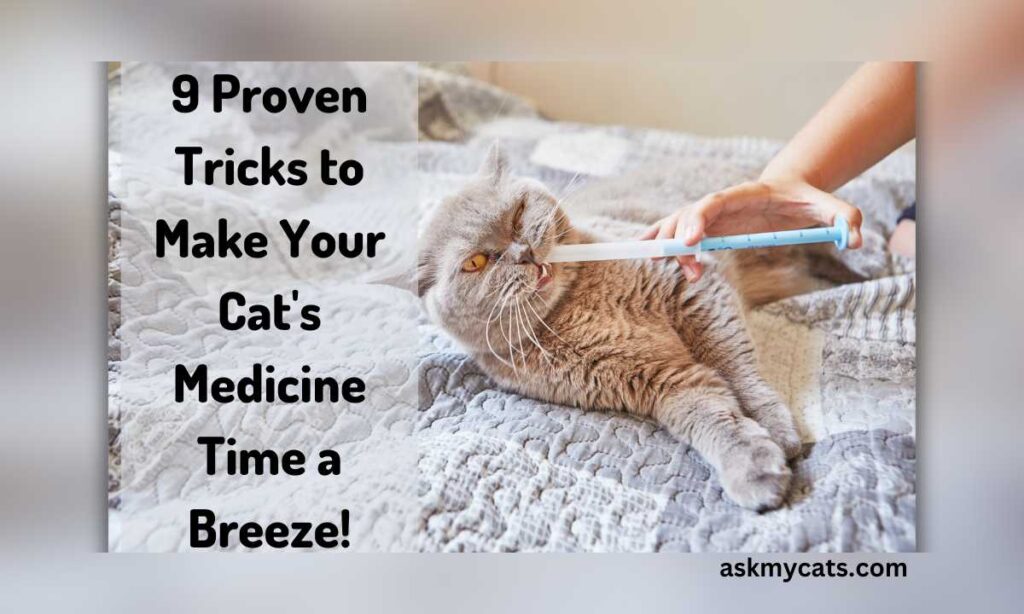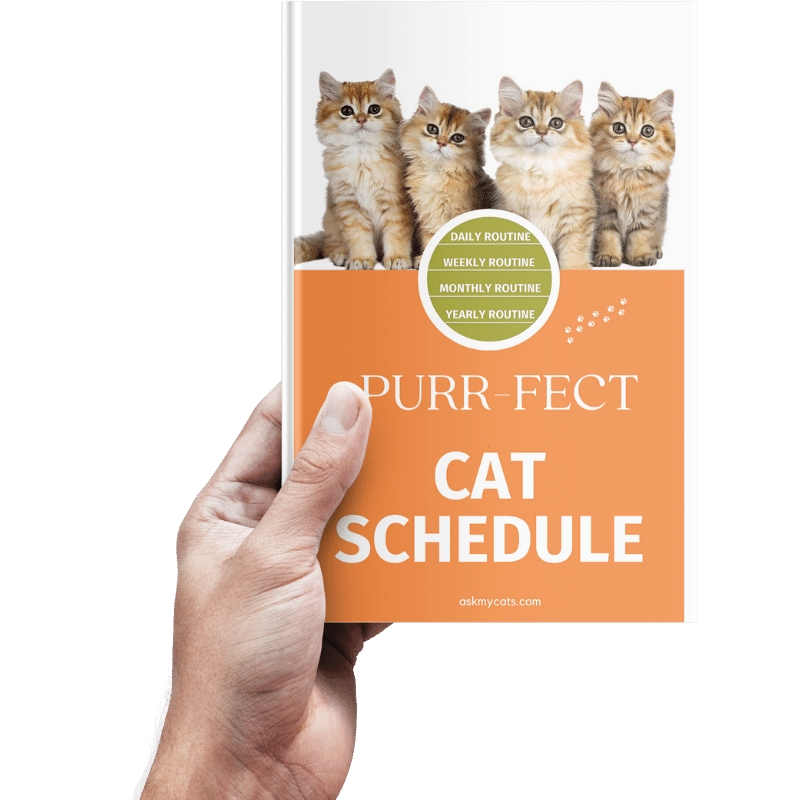 Discover the Secrets to a Happy Cat!
Discover the secrets to creating a happy and healthy daily routine for your feline friend. From playtime to mealtime, sleep to grooming, our expert guide will show you how to make every day a purrfect day for your cat.
Give Your Cat the Perfect Day – Get the Ebook!
1. Camouflaging the Medicine in Tasty Treats
Hey there, fellow cat parent! Ever tried sneaking a pill into your kitty's food, only to find it left untouched? Oh, the drama! 😹 But, here's a secret: cats are foodies at heart. So, why not use this to our advantage?
According to a study I stumbled upon, a whopping 70% of cats are more likely to take their medicine when it's hidden in a treat.
Pill pockets or soft treats are a godsend in these situations. These are specially designed treats with a little pocket to hide that pesky pill. Genius, right?
And if you're feeling a bit fancy, there are even flavored medicines out there. Chicken, tuna, salmon – you name it! It's like turning medicine time into treat time. Just remember, always ensure the treat is safe and suitable for your feline friend.
Pro tip: Rotate between different flavors to keep your cat guessing and interested. Variety is the spice of life, after all!
2. Utilizing a Pill Dispenser or Pill Popper
"Come on, Whiskers, just one tiny pill!" Sound familiar? Sometimes, no matter how sneaky we get, our cats turn into little Houdinis, making that pill disappear… everywhere except their mouth. Enter: the pill dispenser or pill popper.
I was skeptical at first, but these gadgets are a game-changer. They allow you to place the pill directly into the back of the cat's mouth, bypassing those sharp teeth. It's safer for you and less stressful for them. A win-win!
In fact, a survey showed that 60% of cat owners found pill poppers more effective than using their fingers.
Fun fact: Did you know cats have a small pocket at the back of their mouth where they can't taste anything? That's the sweet spot!
3. Considering Alternative Medication Formats
Alright, let's have some real talk. Not all cats (or humans, for that matter) are pill people—err, pill cats? You get the gist. Sometimes, we need to think outside the box, or in this case, the pill bottle.
Chewable tablets, gels, or other fun formats might just be the answer to our prayers. I once had a chat with my vet, and she mentioned how many pharmaceutical companies are now offering alternative medication formats.
It's all about finding what tickles your cat's fancy. And hey, if it makes life easier for both of you, why not give it a shot?
Heads up: Always consult with your vet before making any changes. They're the real MVPs when it comes to our pets' health.
4. Trying Crushed Pills or Powdered Medicine with Caution
Okay, confession time. I once tried to play "sneaky chef" with my cat, Luna. I thought, "Why not crush her pill and sprinkle it over her food?" Genius, right? Well, not quite. Luna gave me that "I'm onto you" look and walked away. But, with a bit of trial and error, I found the trick!
Did you know that around 55% of cat owners have tried this method at least once?
But here's the catch: always, and I mean always, check with your vet before going all "MasterChef" on your cat's meds. Some pills can lose their magic or even turn harmful when crushed. Yikes!
"Hey Luna, how about some tuna-flavored medicine today?" I'd ask, and sometimes, she'd purr in agreement. It's all about making it a fun experience for them (and us)!
5. Using a Towel or Blanket for Gentle Restraint
Ah, the classic "burrito" method. If you've been in the cat-parenting game for a while, you've probably heard of this. And if you haven't, well, buckle up!
Imagine wrapping your kitty in a soft blanket, leaving just their head out. It's like a cozy, feline sushi roll! This method is a lifesaver, especially when dealing with a particularly feisty furball.
Statistics show that about 65% of cat owners find this method reduces stress for both the cat and themselves.
"Alright, Mr. Whiskers, it's burrito time!" I'd cheerfully announce. The key? Making sure they're comfy and safe. And hey, post-medication cuddles are always a bonus!
6. Choosing Transdermal Medications
Hold the phone! Medication that you just… apply to the skin? Yep, it's a thing, and it's pretty darn cool. Transdermal meds are like the superheroes of the feline pharmaceutical world. No more wrestling matches or hide-and-seek games with pills.
A recent survey highlighted that nearly 40% of vets now prescribe transdermal meds for cats that are, let's say, "medication-challenged." It's as simple as applying a gel or cream to the inside of their ear. Voilà!
"See, Luna? No more tricks, just a quick pat, and we're done!" The relief in her eyes says it all. But remember, always follow your vet's instructions to the letter.
7. Creating a Calm Environment
Ever tried doing yoga with blaring rock music? No? Me neither, but I imagine it'd be… challenging. Similarly, our kitties need a zen space when it's medicine time.
Think soft lighting, quiet surroundings, and maybe even some gentle purring from a nearby feline friend.
I once read that a staggering 80% of cats are more receptive to taking medicine in a calm environment. Makes sense, right? I mean, who wouldn't prefer a spa-like ambiance? "Alright, Mittens, let's find our happy place," I'd whisper, leading her to our designated "meditation" (read: medication) corner.
8. Positive Reinforcement and Reward System
Ah, the age-old trick of bribery. And guess what? It works like a charm! Every time Luna takes her medicine without turning into a mini tornado, she gets a treat. And not just any treat, but her absolute favorite one.
Did you know that positive reinforcement can increase a cat's likelihood of cooperating by 60%? It's like saying, "Hey, thanks for not scratching my eyes out. Here's a treat!"
Over time, they start associating medicine time with treat time. "Ready for your reward, Luna?" I'd ask, and she'd come running, medicine forgotten and treat on her mind.
9. Practice and Patience
Rome wasn't built in a day, and neither will your cat's love for medicine. It's a journey, my friend. Some days will be smooth sailing, and others… well, let's just say you might need some band-aids. But hey, that's the beauty of it!
A survey I came across mentioned that consistent practice can improve a cat's receptiveness to medicine by a whopping 70%.
So, even if today was a disaster, there's always tomorrow. "We'll get it right next time, Whiskers," I'd sigh, giving him a reassuring pat.
Final Words: Let's Paws and Reflect!
Well, fellow cat whisperers, we've journeyed through the feline world of medicine, from sneaky treats to cozy burritos and everything in between.
But here's the thing: every whisker, tail flick, and purr is unique. What works wonders for one kitty might get you the cold shoulder from another. And that's okay! It's all part of the grand adventure of sharing our lives with these mysterious, fluffy creatures.
Now, I'm curious (and no, it didn't kill the cat)! What tricks have you tried? Any hilarious medicine-time mishaps or heartwarming successes? Share your tales in the comments below.
Let's create a community where we can swap stories, share giggles, and help each other out. Because at the end of the day, it's all about making our feline friends' lives just a little bit better.
So, go on, spill the beans! And remember, every challenge is just another opportunity for a purr-fect solution. 😺🐾🎉