Hey there, fellow cat lover! Ever found yourself staring into those big, feline eyes and wondering, "Does my cat really get how much I adore them?"
I mean, we can't exactly send them a heartfelt text or serenade them under the moonlight (well, you could, but…).
So, how do we bridge the language barrier? Fear not, because I've got the purr-fect guide for you.
Dive in and discover the many ways to tell your cat "I love you" in a language they truly understand. Curious? Well, let's unravel these feline love mysteries together, shall we? 🐱❤️🔍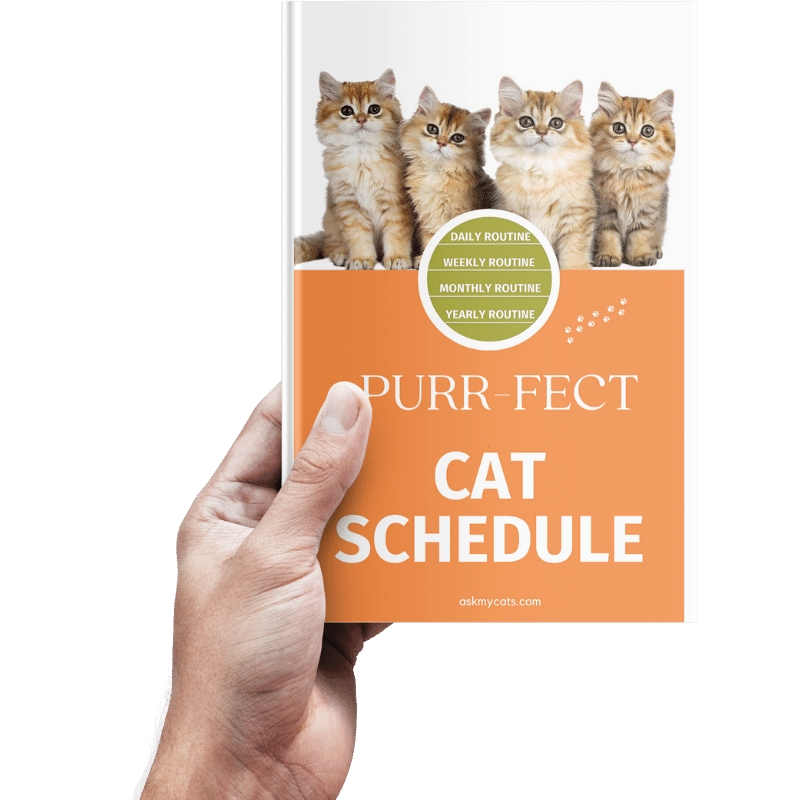 Discover the Secrets to a Happy Cat!
Discover the secrets to creating a happy and healthy daily routine for your feline friend. From playtime to mealtime, sleep to grooming, our expert guide will show you how to make every day a purrfect day for your cat.
Give Your Cat the Perfect Day – Get the Ebook!
1. Slow Blinking
Hey, did you know that when you slowly blink at your cat, it's kinda like giving them a gentle, silent smooch? Yep, that's right!
It's not just some random thing your cat does when they're feeling lazy. It's their way of saying, "Hey, I trust you. You're my person."
So, the next time you're lounging on the couch and your furball is staring at you, give them a slow, deliberate blink.
It's like a secret handshake, but way cooler. And who knows? They might just blink back, sealing the deal on your unspoken bond. Wink, wink!
2. Grooming and Massage
Alright, confession time: I absolutely adore those moments when my cat decides to give me a little "hair salon" treatment.
You know, when they start kneading and purring, and it's like they're telling you, "Relax, human. I got this." Grooming isn't just about keeping them clean; it's a bonding ritual.
So, grab that brush and give your kitty a spa day. And hey, while you're at it, throw in a gentle massage. Trust me, they'll be purring in no time, and that's cat language for "Oh yeah, that's the spot!"
3. Respect Personal Space
Okay, let's get real for a sec. Cats are like those moody teenagers we once were (or still are?).
Sometimes they're all up in your face, and other times, they're like, "Ugh, leave me alone!" And that's totally cool. Just like us, they need their "me time."
So, if Mr. Whiskers is giving you the cold shoulder, don't take it personally. Give them some space, and before you know it, they'll be back, curling up on your lap, ready for some TLC. It's all about balance, folks!
4. Let Them Rub on You
Oh boy, here's a fun one! Ever had your cat suddenly rub their face against yours? Or maybe they've given your leg a cheeky nuzzle? That's not just them being cute (although, let's face it, it's adorable). It's their way of saying, "You're mine, human."
They're marking you with their scent, and in the cat world, that's a big deal. It's like they're telling the whole world, "Back off; this one's taken!"
So, the next time they give you a little rub, lean into it. It's their version of a hug.
5. Provide Comfortable Beds and Safe Spaces
Picture this: It's a chilly evening, and you've just settled down with a cup of hot cocoa. Suddenly, you spot your cat, all snuggled up in their favorite bed, looking all kinds of cozy. Heart-melting, right?
Cats love their comfort, and by providing them with soft, warm beds and safe spaces, you're telling them, "I've got your back, buddy." It's more than just a comfy spot; it's a sanctuary.
And every time they curl up and drift off to dreamland, they're reminded of how much you care.
6. Prepare Special Meals and Treats
Oh, the joys of food! Ever noticed that twinkle in your cat's eyes when you're about to serve them a meal? It's like they're saying, "Oh, you shouldn't have… but I'm so glad you did!"
Preparing special meals or treats for your kitty isn't just about filling their bellies; it's about filling their hearts. Think about it: when you whip up a special dish for a loved one, it's a labor of love.
So, why not do the same for your feline friend? Whether it's a homemade tuna treat or a special catnip surprise, it's the thought that counts. And trust me, they'll appreciate it. Just watch out for those purrs of approval!
7. Use Vocal Cues
"Meow, purr, chirp!" No, I haven't lost my marbles. That's just me trying to speak 'cat'. And guess what? They totally get it. Using vocal cues is like learning a new language, but instead of words, it's all about tones and pitches.
When you mimic their sounds or respond with a soft, gentle voice, you're building a bridge of communication. It's like saying, "I hear you, and I'm here for you."
So, the next time your cat gives you a chirp or a meow, give them a little reply. It's like having a chit-chat, but way cuter.
8. Interactive Play
Alright, pop quiz! What's the quickest way to a cat's heart? Toys! And not just any toys, but the kind that gets them moving, jumping, and maybe even doing a little somersault. Interactive play isn't just fun and games; it's a bonding experience.
It's like going on a mini-adventure together, right in your living room. Whether it's a feather wand or a laser pointer, it's all about the thrill of the chase.
And hey, it's a win-win! They get their exercise, and you get to see them in all their playful glory. Game on!
9. Pet in Preferred Areas
Okay, real talk: cats can be a tad…picky. One minute they're loving the chin scratches, and the next, they're giving you the side-eye. But that's what makes them so endearing, right?
When you pet them in their preferred areas, it's like hitting the jackpot. It's their way of saying, "Ah, you get me."
So, whether it's the base of their tail, behind the ears, or under the chin, find that sweet spot. And when you do, bask in the glory of those purrs and kneads. It's like a seal of approval, straight from the kitty HQ.
10. Observe Body Language and Communication
Ever had one of those moments where you're trying to figure out what your cat's thinking? You know, when they give you that mysterious stare, and you're left scratching your head?
Well, here's the thing: cats are masters of body language. Every twitch of the tail, every flick of the ear, it's all part of their complex communication system.
By observing and understanding these subtle cues, you're not just being a good pet parent; you're being a good listener. It's like cracking a code, and once you do, it opens up a whole new world of understanding.
So, put on your detective hat and get observing. The game is afoot!
11. Allow Them to Sniff, Lick, and Explore Your Scent
Okay, hands up if you've ever been "sniffed" by your cat. Feels a bit odd, right?
But here's the scoop: for cats, sniffing is like reading a biography. Your scent tells them all about your day, your mood, and, well, you.
When they take a moment to sniff or even give you a cheeky lick, they're getting to know you on a whole new level. It's their way of saying, "Hey, I'm interested in your story."
So, the next time your kitty comes up for a sniff, let them. It's like sharing a secret, one whiff at a time.
12. Cardboard Boxes and Hideaways
Ah, the classic cardboard box! Who knew something so simple could bring so much joy? \
But here's the thing: for cats, a box isn't just a box. It's a fortress, a hideaway, a little slice of paradise. It's where they can retreat, relax, and just be.
So, if you've got a spare box lying around, don't toss it. Gift it to your feline friend. And watch as they turn it into their personal kingdom. It's like giving them a mini-vacation, right in the comfort of your home.
13. Quality Time and Quiet Companionship
Ever had one of those days where you just want to chill with someone, no words needed? Cats get that. Sometimes, they don't want playtime or treats. They just want you.
Spending quality time with your cat, whether it's a quiet cuddle session or just sitting side by side, speaks volumes.
It's like saying, "I'm here, and I'm present." And trust me, they feel it. It's those little moments of silent companionship that build a bond like no other.
14. Provide Scratching Posts
"Scratch, scratch, scratch!" Sound familiar? If you've got a cat, you know the drill.
But here's a fun fact: scratching isn't just a pastime for cats; it's a necessity. It helps them stretch, mark their territory, and keep those claws in tip-top shape.
So, if you want to show your kitty some love, get them a scratching post. It's like giving them their own personal gym. And hey, it might just save your furniture too!
15. The 3-Step Handshake
Alright, this one's a game-changer. Ready? The 3-Step Handshake is all about building trust, one step at a time.
First, hit them with the slow blink (you've got this!).
Next, offer something with your scent, maybe a sock or a shirt.
And finally, the pièce de résistance: extend your hand, letting them come to you.
It's like asking for permission, saying, "Is it cool if we hang?" And when they nuzzle or rub against your hand, it's a resounding "Yes!"
Final Words: Let's Paws and Reflect
Well, there you have it, fellow cat enthusiasts! A comprehensive guide to whispering sweet nothings into your kitty's ears (or, you know, just showing them you care).
Cats might have a rep for being mysterious creatures, but with a little patience and a lot of love, you can crack their code.
So, what are you waiting for? Dive into this world of feline affection and discover the many ways to say "I love you" in cat language.
And hey, why not share your own cat-ship stories in the comments below? We'd love to hear from you! 🐾❤️