Hey there, fellow cat whisperers! 🐱 Ever found yourself wondering, "How do I get my cat to adore me as much as I adore them?"
Well, you're in for a treat! Dive into this guide, packed with whisker-twitching tips and feline-approved tricks.
From understanding their mysterious body language to the magic of treats, we've got it all covered.
Ready to embark on this pawsome journey? Hold onto your catnip, because by the end, you might just become your cat's favorite human. Curious? Let's dive right in!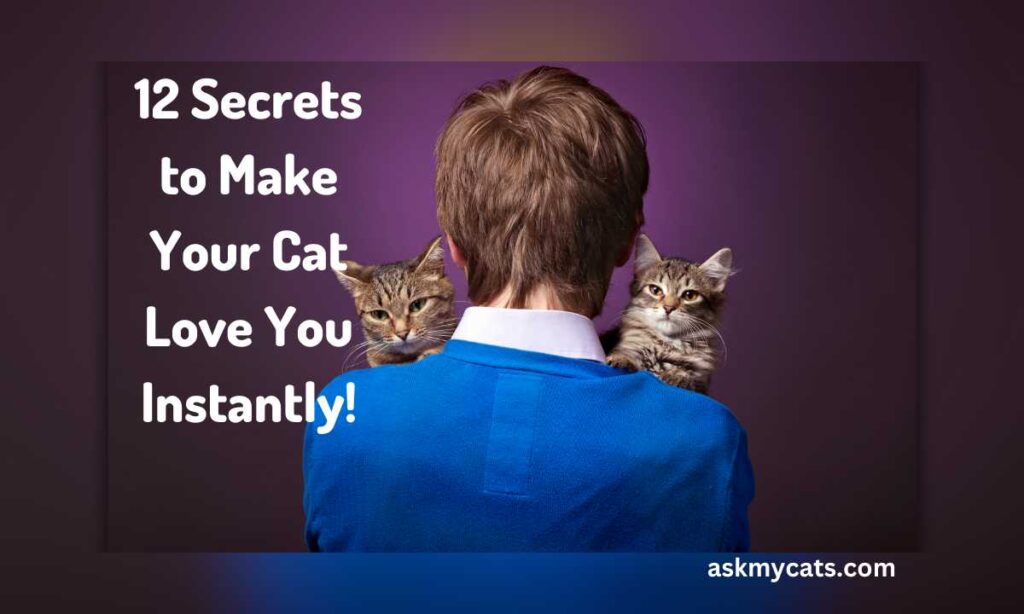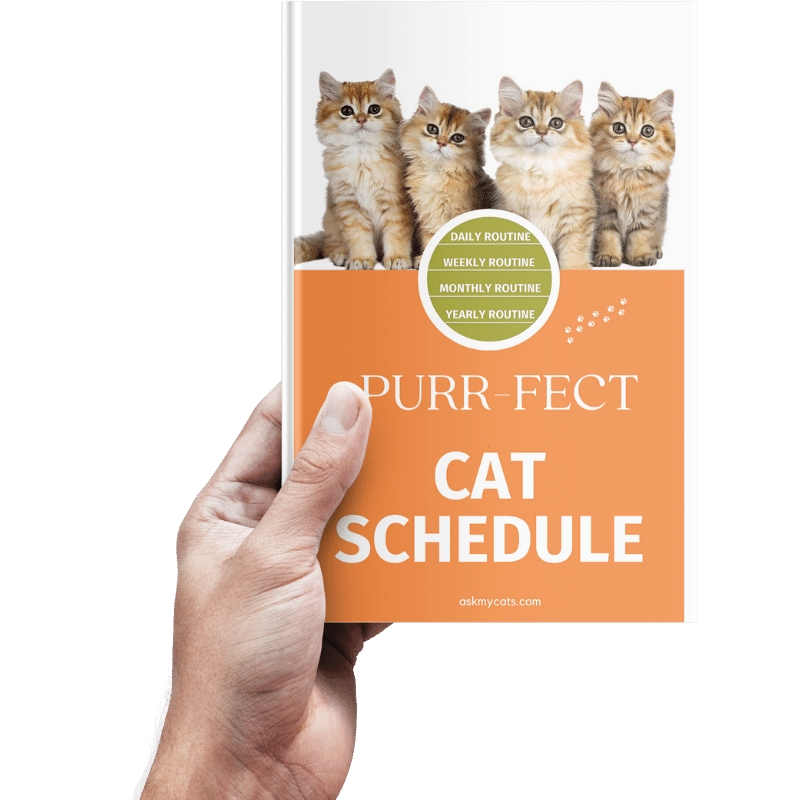 Discover the Secrets to a Happy Cat!
Discover the secrets to creating a happy and healthy daily routine for your feline friend. From playtime to mealtime, sleep to grooming, our expert guide will show you how to make every day a purrfect day for your cat.
Give Your Cat the Perfect Day – Get the Ebook!
1. Understanding Cat Body Language
Hey there, fellow cat lover! Ever found yourself staring deep into your cat's eyes, trying to decipher what they're thinking? Well, I've been there.
Cats, much like us, have a language of their own. It's all in the tail twitches, ear tilts, and those mysterious eye blinks.
When Mr. Whiskers blinks slowly at you, it's like he's giving you a warm, fuzzy hug. But, watch out for those dilated eyes and hisses – that's kitty code for "back off, buddy!"
So, the next time you're trying to figure out if your cat's in the mood for cuddles or play, just tune into their body language. It's like learning a new dance, and trust me, it's worth it!
2. Respecting a Cat's Space and Territory
Alright, let's get real. We all need our space, right? Cats are no different. Picture this: You've had a long day, and all you want is some alone time.
Now, imagine someone constantly poking you, wanting attention. Annoying, huh? That's how our feline friends feel when we invade their space.
It's not that they don't love us; they just value their personal space. And hey, who can blame them?
So, the next time Fluffy retreats to her favorite corner, let her be. She'll come around when she's ready, and when she does, it'll be pure magic!
3. Petting a Cat Where They Like
"Ouch! Why'd you bite me?" If you've ever uttered these words after petting your cat, you're not alone. Cats are peculiar creatures. While they might love a good chin scratch, venture to their belly, and it's a whole different story.
It's like they have these invisible "Do Not Touch" signs. But here's a secret: pay attention to their reactions.
Some cats adore head rubs, while others might prefer a gentle stroke down their back. It's all about finding that sweet spot. And once you do, you'll be in their good books forever.
So, the next time you're in the mood for some kitty cuddles, remember to tread carefully. It's a game of trial and error, but oh, the rewards are worth it!
4. Letting the Cat Lead and Initiate Interaction
Picture this: You're at a party, and someone you barely know keeps following you around, trying to strike up a conversation. Creepy, right?
Well, that's how our cats feel when we're always in their face. Cats, bless their hearts, are curious creatures. They love to explore, sniff around, and come to us when they feel like it.
So, why not let them take the lead? Let them initiate the interaction. It's like playing hard to get, but with a furry twist.
Trust me, when they come purring around your legs, it's a sign that they truly want to be with you. And isn't that just the best feeling in the world?
5. Meeting Their Basic Needs
"Hey, human! My food bowl's empty!" If cats could talk, I bet we'd hear this a lot. Meeting our cat's basic needs is like laying the foundation for a skyscraper of trust and love.
Think about it. Would you be all lovey-dovey if you were hungry or surrounded by a mess? Probably not. Cats are the same.
A well-fed cat, a clean litter box, and some fun toys to play with are the building blocks of a happy kitty life. It's like they say, "Happy cat, happy life." Okay, I just made that up, but you get the drift.
So, let's make sure our feline friends are well taken care of. After all, they're not just pets; they're family.
6. Mimicking Cat Behavior and Communication
Oh boy, here's a fun one! Ever caught yourself slow blinking at your cat and getting a blink back? It's like a secret handshake, but way cooler.
Cats have this unique way of communicating, and if we can tap into that, we're golden. Imagine walking into a room and giving your cat a nose boop or a head butt. Sounds silly? Maybe. But to your cat, it's like saying, "Hey, you're one of us!"
So, the next time you're lounging with your feline friend, try mimicking their behavior. It's a hoot, and you'll be surprised at how much closer it brings you two.
7. Simply Cohabitate
Ah, the art of just… being. Cats are masters at this. Ever noticed how they can just sit and stare into space, lost in their kitty thoughts?
There's something so therapeutic about it. And guess what? We can join in on the fun. Just being around your cat, sharing the same space without any expectations, can work wonders. No need for constant petting or play.
Sometimes, just the act of coexisting, breathing the same air, and enjoying each other's company is enough. It's like that comfortable silence you share with a close friend. Pure bliss!
8. Considering Your Scent
"Sniff, sniff… who are you?" If cats had a motto, this would be it. Their world revolves around scents.
So, if you come home smelling like a bouquet of flowers (thanks to that new perfume), don't be surprised if your cat gives you the cold shoulder. They're not being snooty; they're just trying to figure you out.
But here's a pro tip: try using a cat pheromone spray. It's like catnip but for scents. Your cat will be all over you, and not because you smell like tuna. It's a game-changer!
9. Engage in Play
"Ready, set, pounce!" Playtime is like a mini workout session for our cats. And trust me, they live for it.
Whether it's chasing a laser pointer or wrestling with a feather toy, play is the universal language of love for cats. It's their way of bonding, letting off steam, and just having a good ol' time.
So, roll up those sleeves, get down on the floor, and let the games begin! And hey, it's a great way for us to de-stress too. Win-win!
10. Positive Communication
Alright, confession time. I've yelled at my cat. Yep, I did. But guess what? It got me nowhere. Cats don't respond well to negativity. Instead, they thrive on positive vibes.
So, ditch the yelling and embrace the praises. A simple "Good job, Whiskers!" can go a long way. Positive reinforcement, be it through kind words or treats, can work wonders.
Remember, it's all about building trust. And once you have that, the world's your oyster… or should I say, your litter box?
Alright, let's jump right back into our feline love fest! Here's the continuation of our guide to winning over our whiskered companions:
11. Use Treats Strategically and Mindfully
Okay, hands up if you've ever bribed your cat with treats. Guilty as charged! But here's the thing: treats are like the magic potion of the cat world.
Use them right, and you're in for some serious kitty love. But, and this is a big but, moderation is key.
Think of treats as the cherry on top, not the whole sundae. Use them to reward good behavior, or maybe to coax a shy kitty out of hiding.
And hey, while we're on the topic, let's make sure those treats are healthy, alright? After all, we want our furballs to be around for a long, long time.
12. Understand Cat Greetings
Ever been headbutted by a cat? No, it's not them trying to pick a fight. It's actually their way of saying, "Hey, I like you!"
Cats have this adorable ritual of greeting their loved ones. It could be a gentle nose touch or a full-on headbutt. It's their way of marking their territory, and in this case, that territory is you!
So, the next time your cat comes up and nudges you, know that you've just been given the feline seal of approval. Go you!
13. Regular Grooming Sessions
Brush, brush, brush! No, I'm not talking about your teeth (though that's important too). I'm talking about grooming your cat. Cats are meticulous creatures.
They spend hours grooming themselves. But sometimes, they need a little help. And that's where we come in. Regular grooming sessions can be a bonding experience. It's like a spa day, but for cats.
So, grab that brush and get to work. Your cat will thank you with purrs and cuddles. And hey, less cat hair on your couch? That's a win-win!
14. Consistent Routine and Schedule
Alright, let's talk routines. Cats, believe it or not, are creatures of habit. They like knowing when it's mealtime, playtime, or nap time. It gives them a sense of security.
So, try to stick to a schedule. Feed them at the same time, play with them regularly, and ensure they have a cozy spot for their catnaps. It's like setting up a daily itinerary for them.
And trust me, they'll appreciate it. After all, a happy cat is a predictable cat. And who doesn't love a bit of predictability in their lives?
15. Soft Speaking and Gentle Tones
"Hey, Fluffy! Come here, buddy!" Ever noticed how cats respond better to soft, gentle tones? It's like they have this built-in radar for kindness.
Yelling or using a harsh tone? That's a big no-no. It'll just send them scurrying under the bed.
But speak to them softly, with love and patience, and you'll have them eating out of your hand (sometimes literally). Remember, it's not just what you say, but how you say it.
So, channel your inner Bob Ross and keep it calm and gentle. Your cat will love you for it!
Wrapping It Up With Whiskers!
Well, there you have it, fellow cat enthusiasts! A comprehensive guide to winning the heart of your feline friend.
But remember, every cat is a unique, whiskered puzzle waiting to be solved.
Got any purr-fect tips of your own? Or maybe a hilarious cat tale to share? Drop them in the comments below! Let's keep this cat-loving community buzzing.
And hey, give your kitty an extra chin scratch from me. Until next time, keep those tails wagging and those purrs rolling!