Hey there, cat lovers! 🐱 Ever watched your feline friend do something and thought, "Whoa, that was genius!"?
Well, you're not alone. Cats, with their mysterious ways and sly antics, are often underestimated. But let me tell you, behind those big, curious eyes lies a brain that's always ticking, always plotting.
From understanding our moods to playing with toys in the most unexpected ways, these furballs are smarter than we give them credit for.
Curious to know more about the secret genius of your kitty? Dive in, and let's unravel the mystery together!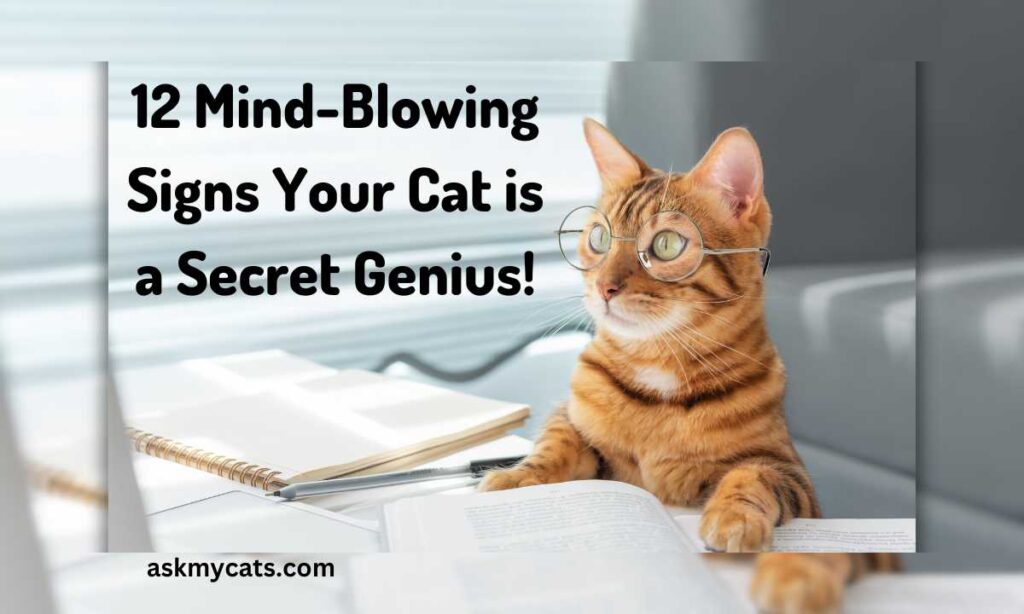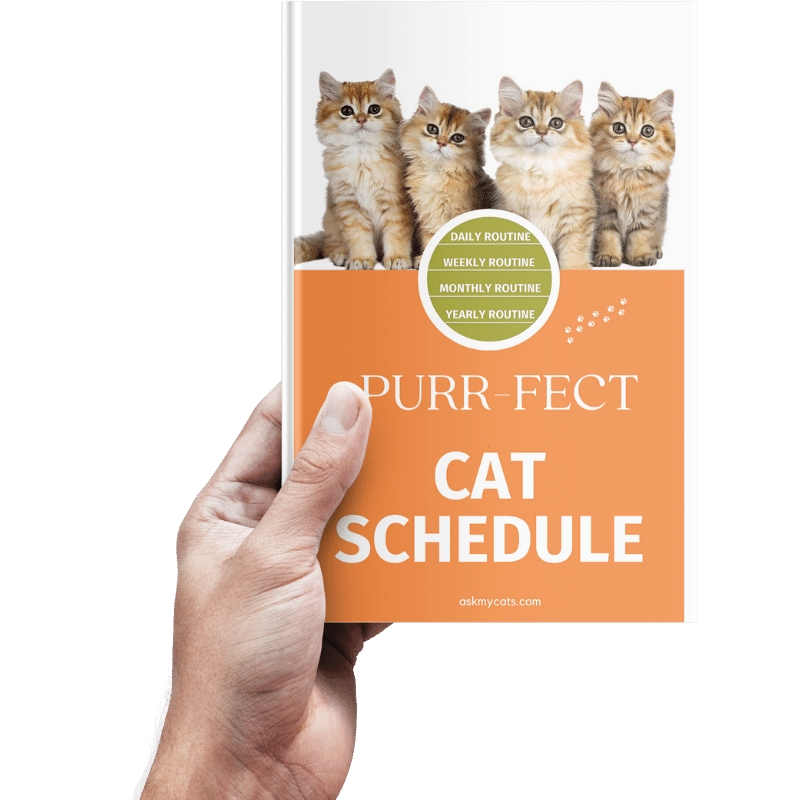 Discover the Secrets to a Happy Cat!
Discover the secrets to creating a happy and healthy daily routine for your feline friend. From playtime to mealtime, sleep to grooming, our expert guide will show you how to make every day a purrfect day for your cat.
Give Your Cat the Perfect Day – Get the Ebook!
1. Problem Solving
Hey there, fellow cat lover! Ever caught your furball trying to pry open a door or maybe sneak into a seemingly sealed treat jar? Yep, that's Mr. Whiskers putting on his thinking cap. Cats, believe it or not, are little problem-solving geniuses.
They're like the escape artists of the domestic animal kingdom. I mean, how many times have you thought, "How on earth did she get in there?" And it's not just about physical barriers.
Give them a puzzle toy, and watch them strategize their way to the prize. It's like they've got their own little feline version of Sherlock Holmes going on in there!
2. Name Recognition
"Fluffy! Dinner's ready!" Ever noticed how your cat magically appears at the sound of their name (especially when food's involved)? Well, it's not just a coincidence. Cats, contrary to that aloof reputation, do recognize their names.
It's kinda like when someone shouts your name across a crowded room, and you instinctively turn around. Cats do the same! But here's the kicker: they choose when to respond.
So, next time Fluffy doesn't come running, don't be disheartened. She probably just thought, "Eh, not now."
3. Advanced Play Tactics
Oh boy, where do I start with this one? You know those moments when you're playing with your cat, and they suddenly go all ninja on their toy mouse? That's advanced play tactics for ya!
Cats are natural hunters, and when they play, it's like they're rehearsing for a big Broadway show titled "The Great Hunt." They'll stalk, pounce, and even do a little victory dance. It's not just cute; it's a sign of a sharp mind at work.
Think about it: they're plotting, strategizing, and executing their moves with precision. It's like watching a mini action movie unfold right in your living room!
4. Emotional and Social Intelligence
"Aw, come here, buddy." Ever had a rough day and found your cat snuggling up to you, offering silent comfort?
Cats are incredibly attuned to our emotions. They can sense when we're happy, sad, or just meh.
And it's not just about being in tune with human emotions. Watch them interact with other pets. They'll establish hierarchies, form alliances, and yes, sometimes even hold grudges. It's like a soap opera, but with fur and whiskers.
And the best part? They know how to use their emotional intelligence to their advantage. "Oh, you're sad? Here, let me comfort you… but also, can I have some treats?"
5. Adaptability
So, you've moved houses, and there's a whole new world for your kitty to explore. Guess what? They're on it!
Cats, with their ever-curious nature, are surprisingly adaptable. Whether it's a new home, a different brand of cat food, or even a new family member (furry or not), they take it in stride.
Sure, there might be some initial hissing or the classic "I'm going to hide under the bed for a day" move, but give it some time.
Before you know it, they're ruling the roost again. It's like they've got this internal GPS that says, "New place? No problem. Let's map it out!"
6. Hunting and Stalking Skills
Okay, hands up if you've ever received a "gift" from your cat. You know, a little bird or maybe a mouse? Eek! While it might not be our idea of a present, it's a testament to their hunting prowess.
Cats are natural-born hunters, and even if they're pampered indoor kitties, that instinct is alive and kicking. They'll stalk their "prey" (read: toy or sometimes your unsuspecting foot) with the precision of a seasoned hunter.
And the focus in their eyes? Oh boy, it's like they're channeling their inner wildcat.
So, next time they're in "hunt mode," give them a nod of appreciation. They're just showcasing their ancestral skills!
7. Communication
"Meow, purr, hiss." No, that's not just random cat noise. That's your feline friend trying to have a conversation with you! Cats have this incredible range of vocalizations, each with its own meaning.
Hungry? There's a meow for that. Annoyed? Oh, you'll hear it. Happy? The purring says it all.
And it's not just about the sounds. Watch their tail, ears, and even whiskers. They're like little furry communicators, always trying to tell us something.
So, the next time your cat gives you "the look" or meows in that particular tone, lean in and listen. They're probably saying, "Hey, human! Pay attention!"
8. Memory Retention
Remember that time, maybe months ago, when you hid a treat in a random drawer, and your cat found it? Well, they do!
Cats have this uncanny ability to remember stuff. Whether it's the spot where they last saw a bug or that one time you gave them tuna (and they're wondering why it's not a daily thing), their memory game is strong.
It's like they've got this mental diary where they jot down all the important stuff.
So, if you're thinking of pulling a fast one on your kitty, think again. Chances are, they'll remember!
9. Observational Learning
Ever caught your cat staring intently at you as you go about your daily chores? No, they're not plotting world domination (well, maybe just a little). They're learning!
Cats are like little spongy detectives, soaking up information from their surroundings.
Remember that time you accidentally knocked over a glass, and your cat was right there, watching? The next thing you know, they're pushing things off tables with a mischievous glint in their eyes.
Coincidence? I think not! It's all observational learning. They see, they learn, and then they… well, sometimes they just cause chaos. But hey, that's cats for ya!
10. Toy Manipulation and Creativity
Ah, the classic cat and mouse game. But wait, why is the mouse now tied to a string and hanging from the ceiling fan?
Welcome to the world of feline toy manipulation! Cats aren't just satisfied with the toys you give them.
Oh no, they've got to jazz things up a bit. They'll bat them around, hide them, and sometimes even modify them to make playtime more exciting. It's like they're tiny inventors, always looking for ways to up the ante.
So, if you ever find a toy in an unexpected place or in a new "avatar," give a nod to your cat's creative genius.
11. Curiosity
"Curiosity killed the cat, but satisfaction brought it back." Ever heard that one? Well, there's a reason it's about cats and not, say, goldfish.
Cats are the epitome of curiosity. Every rustle, every shadow, every new object is a mystery waiting to be solved.
And boy, do they love a good mystery! Whether it's a simple cardboard box or a high-tech toy, their curious minds are always at work.
But here's the fun part: their curiosity often leads to hilarious and unexpected outcomes. Like, "Why is my cat inside the fridge?" kind of unexpected. It's a never-ending adventure with these curious furballs!
12. Learning Tricks and Commands
"Sit, Fluffy! Good girl!" Wait, what? Cats learning tricks? You bet! While they might not be as eager to please as their canine counterparts, with a bit of patience (and maybe some treats), cats can learn tricks and commands.
It's not just about fetching or sitting; some cats can high-five, roll over, and even play dead. It's all about tapping into their intelligence and finding what motivates them.
So, next time someone says, "Cats can't be trained," just smirk and call your kitty over for a little demonstration. Mic drop moment? Absolutely!
Final Words: Let's Paws and Reflect!
Well, there you have it, fellow cat enthusiasts! Our feline friends aren't just about purrs, whiskers, and the occasional mischief. They're little Einsteins in their own right.
From their problem-solving antics to their keen observational skills, cats are a bundle of surprises.
So, the next time your kitty does something that leaves you scratching your head, remember: they're probably just outsmarting you.
Got any fun cat tales (or should I say, tails) of your own? Share them in the comments below. Let's celebrate the genius of our purring pals together!