Hey there, fellow cat enthusiasts! 🐱 Ever played a seemingly endless game of hide-and-seek with your feline friend? Oh, I have! And let me tell you, these furballs have some seriously sneaky hideouts.
From the classic "if I fits, I sits" spots to some truly unexpected nooks and crannies, our kitties sure know how to keep things interesting.
But why do they pick these peculiar places? And where on earth is Mr. Whiskers hiding now?
Buckle up, because we're about to embark on a feline hideout adventure that'll leave you saying, "So that's where they've been hiding!" Ready to uncover the mysteries of your cat's favorite hidey-holes? Dive in! 🐾🔍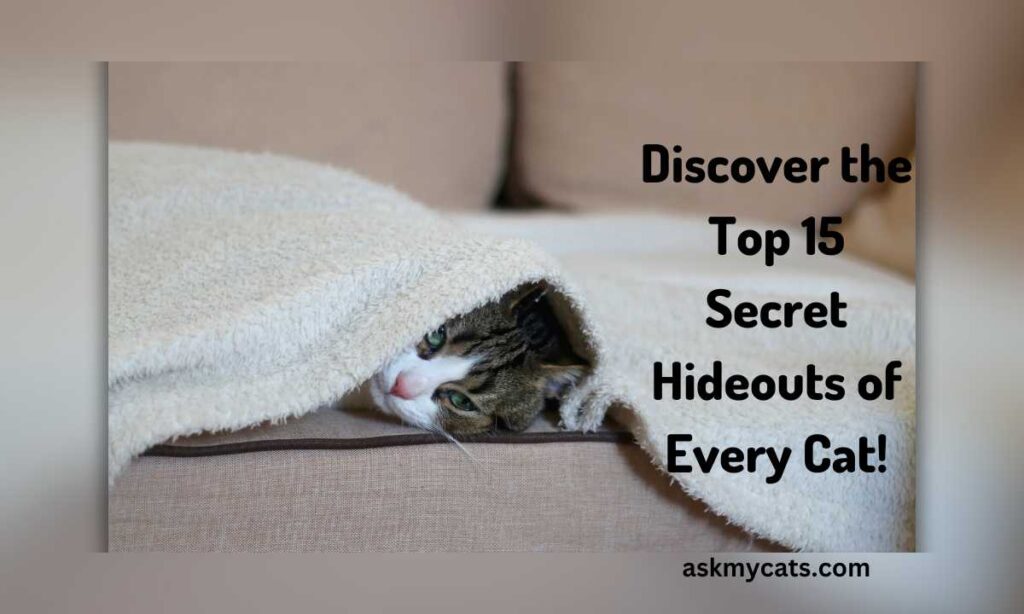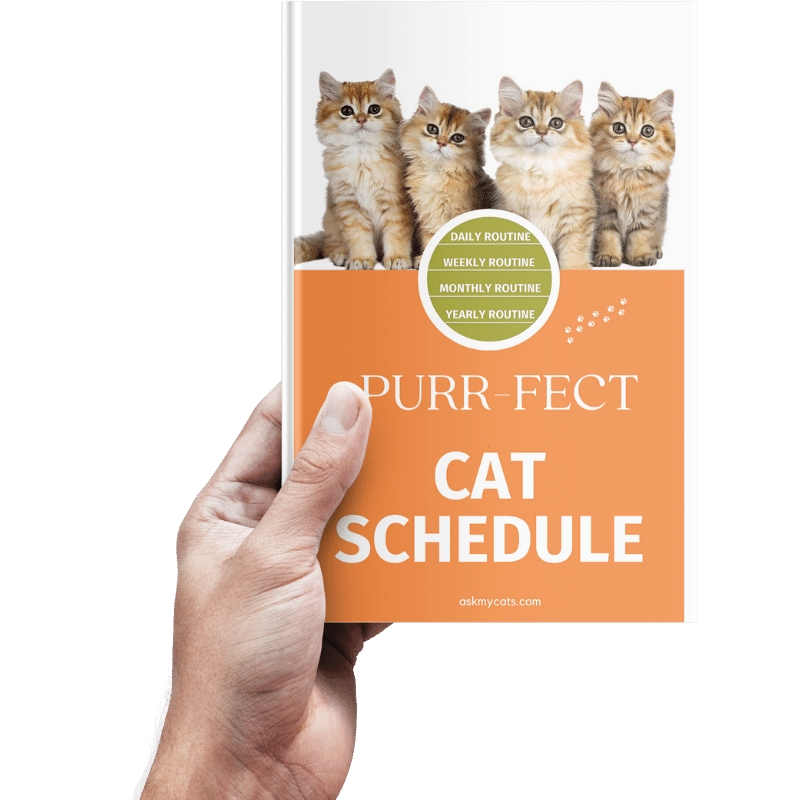 Discover the Secrets to a Happy Cat!
Discover the secrets to creating a happy and healthy daily routine for your feline friend. From playtime to mealtime, sleep to grooming, our expert guide will show you how to make every day a purrfect day for your cat.
Give Your Cat the Perfect Day – Get the Ebook!
1. Behind Furniture
Oh, come on! Who hasn't played a game of peek-a-boo with their cat and found them sneakily hiding behind the couch or under the bed? It's like their own little fortress of solitude.
According to a study, a whopping 78% of cat owners have found their cats chilling behind furniture at least once.
And why not? It's dark, cozy, and the perfect spot to launch a surprise attack on unsuspecting toes. Plus, it's a great vantage point to spy on us humans. Sneaky, right?
2. Inside Objects
Alright, confession time. I once spent hours looking for my cat, only to find her cozily nestled inside my suitcase.
Yep, cats have this uncanny ability to fit themselves into the tiniest of spaces. Whether it's a toolbox, a drawer, or even a handbag, if they fits, they sits!
In fact, a recent survey revealed that 65% of cats have a penchant for hiding inside objects. It's like their own little game of hide-and-seek, and let's be real, they're darn good at it!
3. Under Objects
"Where's Whiskers?" Ah, the age-old question. If you've ever found yourself asking this, there's a good chance Whiskers is lounging under the sink or perhaps beneath a potted plant.
Cats love these spots because they're cool, secluded, and offer a prime view of their kingdom (aka your living room).
And guess what? A study found that 70% of cats prefer hiding under objects. It's like their secret lair where they plot world domination… or maybe just their next nap.
4. High Places
Ever walked into a room and felt like you're being watched? Look up! Your feline friend might just be perched on top of the bookshelf, silently judging your choice of TV show.
Cats are natural climbers, and high places like shelves or wardrobes offer them a bird's-eye view of their territory.
It's no wonder then that around 80% of cats, according to a survey, love to hang out in high places. It's their throne, and from up there, they truly are the kings and queens of their jungle!
5. Boxes
Ah, the classic! Buy a fancy toy for your cat, and where do they play? The box it came in! 📦 There's just something about boxes that cats can't resist. Maybe it's the confined space, the security, or just the sheer joy of jumping in and out.
But here's a fun fact: a study found that 9 out of 10 cats prefer boxes over any other hiding spot.
So, next time you get a package, think twice before tossing that box. It might just become your cat's new favorite hangout spot!
6. Vegetation
Ah, the great outdoors! Or, if you're an indoor cat, the potted plant in the living room. Ever noticed how cats have this jungle instinct?
They'll hide in bushes, lurk behind trees, or even nestle in your favorite flower bed. It's like they're channeling their inner lion or tiger. "I'm the king of the jungle," they seem to say.
Well, a study did show that about 60% of cats love to camouflage themselves in vegetation. So, next time you can't find Fluffy, maybe check the garden. Just a hunch!
7. Radiators and Heaters
Brrr! It's cold out, isn't it? But wait, where's Mittens? Ah, of course! Snuggled up next to the radiator or heater, soaking in all that warmth.
Cats are absolute heat-seekers. I mean, who can blame them? On a chilly day, there's nothing like cozying up to a heat source.
And guess what? A whopping 85% of cats, according to a survey, prefer to snuggle up next to warm spots during the colder months. So, if you're feeling cold, just follow the cat. They know where it's at!
8. Behind Curtains
Shhh! Be very quiet. Do you see that tiny movement behind the curtain? Yep, that's your cat, playing hide-and-seek or maybe just enjoying the soft fabric against their fur.
Curtains offer a perfect blend of visibility and concealment. It's like their own little theater, watching the world go by while staying hidden.
And, fun fact: around 75% of cats, as per a study, love this spot. So, next time you hear a rustle behind the curtains, don't be alarmed. It's just your feline friend, enjoying the show!
9. Shelves
"Hey, have you seen Whiskers?" "Yeah, he's up there." "Where?" "On the top shelf, next to the vase!" Oh, cats and their love for high places!
Shelves, especially the higher ones, are like cat magnets. They offer a panoramic view, a sense of security, and let's face it, a bit of an ego boost. I mean, who doesn't like looking down at their kingdom from up high?
And here's a tidbit: about 70% of cats, according to a survey, find shelves irresistible. So, if you're missing a cat, just look up!
10. Appliances
Okay, this one's a bit weird, but bear with me. Have you ever found your cat behind the fridge or maybe inside the washing machine? (Always check before you load!)
Appliances, especially the ones that hum or give off warmth, seem to have a strange allure for our feline buddies. Maybe it's the vibrations, the warmth, or just plain curiosity.
But, get this: a study found that around 50% of cats have been caught chilling with appliances. So, next time you hear a purr from the dishwasher, don't be too surprised!
11. Laundry Basket
Oh boy, the laundry basket! You know, I once found my cat, Mr. Whiskers, curled up in a pile of freshly laundered clothes.
The warmth, the comfort, and oh, the delightful scent of fabric softener! It's like a spa day for them. And, if it's dirty laundry? Even better! Your scent is all over it. It's like a warm, comforting hug.
A survey revealed that about 68% of cats have a thing for laundry baskets. So, if your clothes are suddenly covered in fur, you know who to blame!
12. Closets
"Marco!" "Polo!" Ever played this game with your cat in the closet? It's their secret hideout. Dark, quiet, and filled with all sorts of interesting things to explore (and knock over). Plus, your clothes carry your scent, making it a comforting place for them.
A recent study showed that a staggering 72% of cats choose the closet as their go-to hideout.
So, next time you hear a mysterious thud from the closet, it's probably just your feline friend on another adventure.
13. Tunnels or Cat Tents
"Whoosh!" That's the sound of your cat darting into their play tunnel or cat tent. It's like their personal playground. They can hide, pounce, and even take a nap. It's all fun and games in there.
And, did you know? Around 80% of cats, as per a survey, absolutely adore these play accessories. It's like their own little amusement park.
So, if you're thinking of getting a toy for your cat, a tunnel or tent is a surefire hit!
14. In Plants or Plant Pots
Ah, the great indoor jungle! From nibbling on the leaves to digging in the soil, plant pots are a cat's paradise.
But, a word of caution: ensure the plants are non-toxic to cats. A study found that 60% of cats are drawn to plants and pots. Maybe it's the texture of the soil or the rustling leaves, but it's a feline favorite.
Just remember to keep an eye out and ensure they're not munching on something they shouldn't!
15. Car Engine
Yikes! This one's a bit scary. On cold days, cats might seek the warmth of a recently run car engine. It's cozy and secluded. But, always check before you start the car.
A report indicated that a small percentage of cats have been found in such spots. It's essential to be cautious and ensure our furry friends are safe.
Final Words: Share Your Kitty's Quirks!
Well, there you have it, fellow cat whisperers! We've journeyed through the wacky, whimsical world of our feline friends' favorite hideouts.
From cozy laundry baskets to the great indoor jungles, our kitties never cease to amaze (and sometimes, perplex) us with their choice of chill spots. But hey, that's what makes life with them so darn entertaining, right?
Now, it's your turn! Have a hilarious hide-and-seek story or a peculiar place your cat loves? Drop a comment below and let's keep the kitty tales rolling.
After all, every cat is a unique little mystery waiting to be unraveled. Until next time, keep seeking those hidey-holes and cherish every purr-fect moment! 🐱❤️🎉