Hey there, fellow cat lovers! Ever looked at your feline friend and thought, "How can something so cute be so darn expensive?" I mean, between the toys, treats, and all those fancy gadgets, our wallets can feel, well, a tad light.
But what if I told you there's a way to spoil your kitty without splurging all your savings? Oh yeah, you read that right! From DIY delights to savvy shopping hacks, I've got the purr-fect solutions for you.
Ready for a feline-friendly home on a budget? Stick around, because you won't believe tip number seven! 🐱💸🤫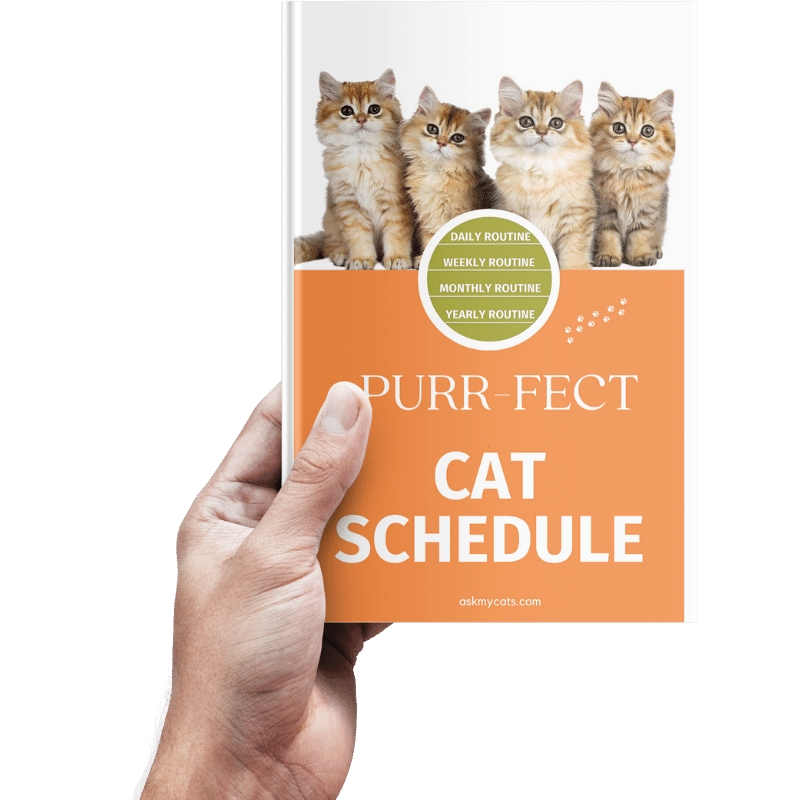 Discover the Secrets to a Happy Cat!
Discover the secrets to creating a happy and healthy daily routine for your feline friend. From playtime to mealtime, sleep to grooming, our expert guide will show you how to make every day a purrfect day for your cat.
Give Your Cat the Perfect Day – Get the Ebook!
1. DIY Cat Toys
Oh, the joys of being a cat parent! But let's face it, those cute little furball toys at the pet store can be ridiculously pricey.
Did you know that in 2020, Americans spent a whopping $99 billion on their pets? Yikes! But hey, who says you need to break the bank to keep your kitty entertained?
Enter DIY cat toys. I've been there, rummaging through my junk drawer, and guess what? It's a goldmine for cat toy materials.
Old socks? Fill 'em with some rice, stitch up the end, and voila! A kick toy.
Got some cardboard lying around? Cut it into strips, roll 'em up, and you've got yourself a ball. And don't even get me started on string. A simple piece can lead to hours of fun.
So, next time you're about to toss something out, think twice. It might just be your cat's next favorite toy. And the best part? It's practically free! Talk about a win-win.
2. Repurpose Furniture for Cat Climbing
Alright, confession time: I once splurged on this fancy cat tree. It was tall, plush, and… utterly ignored by my cat. Can you believe it? I mean, seriously! After that fiasco, I decided to get a bit crafty.
You know that old ladder in the garage? The one that's been gathering dust? I brought it in, leaned it against a wall, and draped some old fabric over the rungs.
And guess what? My cat LOVED it. It's her new favorite spot. She climbs it, lounges on it, and even uses it as a scratching post.
And if you don't have a ladder? No worries! Old shelves, bookcases, or even stacked boxes can do the trick. The key is to think outside the box (pun totally intended!).
With a bit of creativity, you can turn almost any old furniture into a cat paradise. And the best part? It won't cost you a dime.
---
3. Affordable Litter Solutions
So, here's a fun fact for ya: The average cat owner spends around $165 a year just on litter. Yowza! That's a lot of moolah for something that, well, ends up in the trash.
But hey, our feline friends deserve the best, right? Still, there's gotta be a way to cut down on that expense.
Ever thought about bulk-buying? It's a game-changer. By purchasing in larger quantities, you often get a better deal per pound. And if you're feeling a tad adventurous, why not try alternatives like wood pellets?
They're often cheaper and can be just as effective. Plus, they give off this nice woodsy scent. Mmm…
And here's a little dialogue I had with my neighbor, Jane, the other day:
"You know, I've started using old newspapers as a base layer for the litter box. It's super absorbent and eco-friendly!"
"Really? That's genius!"
Who would've thought? Sometimes, the best solutions are right under our noses.
4. Homemade Cat Beds
Alright, hands up if you've ever bought a plush, fancy cat bed only to find your kitty prefers the cardboard box it came in. Oh, the irony! Cats are weirdly unpredictable, aren't they?
But here's the thing: comfort doesn't have to come with a hefty price tag. Remember that old sweater you were about to donate? Or that soft blanket that's been sitting in the closet?
With a bit of creativity, you can transform them into the coziest cat beds. Just fold, stitch, and stuff. Easy peasy!
And if you're not the crafty type, no worries. Simply laying a soft fabric in a warm corner or by the window can do wonders. After all, it's the simple things in life, right?
---
5. Window Perches on a Budget
Ever noticed how cats are like mini sun-worshippers? Give 'em a sliver of sunlight, and they're sprawled out, basking in all its glory. Ah, to be a cat!
But here's a little tidbit: Did you know that cats can sleep up to 16 hours a day? Yep, and a lot of that snoozing happens in their favorite sunny spots.
Now, I've seen those fancy window perches online, and boy, can they be pricey! But guess what? You don't need to splurge.
Got an old shelf? Prop it up by the window. An unused side table? That works too! Throw on a cushion or an old blanket, and you've got yourself a sunlit throne fit for feline royalty. And the best part? Your wallet stays happy.
I remember chatting with my friend Sam about this:
"I used some suction cups and a plank of wood to make a window perch. Cost me less than ten bucks!"
"Dang, Sam! You're like the DIY king!"
6. Budget-Friendly Cat-Proofing
Oh boy, if I had a dime for every time my cat knocked something over or scratched up the couch… well, let's just say I'd be sipping cocktails on a beach somewhere.
But here's the kicker: Cats have a natural instinct to scratch. It's not them being naughty; it's just in their DNA.
So, how do you protect your home without spending a fortune? Enter the world of DIY cat-proofing.
Double-sided tape on the edges of furniture? Works like a charm. Cats hate the sticky feeling.
Aluminum foil? Another winner. And if you're trying to keep them off countertops, a bit of citrus scent does the trick. Who knew, right?
I was venting to my sister about my cat's latest antics, and she said:
"You know, I sprinkled some pepper around my plants. My cat hasn't touched them since!"
"Pepper? Seriously? I've got to try that!"
---
7. Grow Your Own Cat Grass
You ever see those tiny pots of cat grass at the store and think, "How much? For grass?!" I've been there.
But here's a nugget of wisdom for ya: Cats eat grass as a natural remedy for upset tummies. It's like their version of antacids.
But instead of shelling out your hard-earned cash every time, why not grow your own? It's a cinch! Grab some wheatgrass or catnip seeds from a local store or online. A little soil, a pot, and some TLC, and you're in business.
Before you know it, you'll have a lush mini-meadow that your kitty will adore. And the cost? Pennies compared to store-bought.
I was chatting with my buddy Mike about this, and he said:
"I started growing catnip in my backyard. Now, it's like a cat party out there every day!"
"Mike, you're a genius! I'm totally doing that."
8. Utilize Thrift Stores and Garage Sales
Okay, real talk: thrift stores and garage sales are like treasure troves for cat parents on a budget. I mean, think about it.
Why buy new when slightly used will do? Especially when we're talking about fickle felines who might turn their noses up at that brand-new, expensive toy.
From toys to beds to even cat towers, you'd be amazed at the gems you can find. And the savings? Oh man, it's like hitting the jackpot.
Did you know that the average cat owner can save up to 70% by shopping second-hand? Yep, it's a game-changer.
I remember this one time, I was at a garage sale, and I overheard:
"This old basket? Oh, my cat used to love it. Yours can have it for a buck."
"A dollar? Sold!"
---
9. DIY Cat Scratchers
Ah, the age-old dilemma: to scratch or not to scratch? Well, for our feline friends, it's not even a question.
Did you know that scratching is a natural behavior for cats to mark their territory and keep their claws in tip-top shape? Yep, it's like their version of a manicure.
But here's the kicker: those store-bought scratchers can cost an arm and a leg. Ouch! So, why not make your own?
Grab some leftover cardboard, roll it up tight, and secure it with some tape. Or take that old carpet remnant, wrap it around a wooden post, and bam!
You've got yourself a DIY cat scratcher. Not only is it budget-friendly, but it's also eco-friendly. Double win!
I was swapping cat tales with my coworker Lisa, and she said:
"I took some old twine and wrapped it around a PVC pipe. My cat's been scratching away at it for months!"
"Twine? That's brilliant! I'm stealing that idea, Lisa."
10. Homemade Cat Treats
Now, who can resist those pleading kitty eyes begging for a treat? Not me, that's for sure. But, yowza, those gourmet cat treats at the store? They can be pricier than my own snacks!
Here's a thought: why not whip up your own cat treats? With just a few simple ingredients from your pantry, you can make healthy, delicious treats that your cat will go bonkers for.
Plus, making your own treats can save you up to 50% compared to store-bought ones. Ka-ching!
I remember sharing this tip at a cat-lovers meetup:
"I mix tuna, egg, and a bit of flour, bake tiny portions, and my cat goes wild for them!"
"Homemade tuna treats? Oh, I'm trying that this weekend!"
---
11. Regular Maintenance and Cleaning
Oh boy, let's talk about the not-so-glamorous side of cat parenting: the cleaning. I mean, I adore my furball, but the mess? Not so much.
But here's a little nugget for you: Regular maintenance can actually extend the life of your cat's belongings by up to 50%! Yep, that means less frequent replacements and more money in your pocket. Score!
Now, I'm not saying you need to go all out with a deep clean every day. Nah, just a little sprucing up here and there. Wipe down those toys, give that bed a good shake, and maybe toss that litter mat in the wash. Trust me, a little goes a long way.
I was chatting with my pal, Derek, about this, and he chimed in:
"You know, I started vacuuming my cat's tree once a week, and it's held up so much better!"
"Vacuuming? Man, why didn't I think of that? Thanks for the tip, Derek!"
12. Upcycle Old Containers
Alright, confession time: I'm a bit of a hoarder. But not in the way you might think. I hoard containers. Boxes, jars, tubs, you name it. But before you judge, hear me out. These containers? They're cat gold.
Did you know that upcycling old containers can save you up to 70% compared to buying new storage or cat items? Yep, it's true!
That shoebox? It's now a cat bed. The old Tupperware? A makeshift litter tray. And those glass jars? Perfect for storing catnip or treats. It's all about getting creative and seeing the potential in the everyday.
I remember showing off my upcycled cat toy box to my friend, Jenna:
"Is that an old cookie tin?"
"Sure is! I painted it and now it's Fluffy's toy box."
"That's so cute! I'm totally stealing that idea."
---
13. Seek Out Discounts and Coupons
Alright, let's get real for a sec. Who doesn't love a good deal? I mean, there's something so satisfying about snagging that discount. And when it comes to cat stuff? Oh, the thrill!
Did you know that savvy shoppers can save up to 40% on cat supplies just by using coupons and hunting for discounts? Yep, it's like a treasure hunt, but instead of gold, you're bagging savings!
Now, I'm not saying you need to become one of those extreme couponers (though, props if you are!). Just keep an eye out.
Sign up for newsletters, join loyalty programs, and maybe even follow your favorite brands on social media. You'd be surprised at the deals that pop up.
I was bragging to my friend, Alex, about a recent score:
"Guess how much I saved on Whisker's new bed?"
"I dunno, ten bucks?"
"Try twenty! Found a killer coupon online."
"Dang! Teach me your ways!"
14. Join Cat Communities
Okay, if you're not already part of a cat community, you're missing out. Big time. These groups? They're like the secret society of cat lovers.
And the perks? Oh man, where do I start? Swapping items, sharing DIY ideas, getting recommendations… it's a goldmine!
And here's a little tidbit for ya: Being part of a cat community can save you up to 30% on cat-related expenses. Yep, from group discounts to second-hand items, the savings just keep rolling in.
I remember this one time at a cat meetup:
"I've got this toy my cat never touched. Anyone want it?"
"Oh, I'll take it! And I've got some leftover catnip seeds if anyone's interested."
It's like a cat lover's swap meet!
15. Water Fountain Alternatives
Alright, confession time: I once splurged on this fancy cat water fountain. It was sleek, modern, and… completely ignored by my cat. Ugh!
But here's the thing: cats need fresh water, and sometimes, a simple bowl just doesn't cut it.
So, what's a budget-conscious cat parent to do? Get creative! Place multiple bowls around the house. Or, if you're feeling a tad crafty, make a DIY fountain using household items. It's easier than you think and way cheaper.
I was chatting with my neighbor, Kim, about this:
"I set up a little drip system with a bottle. My cat's obsessed with it!"
"A drip system? That's genius! I'm trying that."
Final Words: Let's Paws and Reflect!
Well, there you have it, fellow cat aficionados! A treasure trove of tips to pamper your purring pal without emptying your pockets. Who knew that with a sprinkle of creativity and a dash of DIY spirit, we could create a feline paradise on a budget?
But hey, this isn't just about me and my cat tales. I want to hear from you! Got a quirky cat hack or a hilarious feline fail? Share it in the comments below.
Let's make this a purr-fectly interactive community where we can swap stories, share giggles, and maybe, just maybe, save a few more pennies along the way.
So, go on, unleash your inner cat whisperer and let's make our kitties' lives the cat's meow without breaking the bank.
And remember, it's not about how much you spend, but the love and creativity you pour into it. Now, over to you! 🐾💬🎉