Hey there, fellow feline aficionados! 🐱 Ever caught your kitty gazing longingly at the great outdoors? Well, I sure have.
Gardens and cats – it's like peanut butter and jelly, a match made in heaven. But here's the catch: not all gardens are cat-friendly. Yikes, right?
From toxic plants to sneaky escape routes, there's a lot to consider.
But fret not! I've got the purr-fect guide to help you create a feline paradise right in your backyard. Ready to dive in?
Trust me, by the end of this, you'll have your cat purring in delight. But first, ever wondered what the ultimate cat playground looks like? Let's find out! 🌿🐾🌼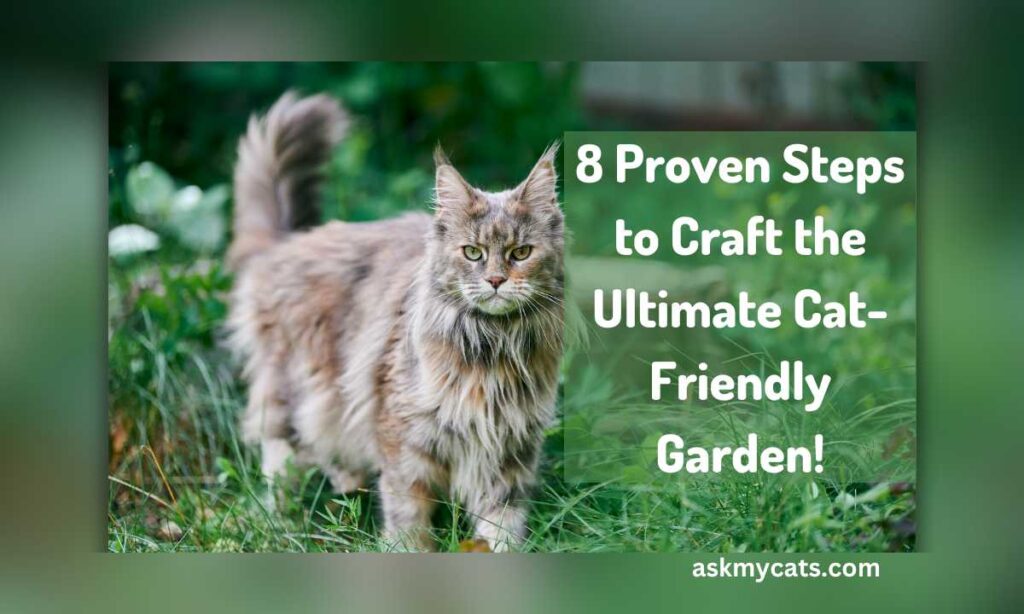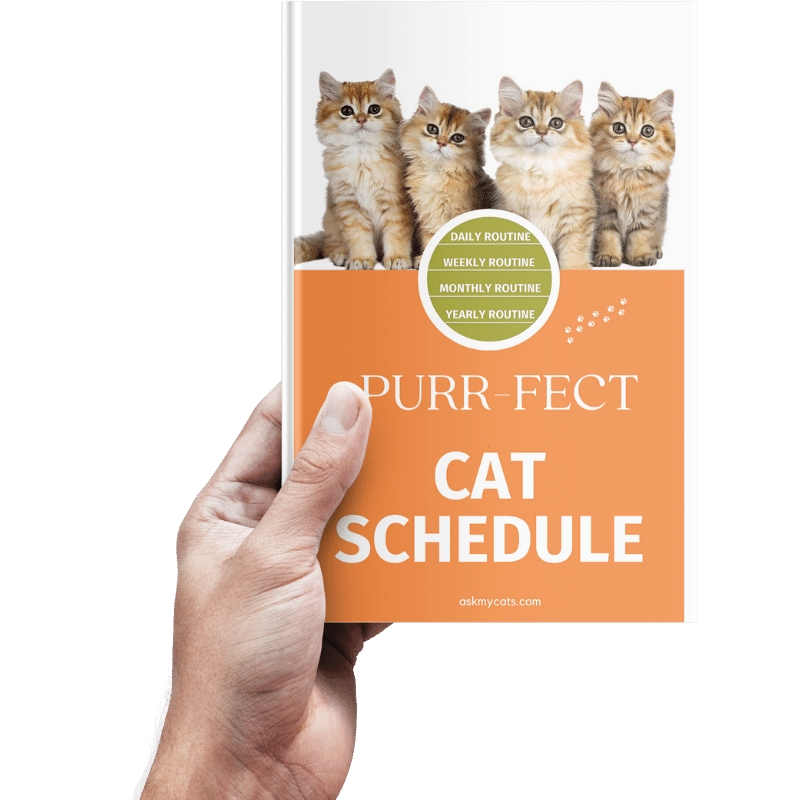 Discover the Secrets to a Happy Cat!
Discover the secrets to creating a happy and healthy daily routine for your feline friend. From playtime to mealtime, sleep to grooming, our expert guide will show you how to make every day a purrfect day for your cat.
Give Your Cat the Perfect Day – Get the Ebook!
1. Choosing Safe Plants for Your Garden
Hey there, fellow cat lover! 🐱 Did you know that a whopping 27% of households have cats? That's a lot of feline friends!
But here's the kicker: not all plants are kitty-friendly. In fact, some can be downright dangerous. Yikes! So, when you're sprucing up your garden, it's essential to pick plants that won't harm your furry friend.
For starters, let's chat about the bad guys. Lilies, for instance, are a big no-no. Just a nibble can be harmful to our feline pals. And it's not just lilies; many plants, like daffodils and rhododendrons, can be toxic to cats.
So, always do your homework before planting. A quick check on the International Cat Care website can save you a lot of trouble.
But hey, it's not all doom and gloom! There are plenty of cat-friendly plants out there. Catmint and valerian are like catnip for our feline friends. They absolutely love them!
And if you're looking to add some greenery for your cat to nibble on, cat grass is the way to go. It's like a salad bar for cats!
2. Designing the Garden Layout
Alright, let's get down to the fun part – designing! 🌳 Think of your garden as a playground for your cat. They love to explore, climb, and play hide and seek. So, why not give them the perfect playground?
Imagine this: open spaces where they can bask in the sun, and sheltered nooks for those times when they just want to chill.
Oh, and let's not forget about climbing! Cats are natural climbers. So, throw in some secured logs, climbing frames, or even fence panels. It's like building a kitty jungle gym!
And here's a pro tip: use shrubs and grasses to create hiding spots. Cats love to play pretend, stalking their imaginary prey or just sneaking up on you. It's all in good fun, of course!
3. Safety and Security Measures
Safety first, right? 🛑 Our gardens can be a haven for our cats, but they can also pose some risks. Ever heard of the saying, "Curiosity killed the cat"? Well, we don't want that!
First things first, fencing. It's a game-changer. A cat-proof fence can keep your kitty safe from potential dangers like traffic or other animals. And if you're feeling extra protective, you can even set up an enclosure. Think of it as a cat patio, or "catio" if you will.
Now, let's talk chemicals. They're everywhere, from weedkillers to slug pellets. But here's the deal: they can be harmful to our cats. So, always opt for organic solutions. Trust me, your cat will thank you!
And lastly, the no-go zone. There are certain areas in our garden where we don't want our cats to venture. Maybe it's a veggie patch or a flower bed. Whatever it is, you can use repellant plants to keep them away. It's like setting up an invisible barrier!
4. Hydration and Nutrition
So, here's a fun fact for ya: Did you know that cats are notorious for not drinking enough water? Yep, it's true! Studies show that around 40% of cats show signs of dehydration. Crazy, right? But don't fret, I've got some tips up my sleeve.
First off, fresh water stations are a must-have. Think of them as little hydration hubs for your furball. And hey, why not make it fun? Maybe a cute little fountain or a dripping tap. Cats are curious creatures, and they love moving water. It's like a mini water park for them!
And speaking of nutrition, let's talk greens. Cats are carnivores, but occasionally, they enjoy a little green snack. Cat grass is a fantastic addition to any garden. It's packed with nutrients and gives your kitty something safe to nibble on.
So, next time you see your cat munching on some greens, just know they're getting their daily dose of vitamins!
5. Play and Enrichment
Alright, fellow cat enthusiasts, let's talk playtime! Cats are playful by nature. I mean, have you ever seen a kitten pounce on a toy? It's pure joy! And guess what? Adult cats are no different. They love to play!
Toys, scratching posts, interactive elements – the sky's the limit! And the best part? You can DIY most of these. A simple string tied to a branch or a homemade scratching post can do wonders. It's all about keeping things fresh and exciting.
And don't even get me started on climbing. Cats are like little mountaineers, always looking for the next peak to conquer.
So, give them some height! Varying levels, platforms, and even trees can turn your garden into a feline adventure park. It's like Disneyland, but for cats!
6. Toileting Solutions
Okay, let's address the elephant in the room. Or should I say, the cat in the litter box? 😸 Toileting is a big deal for our feline friends. They're super picky about where they do their business. And can you blame them?
A designated area with loose soil or dry mulch is perfect. It's soft, easy to dig, and gives them some privacy. And speaking of privacy, make sure it's shaded. No one likes an audience, right?
And here's a little insider tip: Keep it clean. Cats are clean animals, and a dirty bathroom is a big no-no. So, regular maintenance is key. Trust me, your cat will appreciate it!
Alright, let's wrap this up with a bang!
7. Protecting Local Wildlife
Now, here's a curveball for ya. Did you know that domestic cats are responsible for the deaths of billions of birds and small mammals each year? Yowza! But before you give your kitty the side-eye, remember, it's just their natural instinct. They're born hunters, after all.
But here's the good news: we can do something about it. First up, bells. A simple bell on your cat's collar can be a game-changer. It gives the little critters a heads-up, allowing them to skedaddle before it's too late.
And if you've got a pond or a bird feeder, some extra precautions are in order. A net beneath the water surface can keep your fish safe from those sneaky paws.
And as for the bird feeders, place them out of reach, preferably near shrubs or trees. It gives our feathered friends an escape route. Safety first, right?
8. Comfort and Rest
Ah, the life of a cat. Eat, play, sleep, repeat. Sounds dreamy, doesn't it? And speaking of sleep, let's talk comfort. Cats are connoisseurs of comfort. They know a good nap spot when they see one. So, why not give them the best?
Shaded areas are a must, especially during those scorching summer days. A little pergola or a leafy tree can do wonders. It's like a VIP lounge for your kitty!
And for those times when they just want to sit back and watch the world go by, a comfy resting place with a view is perfect. Think of it as their personal observation deck.
A little platform or a window perch, perhaps? The world is their oyster, and they deserve the best seat in the house!
Final Words: Let's Paws and Reflect 🐾
Well, there we have it, fellow cat enthusiasts! A purr-fect garden oasis tailored just for our feline friends. From safe plants to cozy nap spots, we've covered it all. But remember, every cat is unique, just like us.
So, tweak, adjust, and make it your own. After all, it's all about creating a space where memories are made and whiskers twitch with excitement.
Now, I'd love to hear from you! Have you tried any of these tips? Or maybe you've got some pawsome ideas of your own? Drop a comment below and let's get the conversation rolling.
Let's create a community where cats rule and gardens are their kingdom. Happy gardening and happy purring! 🌱🐱💕