Hey there, fellow cat lovers! 🐾 Ever stood in the pet food aisle, overwhelmed by all the choices and fancy labels?
I mean, what's the deal with "gourmet salmon feast" or "grain-free chicken extravaganza"? And don't even get me started on those mysterious ingredients. It's a jungle out there!
But fear not, because I've delved deep into the world of cat food, uncovering truths and tidbits that might just surprise you.
Ready for a wild ride through the feline food realm? Hold onto your whiskers, because what you're about to discover will make you see that cat food tin in a whole new light! 🐱🥫🔍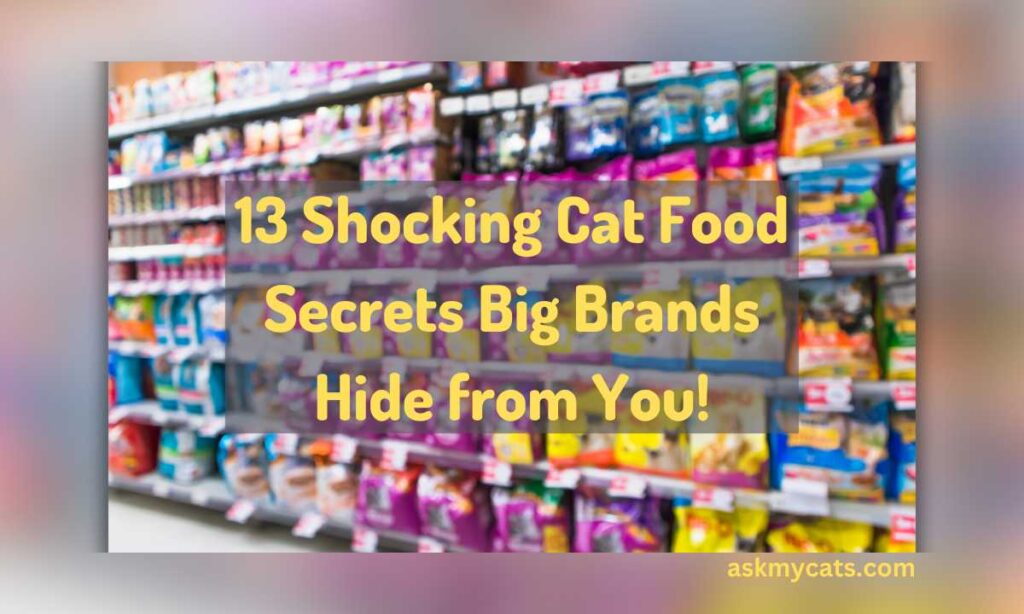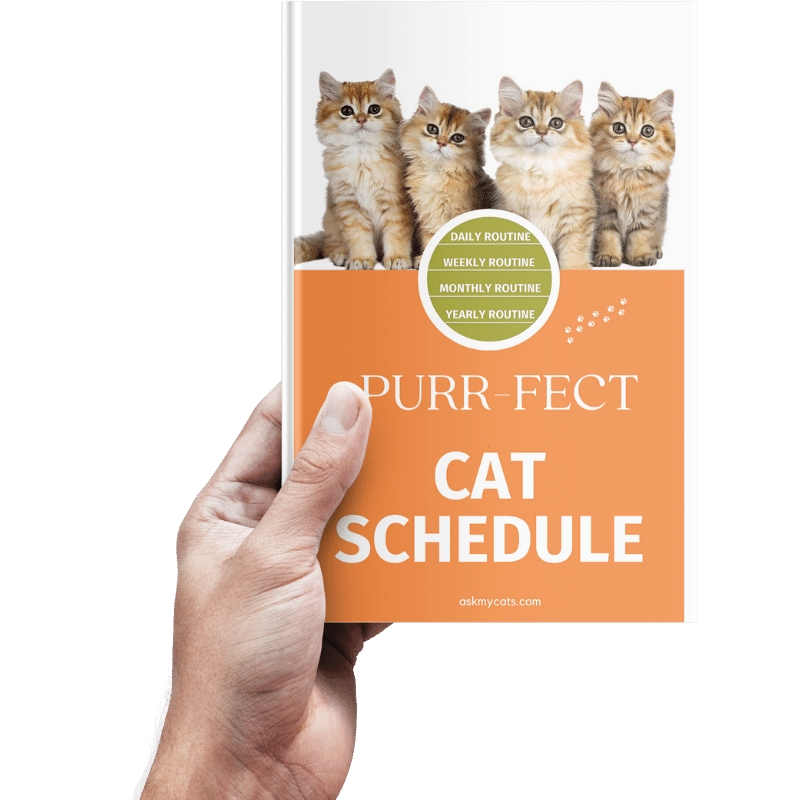 Discover the Secrets to a Happy Cat!
Discover the secrets to creating a happy and healthy daily routine for your feline friend. From playtime to mealtime, sleep to grooming, our expert guide will show you how to make every day a purrfect day for your cat.
Give Your Cat the Perfect Day – Get the Ebook!
1. Misleading Cat Food Names
Oh, boy! Have you ever picked up a can of cat food with a fancy name like "Succulent Salmon Delight" or "Chicken Feast in Gravy"? Sounds delicious, right?
But here's the kicker: these names can be super misleading. Sometimes, that "Succulent Salmon" isn't the main ingredient at all. It might just be a tiny portion, with the bulk of the food being something entirely different.
It's like ordering a chocolate chip cookie and getting just one chip. Bummer, huh? Always check the ingredients list to see what you're really getting.
2. Ingredient Abundance Post-Cooking
Alright, let's chat about the cooking process. You see that chicken listed as the number one ingredient on the label?
Well, after cooking, it might not be numero uno anymore. Why? Because ingredients like meat have a lot of water. When cooked, they shrink.
So, while raw chicken might be the main ingredient by weight initially, after cooking, it could fall down the list. It's like when you buy a bag of chips, and it's half air. Yep, kinda feels like a rip-off.
3. Undisclosed Species in Cat Food
Hold onto your hats, folks, because this one's a doozy! Some cat foods have these vague labels like "animal byproducts" or "meat meal." And you're left scratching your head, thinking, "What the heck is in this?"
Well, sometimes, even the manufacturers don't specify. It could be any meat from any animal. Yikes! It's like ordering a mystery box online; you never know what you're gonna get.
So, if you're particular about what your feline friend eats, you might wanna steer clear of these.
4. AAFCO's Lack of Feeding Trials Requirement
"Who's AAFCO?" you ask. Good question! The Association of American Feed Control Officials sets the standards for pet food.
But here's a little secret: they don't require feeding trials for most pet foods. That means some foods are formulated based on a recipe, not on how they affect real cats. Imagine if someone decided the best human diet without ever testing it on, well, humans.
Sounds wild, right? It's essential to do your homework and choose brands that prioritize actual feeding trials.
5. Industry Dominance by Few Companies
So, here's a fun fact that might blow your socks off. Did you know that just six companies control about 90% of pet food sales in the U.S.? Crazy, right?
It's like a secret club running the show. And with so much power in the hands of a few, it can influence the industry in big ways.
Think about it. If only a handful of folks decide what's "good" for our pets, we might miss out on some fantastic alternatives.
It's always a good idea to explore smaller brands that might be doing innovative and healthy things for our feline pals.
6. Potential Nutrient Deficiency in Dry Cat Food
Okay, confession time. I've been guilty of feeding my cat dry food because, well, it's convenient.
But here's the tea: while dry cat food is super popular, it can sometimes be lacking in essential nutrients. The biggie? Moisture. Cats aren't great drinkers, and they rely on their food for hydration.
So, if they're only munching on dry kibble, they might not be getting enough water. It's like eating salted crackers all day and not drinking. Thirsty yet?
7. Guaranteed Analysis vs. Nutrition Facts
Ever looked at a pet food label and thought, "What on earth does 'guaranteed analysis' mean?" You're not alone! Unlike our food labels that have nutrition facts, pet foods have this "guaranteed analysis" thing.
But here's the catch: it doesn't give the full picture. It's a bit like reading a book summary instead of the whole book. You get the gist, but you're missing out on the details.
So, when you're shopping, dive a bit deeper and research what those percentages really mean for your kitty's health.
8. The Hidden Truth About "By-Products"
Ah, the mysterious world of "by-products." Sounds kinda ominous, doesn't it? But let's break it down.
By-products aren't necessarily bad. They can include parts of animals that aren't typically eaten by humans, like organs. And guess what? In the wild, cats eat these parts.
But, and it's a big but, not all by-products are created equal. Some can be low-quality fillers.
It's like the difference between eating a gourmet meal and fast food. Both can fill you up, but one's definitely better for you.
9. Grain-Free Doesn't Always Mean Healthier
So, you've seen those fancy grain-free cat foods on the shelves, right? They sound super healthy, almost like the feline version of a trendy diet.
But here's the scoop: just because it's grain-free doesn't mean it's the best choice for your kitty.
Some cats might benefit from grain-free diets, especially if they have allergies. But for others? It might not make a difference. It's like when I tried going gluten-free for a month.
Did I feel better? Meh, not really. Always chat with your vet before making any big diet changes.
10. The Importance of Taurine
Alright, pop quiz! Have you heard of taurine? If you're scratching your head, don't worry. Taurine is an amino acid that's super important for cats. Without it, they can develop some serious health issues.
And here's the kicker: cats can't produce taurine on their own. They need to get it from their food.
So, when you're picking out cat food, make sure it's got a good dose of taurine. Think of it as the secret ingredient that keeps your cat purring along.
11. Wet vs. Dry Food Debate
Oh, the age-old debate: wet food or dry food? It's like the cat version of "tea or coffee?" Both have their pros and cons.
Wet food? It's great for hydration and can be easier for older cats to eat. Dry food? It's convenient and can help with dental health.
But here's the thing: it's not one-size-fits-all. Your cat's age, health, and personal preferences all play a role.
So, mix it up, experiment, and see what makes your kitty's tail wag (or, you know, whatever the cat version of wagging is).
12. The Real Deal with Raw Diets
Raw diets are all the rage these days. It sounds so natural, right? Like, "My cat's a wild animal! She should eat raw meat!" But hold up.
While some folks swear by raw diets, they're not without risks. Bacteria, parasites, and an unbalanced diet are all potential pitfalls.
It's a bit like eating sushi from a sketchy place. Might be delicious, but you could end up regretting it. If you're considering going raw, do your homework and consult with a vet.
13. Preservatives and Artificial Colors Impact
Last but not least, let's chat about the stuff that's not meat or grains in cat food. I'm talking preservatives, artificial colors, and all that jazz.
Some of these additives can be no bueno for your feline friend. Think about it: do you want to eat food that's neon green? Probably not.
So, when you're scanning those ingredient lists, keep an eye out for anything that sounds more like a science experiment than food.
Final Words: Let's Paws and Reflect 🐾
Well, fellow cat aficionados, we've journeyed through the intricate maze of cat food, uncovering secrets and debunking myths. From the sneaky names on labels to the great wet vs. dry debate, it's been quite the ride!
But remember, every whisker, purr, and playful pounce from our feline friends is a reminder of the love and trust they place in us. So, it's only right we make informed choices for them.
Got a quirky cat food story or a tip that wasn't mentioned? Or maybe your kitty has a favorite treat you'd love to rave about? Drop it in the comments below!
Let's make this a purr-tastic community where we share, learn, and celebrate our furry companions. After all, in the grand tapestry of life, cats are the colorful threads that make everything more vibrant. 🐱❤️
P.S. If you found this article helpful, give it a share! Let's spread the kitty love far and wide. And hey, don't forget to give your cat an extra treat today. They've earned it!