Hey there, fellow cat lovers! Ever looked at your feline friend and thought, "What's going on in that furry little head of yours?" Well, you're in for a treat!
Cats, with their quirky antics and mysterious ways, are a treasure trove of secrets. Oh, and trust me, some of these facts are going to make you go, "Whaaat?!" But hey, that's the charm of our whiskered companions, right?
So, buckle up, because we're about to embark on a purr-fectly wild ride. Ready for a feline fact that'll knock your socks off? Dive in, and let's unravel the enigma that is… the cat! 🐱💫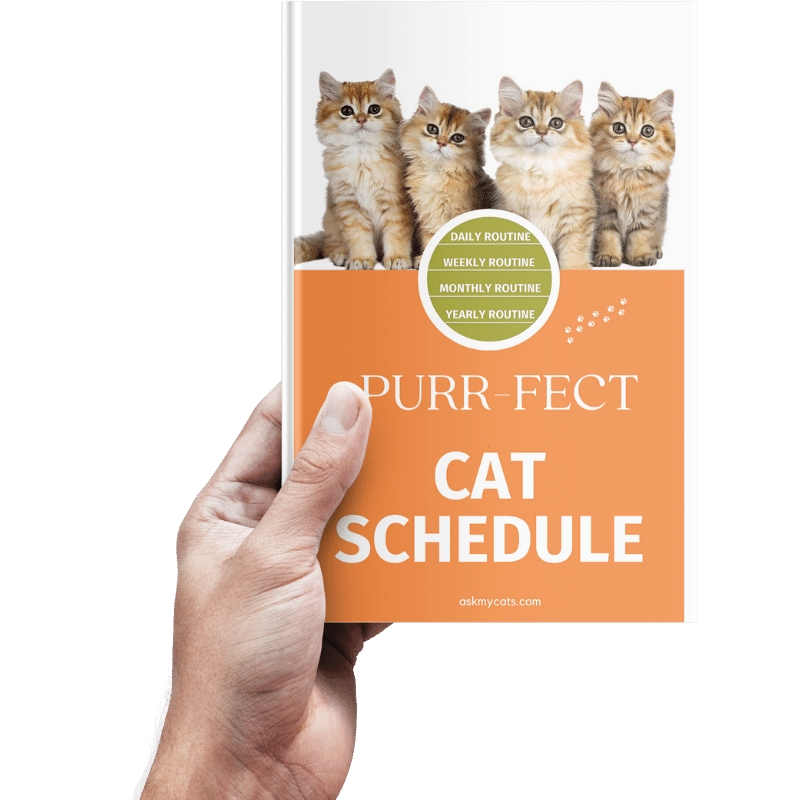 Discover the Secrets to a Happy Cat!
Discover the secrets to creating a happy and healthy daily routine for your feline friend. From playtime to mealtime, sleep to grooming, our expert guide will show you how to make every day a purrfect day for your cat.
Give Your Cat the Perfect Day – Get the Ebook!
1. The Sweet Tooth Mystery
Oh, you've got to hear this! You know how we sometimes can't resist a sweet treat? Well, cats are totally immune to the charms of sugar. Yep, due to a quirky little mutation in a key taste receptor, our feline friends don't have a sweet tooth. Imagine not being tempted by a chocolate cake ever in your life!
2. The Level-Headed Hunters
Here's something fascinating! When cats are in hot pursuit of their prey, they have this super cool ability to keep their heads level. It's like they have a built-in stabilizer! Unlike us and our canine buddies who bob our heads up and down, cats maintain a steady gaze. Talk about focus, huh?
3. Night Vision Superstars
Oh, this one is just mind-blowing! Cats might not have the best daytime vision, but when it comes to the night, they are the real superstars. Their night vision and peripheral vision are way better than ours. It's like they have built-in night vision goggles. How cool is that?
4. The High Jump Champions
Hold onto your hats for this one! Cats are like the Olympic champions of the animal kingdom when it comes to jumping. Believe it or not, they can jump up to six times their height. That's like us leaping over a two-story building in a single bound!
5. A Mouth Full of Teeth
You won't believe this, but kittens and adult cats have a different set of teeth. While the little furballs start with 26 deciduous teeth, as they grow, they sport a grand set of 30 permanent teeth. It's like they have their own natural set of tools, ready to munch on their favorite treats!
6. The Graceful Walk
Oh, the elegance of a cat's walk! It's like watching a perfectly choreographed dance. When they walk, their hind paws land exactly where their front paws were, a phenomenon known as "direct registering." This not only gives them a graceful gait but also makes them silent stalkers in the wild. Simply mesmerizing, isn't it?
7. The Tree Climbing Dilemma
Here comes a bit of a cat paradox! Despite being excellent climbers, descending is a whole different story for them. Cats can't climb down trees head first, often finding themselves stuck. It's like their adventurous spirit gets the better of them, and they need a little help getting back down. A little quirky, but oh so adorable!
8. The Sweat Mystery
Guess what? Cats hardly break a sweat! Unlike us, who can get all sweaty with a bit of exertion, cats sweat very minimally. It's just a tiny fraction of what we humans do. It seems they have their own unique way of keeping cool, doesn't it?
9. The Prolific Mothers
Brace yourself for this one! A single female cat has the potential to be a mother to approximately 180 kittens in her lifetime. It's like they have their own little army of mini-mes running around. Quite the prolific mothers, aren't they?
10. The Primordial Pouch
Oh, this is a fun one! Have you ever noticed a bit of a saggy belly on some cats? That's called the "primordial pouch," and no, it's not because they've been indulging in too many treats. It's a natural part of their anatomy, adding a bit of mystery to their sleek bodies. Quite the conversation starter, huh?
11. The Great Escape Artists
Ever tried to confine a cat to a room? Good luck with that! If there's an opening smaller than their head, they'll squeeze right through. It's like they have this magical ability to become liquid and fit through the tiniest of spaces. Makes you wonder if they've been taking lessons from Houdini, doesn't it?
12. The Extra Toes Mystery
Alright, this one's a bit wild. Some cats are born with more than the usual number of toes. It's like they decided, "Why settle for the standard when you can have extra?" These special kitties are called "polydactyl" cats. It's like they have their own built-in set of mittens!
13. The Saltwater Drinkers
Now, I wouldn't recommend trying this, but cats have this incredible ability to drink seawater. Their kidneys are so advanced that they can filter out the salt and use the water for hydration. It's like they come with their own built-in desalination plant. Nature's wonders, right?
14. The Tiger Connection
Here's a jaw-dropper! Our domestic feline friends share a whopping 95.6% of their genetic makeup with tigers. So, the next time your kitty gives you that fierce look, remember, there's a bit of wild tiger spirit in there. Makes you see Mr. Whiskers in a whole new light, huh?
15. The Declawing Debate
This one's a bit heavy, but it's essential. Declawing a cat isn't just like trimming their nails. It's akin to amputating a joint. Ouch! That's why it's illegal in many countries. It's always good to be informed and make compassionate choices for our furry friends.
16. The Self-Domesticators
Here's a fun twist in the tale of domestication. While we might think we domesticated cats, it's more like they chose to domesticate themselves. Yep, they saw the benefits of hanging around humans and thought, "Why not?" Talk about being smart and opportunistic!
17. The Ancient Sailors
Picture this: Ancient Egyptians sailing the vast seas with cats on board. No, it's not a scene from a movie. Cats were kept on ships for pest control. It's like they were the unsung heroes, ensuring smooth sailing by keeping the rats at bay. Ahoy, Captain Kitty!
18. The Earthquake Detectors
Hold onto your seats for this one. Cats can sense earthquake tremors a good 10 to 15 minutes before we do. It's like they have this sixth sense, making them nature's very own early warning system. If your cat suddenly acts all jittery for no reason, you might want to brace yourself!
19. The Selective Listeners
Ever felt like your cat is giving you the cold shoulder? Well, here's the scoop. Cats can recognize their owner's voice, but sometimes, they just choose to ignore it. It's not you; it's them. They're just being their independent, sassy selves. Classic cat behavior, right?
20. The Bedtime Ritual
Last but not least, have you ever noticed how cats circle around before settling down for a nap? This behavior is a throwback to their wild ancestors, who did this to flatten grass or foliage, making a comfy resting spot. It's like they have their own bedtime ritual. Sweet dreams, kitty!
21. The Unexpected Predators
Okay, brace yourself for this one. As cute and cuddly as they are, cats have been responsible for the extinction of 33 bird species. Yikes! It's a stark reminder that beneath that soft fur lies a fierce predator. Nature is full of surprises, isn't it?
22. The Popularity Contest
Guess who's winning the pet popularity contest in the USA? Cats! There are around 88 million pet cats, making them the reigning champs. Dogs, you've got some catching up to do! It's clear; America has a soft spot for these purring furballs.
23. The Ear Control Room
Ever noticed how cats can move their ears in all directions? They have over 30 muscles controlling those ears, making them super alert to every sound. It's like they have their own built-in radar system. No sneaking up on these guys!
24. The Unique Nose Print
Here's a fun tidbit: Just like our fingerprints, each cat's nose has a unique print. So, in a world of feline crime, nose prints could be the key to solving the mystery! Detective Whiskers is on the case.
25. The Human-Cat Communication
Ever wondered why your cat meows at you? Cats have this special language reserved just for us humans. They don't typically meow at other cats. It's like they've developed their own secret code to chat with us. Talk about a special bond!
26. The Healing Purr
This one's magical. Cats can heal themselves by purring. The frequency of their purr is beneficial for muscle and bone growth. So, the next time your kitty purrs, it might just be doing a bit of self-care. Who knew?
27. The Cat Gathering
If you ever see a bunch of cats together, you can impress your friends by saying, "Look, a clowder!" Yep, that's the official term for a group of cats. It's like they have their own exclusive club, and we're all eager to join.
28. The Third Eyelid
Hold on, this is going to sound a bit sci-fi. Cats have three eyelids! It's like they come with their own natural protective goggles. Always ready for action, these kitties.
29. The Sweetness Blindness
Remember the no sweet tooth fact? Here's a deeper dive. Cats can't taste sweetness at all. It's due to a genetic mutation affecting their taste receptors. So, while we're drooling over desserts, they're like, "Meh."
30. The Emotional Connection
Here's something heartwarming. Cats and humans have nearly identical sections of the brain that control emotions. It's like we're emotionally twinning with our feline friends. No wonder we get along so well!
31. The Flexi-Spine
Ever watched a cat stretch and thought, "I wish I could do that!"? Cats have a super flexible spine made up of 53 vertebrae, compared to our 34. It's like they're born yogis, always ready for a stretch.
32. The Stealthy Walk
Cats are the ninjas of the animal world. When they walk, their back paws step almost exactly where their front paws did, minimizing noise and leaving hardly any tracks. Sneaky and graceful, all in one package.
33. The Self-Care Experts
Last but not least, cats are self-care pros. They spend nearly one-third of their lives cleaning themselves. It's like they've mastered the art of spa days, every day. We could all learn a thing or two from them!
Final Words: Let's Paws and Reflect
Well, there you have it, fellow cat enthusiasts! A whirlwind tour through the mysterious, quirky, and utterly fascinating world of our feline friends.
From their stealthy walks to their emotional connections with us, cats never cease to amaze. But hey, this isn't where our journey ends.
Do you have a quirky cat fact or a hilarious kitty anecdote to share? Maybe a question that's been tickling your brain? Drop it in the comments below!
Let's keep this cat-tastic conversation going. After all, every day is a purr-fect day to celebrate our whiskered companions. 🐾