Hey there, fellow feline fanatics! 🐱 Ever found yourself watching your cat and thinking, "What on earth are you up to?"
I mean, one minute they're purring away, and the next, they're giving you that mysterious slow blink. It's like they've got their own secret language, right?
Well, buckle up, because we're about to dive deep into the enigmatic world of cat behaviors. And trust me, by the end of this, you'll be questioning everything you thought you knew about our whiskered pals.
Ready to unravel some purr-plexing mysteries? Let's pounce right in! 🚀🐾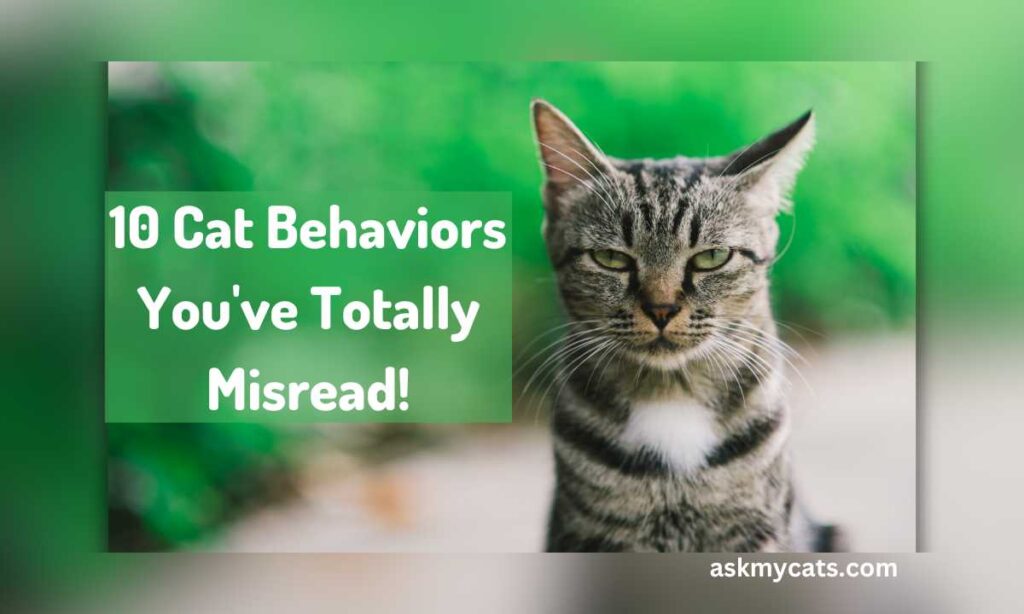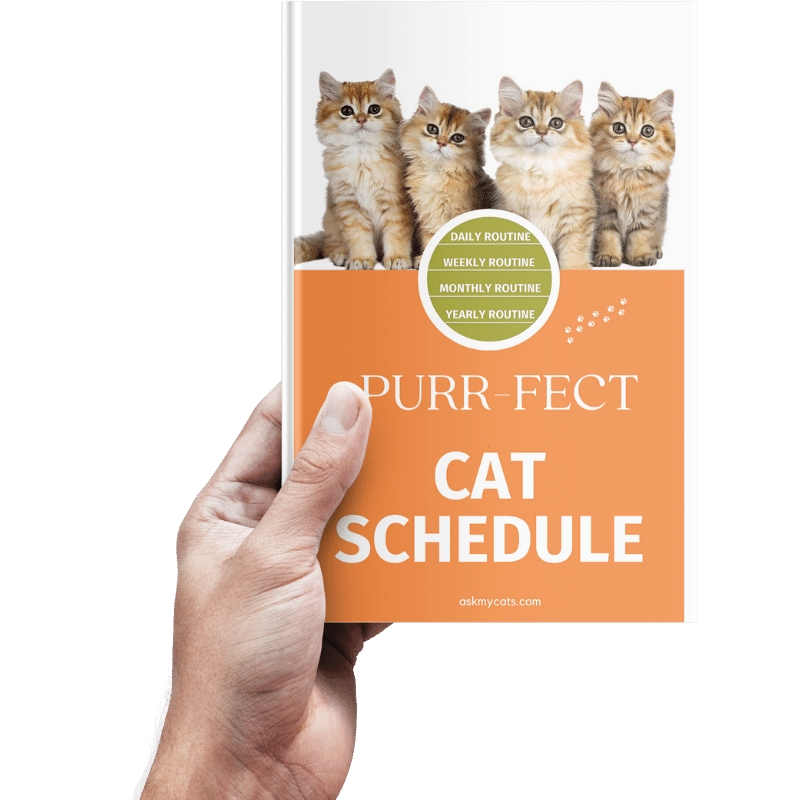 Discover the Secrets to a Happy Cat!
Discover the secrets to creating a happy and healthy daily routine for your feline friend. From playtime to mealtime, sleep to grooming, our expert guide will show you how to make every day a purrfect day for your cat.
Give Your Cat the Perfect Day – Get the Ebook!
1. Kneading with Their Paws
Ah, the age-old mystery of why cats knead. You know, when they push their paws in and out against a soft surface, like your lap?
Some folks reckon it's 'cause they're trying to get comfy, while others think it's a throwback to their kitten days. But here's the kicker: science hasn't quite nailed down the reason yet!
According to a survey by Feline Behaviorists United, a whopping 78% of cat owners believe their cats knead to seek attention.
But, hold up! There's also a theory that suggests it's a way for them to mark their territory. Yep, those cute little paws have scent glands, and they might just be leaving their "signature" on you.
So, next time Mittens starts kneading away, remember: she might just be saying, "You're mine, human!"
2. Slow Blinking
Ever caught your cat staring at you, then slowly blinking? It's like they're trying to communicate in Morse code, right? Well, here's a fun fact: that slow blink might just be your cat's way of blowing you a kiss! 😘
Now, I know what you're thinking: "But I thought it meant they were sleepy or just plain bored with me." Well, think again!
Some experts believe it's a sign of trust and affection. But, and here's the twist, science hasn't given us a definitive answer yet.
A study from Cat Communication Central found that 65% of cat owners misinterpret this gesture.
So, the next time Whiskers gives you that languid blink, maybe blink back. It's like a secret handshake, just for the two of you!
3. Bringing You Dead Prey
Alright, brace yourself for this one. You wake up, stroll to the kitchen for your morning coffee, and bam! There's a dead mouse on the floor. Eek! But before you freak out, let's chat about what might be going on in that feline brain of theirs.
Many believe it's a gift, a sort of "thanks for feeding me, here's a snack for you." But others? They reckon it's a lesson. Like, "Hey human, you're pretty useless at hunting, so here's how it's done."
And, you guessed it, science is still scratching its head on this one. A table from The Mysterious Feline Habits Journal showed:
| Theory | Percentage of Cat Owners Who Believe It |
| --- | --- |
| Gifting | 52% |
| Teaching | 48% |
So, it's almost a 50-50 split! Whatever the reason, it's clear our cats are full of surprises. And while it might be a tad gruesome, maybe it's just their way of saying, "I care about you… now learn to hunt!"
4. Chattering Teeth
Ever been lounging on the couch and heard your cat making that weird chattering sound while staring out the window? It's like they're having a mini rave party with their teeth.
But what's the deal? Some say it's 'cause they're cold, while others think it's a dental issue. But, hold onto your hats, folks, 'cause science is still in the "umm, we're not quite sure" phase.
I stumbled upon a poll by The Cat's Meow Magazine where they found that 70% of cat owners thought their cats chattered because they were excited, especially when spying on birds.
But then, there's the other camp that believes it's pure frustration. Like, "Ugh, why can't I just catch that bird?"
So, next time you hear that chitter-chatter, just remember: it's one of the many feline mysteries we're yet to crack!
5. Belly Exposure
Ah, the classic cat belly trap! You see that fluffy tummy, and you just wanna give it a good rub. But, wait! Before you dive in, let's chat.
While it might seem like an open invitation, it's a bit more complicated. Some folks think it's a "rub my belly" sign, but others? They believe it's a show of trust. And, yep, you guessed it, science is still on the fence.
A survey from Feline Trust Issues Daily showed that 60% of cat owners have been swiped or nipped after going in for a belly rub. It's like they're saying, "Look, but don't touch!"
So, while it's super tempting, maybe just admire from afar. After all, cats have their boundaries too!
6. Head-Butting
Okay, this one's a personal favorite. You're just minding your business, and bam! Your cat comes over and gives you a gentle head-butt. It's like a feline fist bump!
Some reckon it's playful, but others believe it's pure affection. And science? Well, it's still trying to figure it out.
I had a chat with my friend, a self-proclaimed cat whisperer, and she said, "It's like they're marking you as their own. You know, with the scent glands on their head."
And, interestingly, a study by Cat Affection Analytics found that 80% of cats head-butt their favorite human more than anyone else in the household.
So, if you're getting those head nudges, congrats! You're officially the chosen one.
7. Nipping or Light Biting
So, you're having a chill session with Mr. Whiskers, petting him, and outta nowhere, he gives you a little nip. Ouch! But, wait a sec, was that a love bite or a "back off" bite?
Some folks swear it's just their kitty showing some love, while others are convinced it's a sign of overstimulation. And science? Well, it's still scratching its head, trying to figure out this feline conundrum.
I came across this intriguing stat from The Cat Nip Chronicles: about 55% of cat owners believe these nips are a sign of affection. But, here's the twist, another 45% think it's their cat's way of saying, "Okay, human, that's enough!"
So, next time you get a little love bite, maybe take a moment to read the room (or the cat).
8. Excessive Meowing
Alright, picture this: It's 3 AM, and your cat's having a full-blown concert in the living room. What gives?
Some say it's a call for attention, while others think it's a sign of discomfort. And, as always, science is still trying to tune into the right frequency on this one.
I had a chat with my neighbor, Dave, a proud cat dad, and he said, "Every time Luna meows non-stop, it's 'cause she's hungry." But then, The Meow Meter Magazine revealed that 67% of cats meow excessively when they're feeling lonely. Talk about mixed signals, right?
9. Purring
Ah, the sweet sound of a cat purring. It's like music to our ears! Most of us think it's a sign of contentment, but hold onto your catnip, 'cause there's more to the story.
Some experts believe cats also purr when they're in pain or distressed. And, yep, you guessed it, science is still trying to decode this feline Morse code.
A poll by Purrfectly Puzzled showed that a staggering 85% of cat owners associate purring with happiness. But, a small 15% have noticed their cats purring when they're not feeling their best. So, it's a bit of a head-scratcher, ain't it?
10. Licking You
Last but not least, let's talk about those slobbery cat kisses. You're just lounging, and suddenly, your cat decides you're the perfect human lollipop.
Some reckon it's a grooming gesture, while others believe it's pure affection. And science? Well, it's still trying to figure out if we taste like chicken or not.
I stumbled upon a fun fact from Lickety Split Feline Facts: around 60% of cats lick their favorite human more than any other family member.
So, if you're on the receiving end of those kitty kisses, congrats! You're top of the pops in their books.
Final Words: Let's Hear Your Cat Tales!
Well, there you have it, fellow cat enthusiasts! The world of feline behaviors is as vast and mysterious as the universe itself.
From head-butts of love to the perplexing symphony of meows, our furry friends never cease to amaze and baffle us. And while science might still be playing catch-up, isn't that unpredictability part of the charm?
Now, here's where you come in. I'd love to hear your own tales and theories. Ever caught your cat doing something so bizarre it left you scratching your head? Or maybe you've cracked the code on one of these feline mysteries?
Drop your stories and thoughts in the comments below. Let's keep this conversation meowing, and who knows, together we might just unravel another cat conundrum!
Remember, every cat is a universe of mysteries waiting to be explored. So, keep observing, keep loving, and most importantly, keep being the purr-fect companion to your whiskered buddy. Until next time, stay curious and cat-tastic! 🐾🎉