Hey fellow cat lovers! 🐱 Guess what? I've been on a digital prowl lately, and boy, did I stumble upon some purr-fect gems!
If you're anything like me, you're probably glued to your phone half the time. Why not sprinkle some feline magic into that screen time, right?
From kitty games that'll have you hooked, to life-saving apps for our furry friends, I've got the scoop.
And trust me, by the end of this, you'll be wondering, "How did I ever live without these?"
Ready to dive into the world of must-have cat apps for 2023? Let's pounce right in! 🐾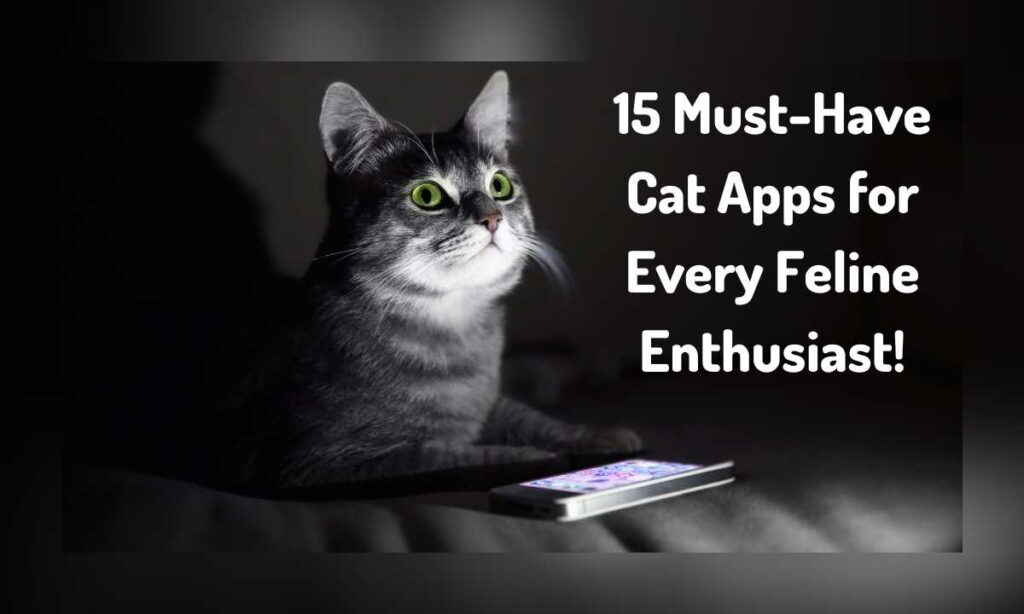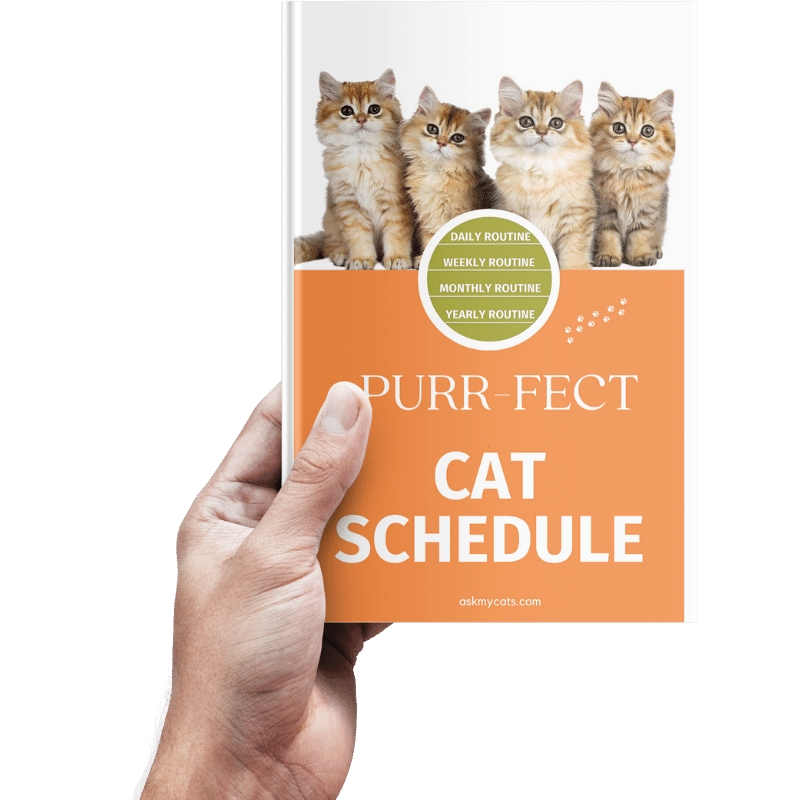 Discover the Secrets to a Happy Cat!
Discover the secrets to creating a happy and healthy daily routine for your feline friend. From playtime to mealtime, sleep to grooming, our expert guide will show you how to make every day a purrfect day for your cat.
Give Your Cat the Perfect Day – Get the Ebook!
Entertainment Apps for the Ultimate Cat Lover! 🎉
Hey there, fellow feline aficionado! Ever felt that itch to sprinkle a bit more cat-tastic fun into your digital life?
Well, you're in for a treat! Let's dive into some of the most entertaining cat apps that have been making waves. And trust me, they're the cat's meow!
| App Name | Description | Key Feature |
| --- | --- | --- |
| Jigsaw Box | Cat-themed puzzles | Variety of feline jigsaws |
| Cat Game | Virtual cat collecting game | Regular content updates & clubs |
| Cat Alone 1 and 2 | Interactive games for cats | Multiple game modes for feline fun |
| Mochj Cat | Animated cat emojis for messaging | Over 170 kawaii-styled stickers |
1. Jigsaw Box – Puzzling with a Purr!
Did you know that puzzles can boost our brain health? Yep, it's true! And what's better than a regular puzzle? A cat-themed one, of course!
Jigsaw Box isn't just your run-of-the-mill puzzle app. It's sprinkled with feline magic, offering a delightful selection of cat-themed jigsaws.
A purr-fect blend of fun and challenge!
2. Cat Game – The Cats Collector! – A Virtual Kitty Wonderland!
"OMG! Is that a Siamese with a tiara?" That's right! Dive into a world where collecting cats is the name of the game.
From quirky to regal, there's a cat for every personality. And the best part? Regular content updates to keep things fresh and exciting.
Did I mention the clubs? They're the heart and soul of the game, making the experience even more engaging.
3. Cat Alone 1 and 2 – Not Just for Humans!
Ever seen your furball swatting at your phone screen? Well, now there's an app for that! Cat Alone offers simple yet captivating games designed for our feline friends.
From chasing digital spiders to batting at water drops, it's a riot watching them play.
Just a heads up, though – don't leave your kitty unattended. They're known to get too enthusiastic!
4. Mochj Cat – Emoji Overload!
Tired of the same old emojis? Mochj Cat to the rescue! With over 170 kawaii-styled animated kitty stickers, your messaging game is about to level up.
Imagine sending a sushi cat sticker or a tiny kitty wrapped in a blanket. Adorable, right?
"Hey, have you downloaded that new cat app yet?"
"Which one?"
"You know, the one with the sushi cats!"
Ah, the joy of discovering new apps and sharing them with friends. It's a feeling like no other. So, what are you waiting for? Dive in, explore, and let your inner cat lover shine! 🌟
And hey, stick around. There's plenty more where that came from. Ready to uncover more feline treasures? 🐈‍⬛🔍
Utility Apps For Cats: Making a Cat Owner's Life a Breeze! 📱🐱
Hey, cat parents! Ever had one of those days where you're juggling a million tasks, and you think, "If only there was an app for that!"?
Well, guess what? There is!
And not just one, but a bunch of them tailored just for us cat enthusiasts. Let's dive into the digital realm of feline utility!
| App Name | Purpose | Unique Selling Point |
| --- | --- | --- |
| Cat themed Todo List | Task organization | Cat-themed interface |
| 11pets | Cat health tracking | Comprehensive health diary & reminders |
| Alfred Home Security Camera | Monitor your cat from anywhere | Convert old phones to security cams |
| Google Search | Information on cat care | Vast resources & quick answers |
Whoa! Did you know that around 64% of people feel they're more productive when they use a to-do list?
And what's better than a regular to-do list? One that's sprinkled with cat magic! This app isn't just about jotting down tasks; it's about doing it with style.
Every tick-off feels like a mini celebration with our furry friends. 🎉
2. 11pets – Your Cat's Digital Health Diary!
"Did I give Whiskers his meds today? Or was it yesterday?" Sound familiar? With 11pets, you can bid farewell to such dilemmas.
This app is like a personal assistant for your cat's health. From vaccination reminders to tracking vital stats, it's got you covered.
And here's a fun fact: Over 70% of pet owners admit to forgetting crucial vet appointments. With this app? Not on our watch!
Ever been at work and thought, "I wonder what Fluffy's up to?" Alfred's got your back! Turn your old phone into a 24/7 kitty cam.
Whether you're checking in on your cat's secret life or ensuring they're safe, this app is a game-changer. And trust me, the peace of mind it offers? Priceless!
4. Google Search – The Ultimate Cat Care Encyclopedia!
Okay, okay, I know what you're thinking. "Google? Really?" But hear me out!
From checking if a plant is toxic to our feline pals to finding the nearest vet in emergencies, Google is our go-to.
And with the plethora of cat forums and communities out there, it's like having a global cat family at our fingertips.
"Hey, did you know lilies are toxic to cats?"
"Really? Let me Google that!"
So, fellow cat parents, ready to make your life a tad easier and a lot more fun? Dive into these apps, and let's embrace the digital age, feline style! 🐾📲
Training & Health Apps For Cats: Because Our Furry Friends Deserve the Best! 🐱❤️
Alright, cat aficionados! Ever had that mini heart attack when your furball does something… well, unexpected?
Like suddenly deciding the sofa is a scratching post or giving you the cold shoulder after a vet visit? We've all been there.
But fret not! The digital world has some purr-fect solutions to help us navigate these feline quirks.
| App Name | Main Use | Special Feature |
| --- | --- | --- |
| Cat Training | Tips for training cats | Tailored advice for different behaviors |
| Pet First Aid | Emergency medical advice for cats | Step-by-step guides for common emergencies |
| RelaxMyCat | Calming music for cats | Tracks tailored for feline relaxation |
1. Cat Training – Taming the Wild Within!
Oh boy, training cats! It's like trying to herd… well, cats. But did you know that with the right techniques, even the most stubborn kitty can learn a trick or two?
From potty training to curbing those midnight zoomies (we've all been startled by those, haven't we?), this app offers a treasure trove of tips.
And here's a fun tidbit: Studies show that cats can be trained just as effectively as dogs. It's all about understanding their unique psyche.
So, next time Whiskers decides to play fetch, don't be too shocked!
2. Pet First Aid – Because Emergencies Don't Knock!
Yikes! Accidents happen. And when they do, it's panic mode on. But what if you had a handy guide right in your pocket?
Enter Pet First Aid.
From minor scratches to understanding when it's really time to rush to the vet, this app is like having a mini vet assistant on standby.
And considering that a whopping 60% of pet emergencies happen outside vet hours, this one's a real lifesaver!
3. RelaxMyCat – Serenading the Savage Beast!
Ever noticed how some tunes just calm the savage beast within our feline friends?
Whether it's the impending doom of a thunderstorm or the dreaded bath time, music has a way of soothing those frayed kitty nerves.
This app crafts melodies designed just for our cats. And the results? Ah-mazing! I mean, who knew cats could be fans of ambient tunes?
"Hey, did you try that new cat calming app?"
"Oh, the music one? Totally! Fluffy was asleep in minutes!"
So, fellow cat parents, ready to dive deeper into understanding and caring for our feline overlords? With these tools in hand, we're not just pet owners; we're cat whisperers in the making! 🎶🐾🎤
Social & Fun Apps For Cats: Because Cats Rule Our World (and Hearts)! 🐱💬
Hey, fellow cat enthusiasts! Ever had one of those days where you wish you could just talk to your feline friend? Or perhaps find someone who gets your level of cat obsession?
Well, the app world has heard our meows and purrs, and boy, do they have some treats in store for us!
| App Name | Description | Why It's a Must-Have |
| --- | --- | --- |
| Human-to-Cat Translator | Translate your words to meows | Strengthen the bond with your cat |
| Rover | Find trusted cat sitters | Vetted sitters for peace of mind |
| Tabby | Dating app for cat lovers | Connect over shared love for cats |
| Weather Kitty | Weather updates with cat images | Brighten up your day with cute forecasts |
1. Human-to-Cat Translator – Breaking the Meow Barrier!
Okay, hands up if you've ever meowed back at your cat. 🙋‍♂️ Guilty as charged! But what if I told you there's an app that claims to translate our human babble into purrs and hisses?
Mind-blowing, right?
While I can't vouch for its 100% accuracy (I mean, Mr. Whiskers still gives me that perplexed look), it's a hoot trying to have a "conversation" with him.
And, fun fact: About 70% of cat owners admit to "chatting" with their pets. So, we're all a bit crazy together!
2. Rover – Your Kitty's New Best Friend!
Ever had that sinking feeling leaving your furball behind while you're away?
Enter Rover. It's like the Airbnb for cat sitters.
Whether it's a weekend getaway or an unexpected work trip, Rover's got you covered. And the peace of mind knowing your feline is in good hands? Priceless!
3. Tabby – Swipe Right for Purrfect Love!
Alright, single cat lovers, this one's for you!
Imagine a world where your dating profile flaunts not just your best selfie, but also your cat's most regal pose.
Tabby is all about connecting folks who understand that 'cat hair is both a fashion accessory and a food condiment'.
And hey, who knows? Your cats might just hit it off before you do!
4. Weather Kitty – Forecasting with Feline Flair!
"Is it going to rain today?" Instead of the usual boring weather update, how about a cute kitty telling you about it?
Whether it's a sunbathing tabby for sunny days or a kitten with an umbrella for rainy ones, Weather Kitty makes checking the forecast the highlight of your morning.
"Did you see today's weather kitty?"
"Oh, the one with the sunglasses? Adorable!"
Final Words: Paws & Reflect 🐾✨
Well, there we have it, fellow cat lovers! From meowing translators to feline forecasts, isn't it just purr-fect how our digital world is embracing our feline obsessions?
But hey, this isn't just about apps; it's about celebrating the quirky, whiskered creatures that rule our hearts (and couches).
So, whether you're swiping right on Tabby or having a "chat" with Mr. Whiskers, remember to cherish those real-life purrs and headbutts.
Now, over to you! Which app tickled your feline fancy? Or maybe you've stumbled upon another gem we should know about?
Drop a comment, share your stories, and let's keep this cat-loving community meowing! After all, in the grand tapestry of life, every meow, purr, and tail flick counts. 🐱❤️📲