Hey there, fellow cat whisperers! Ever stepped on a tail and received the cold, icy stare of feline disdain?
Yep, been there, done that. Cats, those adorable bundles of fluff, can be a tad… well, dramatic.
But fear not! Whether you've accidentally turned on the vacuum or brought home a new pet, there's always a way back into their good graces.
Curious about the secret handshake to the kitty kingdom? Dive in, and let's unravel the mystery together! 🐱🔍❤️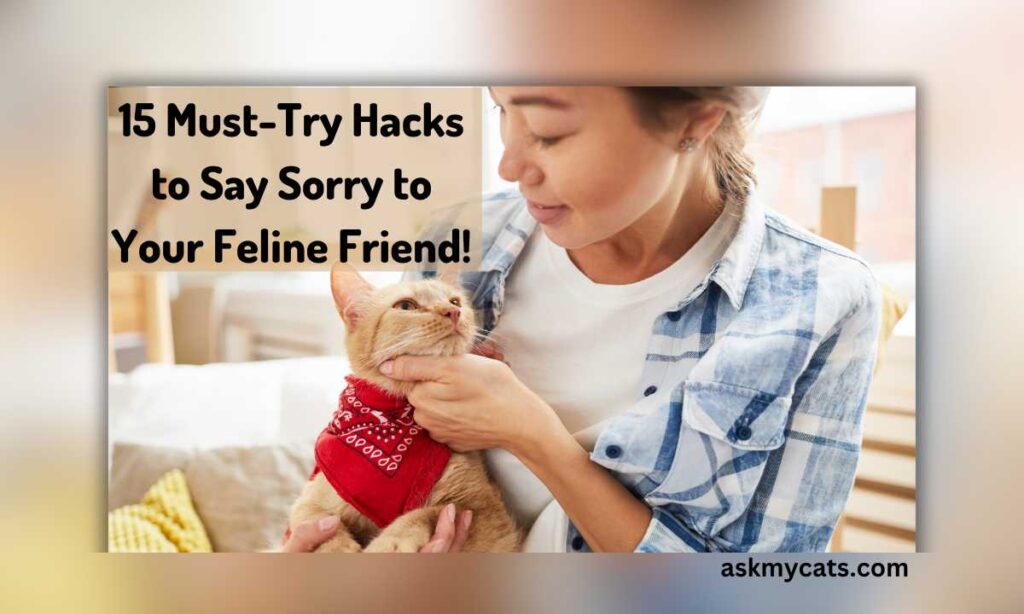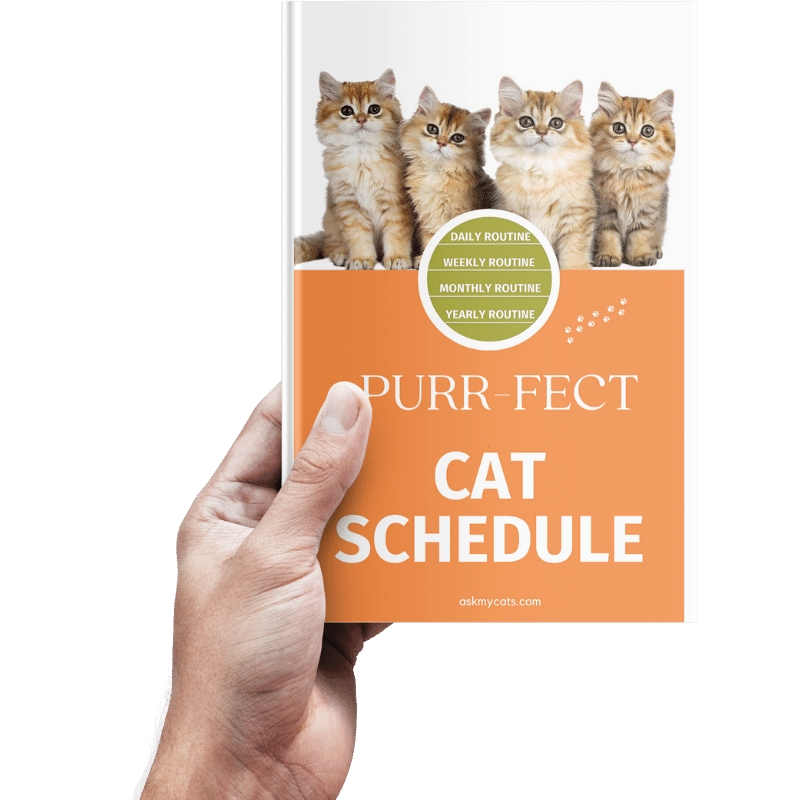 Discover the Secrets to a Happy Cat!
Discover the secrets to creating a happy and healthy daily routine for your feline friend. From playtime to mealtime, sleep to grooming, our expert guide will show you how to make every day a purrfect day for your cat.
Give Your Cat the Perfect Day – Get the Ebook!
1. Observe Body Language
Oh boy, if only cats could talk, right? But wait, they kinda do! Not with words, but with their tails, ears, whiskers, and those big ol' eyes.
Before you even think of approaching Mr. Whiskers after that accidental tail step, take a moment. Look at him. Is his tail swishing rapidly? Are his ears pinned back? Yikes! That's a clear "not now, human" sign.
But if he's just lounging with half-closed eyes, maybe, just maybe, he's ready for a peace treaty.
Remember, it's all about reading those non-verbal cues. Cats are like puzzles, and their body language is the missing piece!
2. Speak Calmly and Use Soothing Tones
"Hey there, buddy. I'm really sorry." See what I did there? Soft, gentle, and full of remorse. Cats, believe it or not, are suckers for a calm and soothing voice. It's like music to their ears!
So, next time you're trying to apologize, ditch the high-pitched baby voice and go for something more… well, chill.
It's like telling a bedtime story. You want them to feel safe and understood, not like they're at a rock concert.
3. Blink Slowly
Alright, this might sound a tad weird, but stick with me. You know that feeling when someone winks at you, and it feels like a secret handshake?
For cats, slow blinking is kinda like that. It's their way of saying, "Hey, we're cool."
So, when you're trying to make amends, look them in the eyes and blink. Slowly. It's like sending a Morse code of love. And who knows, you might just get a slow blink back. Cat code cracked!
4. Offer Treats and Toys
Ah, the age-old trick of bribery! But hey, it works. Remember that time you were mad at someone, and they offered you chocolate? Exactly.
Cats are no different. Whether it's a crunchy treat or a squeaky toy, it's like extending an olive branch.
But here's the kicker: don't just toss it at them. Make it a game. Engage. Play.
It's not just about the treat; it's about the time spent together. It's like saying, "I'm here, and I want to make things right."
5. Respect Personal Space
Okay, confession time. I'm a hugger. But my cat? Not so much. Cats are like those people who have a personal bubble.
And when you burst it, especially when they're already miffed, it's like setting off fireworks. Not the fun kind.
So, give them space. Let them come to you. It's like waiting for a text back from someone you've wronged. Desperate? Sure. But oh-so-worth-it when they finally saunter over, ready for a cuddle.
6. Interactive Play
Whoa, Nelly! You know what's an instant mood lifter? Playtime! Think about it.
When you're feeling down, doesn't a game of catch or a dance-off with friends lighten the mood? Cats are no different. Grab that feather wand or laser pointer and get moving.
It's not just about the chase; it's about reconnecting. It's like saying, "Hey, remember the good times?" And trust me, nothing says "I'm sorry" like letting your cat finally catch that elusive red dot.
7. Quality Time
Okay, real talk. Sometimes, all it takes is just… being there. No words, no treats, just presence.
Sit down next to your feline friend, maybe read a book or binge-watch that show you've been putting off. Let them decide the next move. It might be a head bump, a purr, or even a nap on your lap.
It's like when you're upset, and a friend just sits with you in silence. Sometimes, that's all you need.
8. Avoid Hugging or Kissing Immediately
Oh, the temptation! Those fluffy cheeks, that soft fur. But hold your horses! Remember that time someone tried to hug you when you were mad? Not cool, right?
Cats, with their majestic pride, feel the same. Give them time. Let the air clear. And when they're ready, they'll come to you.
It's like waiting for the right moment to dive into a pool. Timing is everything.
9. Maintain Consistency and Routine
Ever had one of those days when everything's topsy-turvy? Yeah, not fun. Cats, with their love for routine, feel the chaos tenfold.
So, if you've messed up, get back to the schedule. Feeding times, playtimes, nap times – keep it consistent.
It's like when life throws you a curveball, and you find solace in your daily rituals. Cats, in their own quirky way, find comfort in predictability.
10. Use Calming Aids
Alright, picture this. You've had a rough day, and then someone hands you a cup of chamomile tea. Bliss, right?
For our feline pals, calming aids are that cup of tea. Whether it's a pheromone spray, a soft blanket, or some calming music, it helps.
It's like wrapping them in a warm hug, without the actual hugging part. It's a gentle nudge that says, "Hey, everything's going to be okay."
11. Understand Their Perspective
Ever had one of those "Aha!" moments when you suddenly see things from someone else's point of view? It's enlightening, right?
Now, imagine being in your cat's paws. The world's big, you're small, and sometimes the giant human does confusing things. Maybe you moved their litter box, or perhaps you introduced a new pet.
Whatever it is, try to see it from their eyes. It's like when you're in a foreign country, and you're trying to understand the local customs. A little empathy goes a long way.
12. Avoid Forcing Interaction
"Come here, Fluffy! Let's hug it out!" Hold up! While that might work with your bestie, with cats, not so much.
Cats are, well, a tad bit finicky. They're like that friend who needs space after an argument.
Pushing them for a cuddle or playtime? Big no-no. Let them come to you. It's like waiting for a pot of water to boil. It'll happen, just give it time.
13. Be Patient
Ah, patience, the age-old virtue. And when it comes to cats, it's golden. Cats aren't like dogs.
They won't wag their tail and forgive in a jiffy. They mull, they ponder, they… take their sweet time. But that's okay. It's like waiting for a good wine to age. The wait is worth it.
So, brew a cup of tea, sit back, and let the magic of time do its thing.
14. Look for Signs of Forgiveness
Here's the fun part! Cats, in their mysterious ways, have their own little signals.
A purr, a slow blink, a gentle nudge – it's their way of saying, "Alright, human, we're good." It's like when someone sends you a smiley after a tiff. Subtle, but oh-so-clear.
So, keep an eye out for those little signs. They're the rainbow after the storm.
15. Consult a Veterinarian
Wait, what? A vet? Yep, you heard that right. Sometimes, the grudge isn't a grudge. It could be a health issue. Just like we get cranky when we're not feeling 100%, cats do too.
So, if the cold shoulder lasts a tad too long, maybe it's time for a check-up. It's like when your car makes a weird noise. Better safe than sorry, right?
Wrapping It Up: The Feline Peace Treaty
So, there we have it, folks! The ultimate guide to making amends with our furry overlords.
Cats, with their majestic whiskers and sassy tails, sure know how to hold a grudge. But with a sprinkle of patience, a dash of understanding, and a whole lotta love, we can bridge that gap.
Remember, every cat is a world unto itself, and navigating that world is an adventure.
Got any cat-astrophic tales of your own? Or maybe a purr-fect apology story? Drop a comment below and share the feline love! 🐾❤️