For many, the mere thought of a cat obediently performing tricks or responding to commands seems as fantastical as unicorns prancing in our backyards.
The common perception of cats paints them as the epitome of independence—a far cry from our eager-to-please canine companions.
In literature, pop culture, and often in our homes, cats have been portrayed as mysterious and aloof creatures, seemingly dancing to their own tune, often leaving their human companions bewildered.
But what if this enigmatic behavior isn't a sign of indifference or a testament to their untrainability, but rather a hint of an untapped potential?
Let's delve deeper into the world of feline behavior, where we'll uncover the realities of cat training and shed light on their often-underestimated cognitive abilities.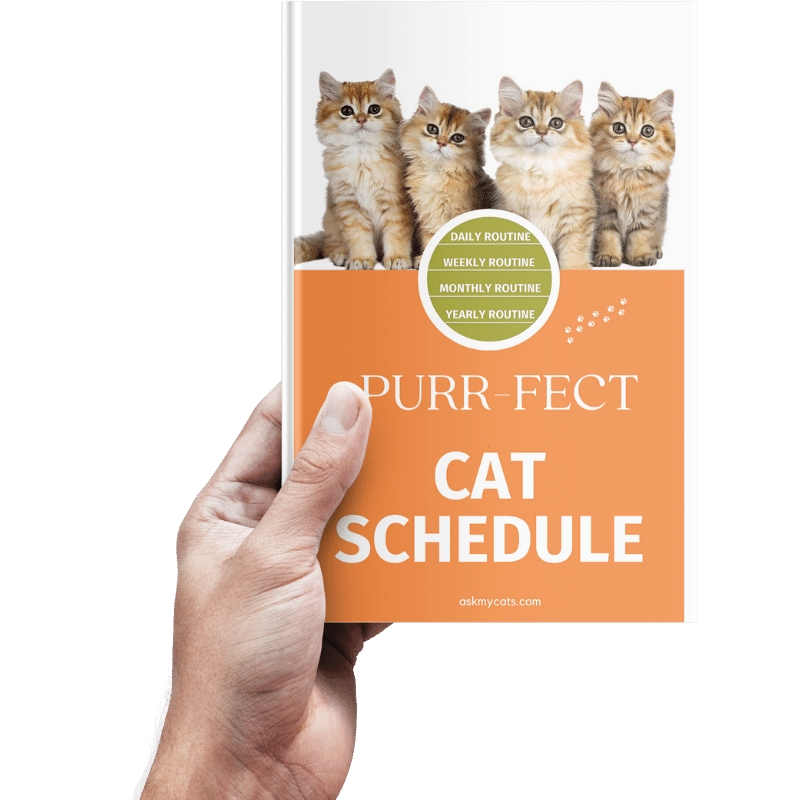 Discover the Secrets to a Happy Cat!
Discover the secrets to creating a happy and healthy daily routine for your feline friend. From playtime to mealtime, sleep to grooming, our expert guide will show you how to make every day a purrfect day for your cat.
Give Your Cat the Perfect Day – Get the Ebook!
Understanding the Feline Psyche
To approach the topic of cat training, we first need to step into the paws of our feline friends.
While dogs have evolved from pack animals, eager to serve a leading figure, cats have historically been solitary hunters. This means they approach learning and behavior reinforcement differently than canines.
Instead of seeking approval, cats are more motivated by immediate, tangible rewards.
Positive Reinforcement
When training any animal, understanding what drives them is half the battle. For cats, positive reinforcement is the golden key. If a cat perceives a benefit—like a delectable treat—following a specific behavior, they're naturally inclined to replicate that behavior.
Consider a simple training goal: getting your cat to respond to its name. Start in a quiet space, calling your cat. When it acknowledges or approaches you, offer a treat or affectionate petting.
Repeated over time, your cat will begin associating its name with positive outcomes, thus ingraining the desired behavior.
Clicker Training
Clicker training takes the principle of positive reinforcement a notch higher. This method uses a small handheld device that emits a 'click' sound.
The sound marks the exact moment the cat performs the desired behavior, followed immediately by a treat.
The precise nature of this training method allows cats to understand exactly which action earned them the reward, streamlining their learning process.
Tricks and Tasks
While cats might not retrieve newspapers or play fetch as dogs do, they have their repertoire of skills:
Litter box etiquette: A crucial training aspect for indoor cats.
Responding to their name: Reinforced through treats and affection.
Commands like sit or stay: Achievable with persistent positive reinforcement.
Interactive tricks: Think high-fives, spinning, or even jumping through hoops.
Leash walking: With the right harness and gradual acclimatization, a walk with your cat can be more than a fantasy.
Behavioral Training
Training isn't just about tricks. It's also a valuable tool in shaping and managing a cat's behavior. If your cat is prone to scratching furniture or being overly aggressive, targeted training can provide solutions. By offering alternatives (like a scratching post) and consistently rewarding desired behaviors, you can redirect and reduce unwanted actions.
Navigating Training Challenges
Training a cat isn't without its hurdles:
Distractions: Cats are naturally curious, making them easily distracted.
Individual Preferences: Not all rewards work for every cat. Some may favor play over treats.
Age Considerations: While young kittens might be more malleable, older cats can be set in their ways. However, with perseverance, they too can learn.
The Value of Pet Insurance
In the context of training and overall pet care, it's worth noting the value of pet insurance. Training might occasionally lead to minor mishaps, be it a small injury during leash training or an upset stomach from a new treat.
Having pet insurance ensures that your feline companion receives the best care without causing significant strain on your finances. Plus, knowing you're covered can provide peace of mind as you embark on your training journey.
In Conclusion
The notion that cats are beyond training is an oversimplified myth. With understanding, appropriate tools, patience, and a touch of creativity, cats can not only be trained but can thrive in the process.
Training offers a unique opportunity to bond with your feline, fostering a relationship that's enriching for both parties.
Whether it's mastering a new trick or ensuring your furniture remains scratch-free, a trained cat is a testament to the endless possibilities within the feline world.