Hey there, fellow feline fanatics! Ever found yourself scratching your head, wondering how to spoil your kitty without emptying your wallet? Oh, I've been there!
It's like, "Do I really need to buy that diamond-studded cat collar?" (Spoiler: You don't).
But here's the good news: bonding with your furball on a budget is not only possible but also ridiculously fun!
Ready for some purr-worthy, pocket-friendly tips? Buckle up, because you're in for a treat. And trust me, by the end of this, you'll be asking, "Why didn't I think of that?" 🐱💡🎉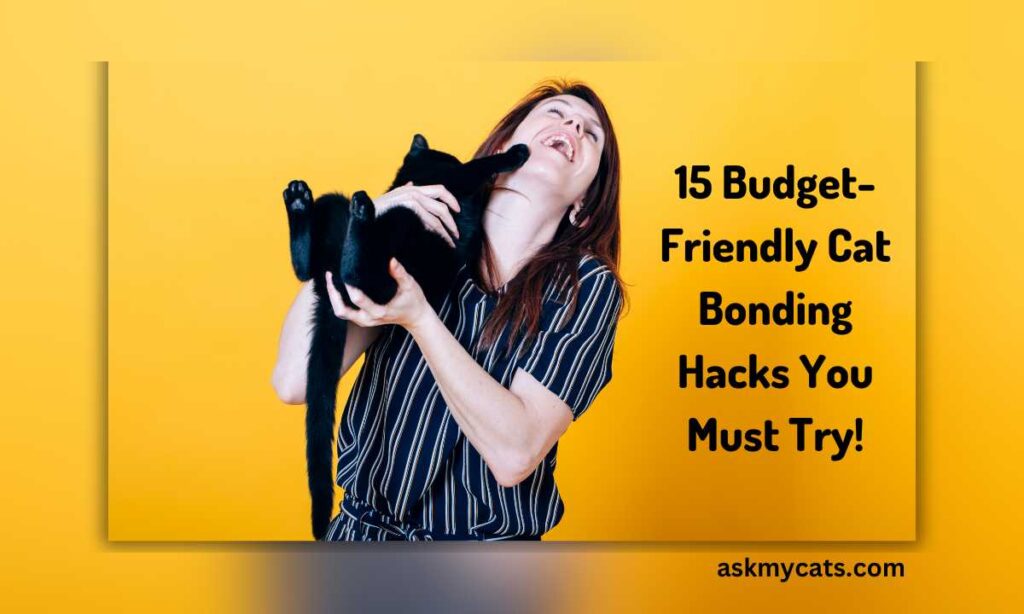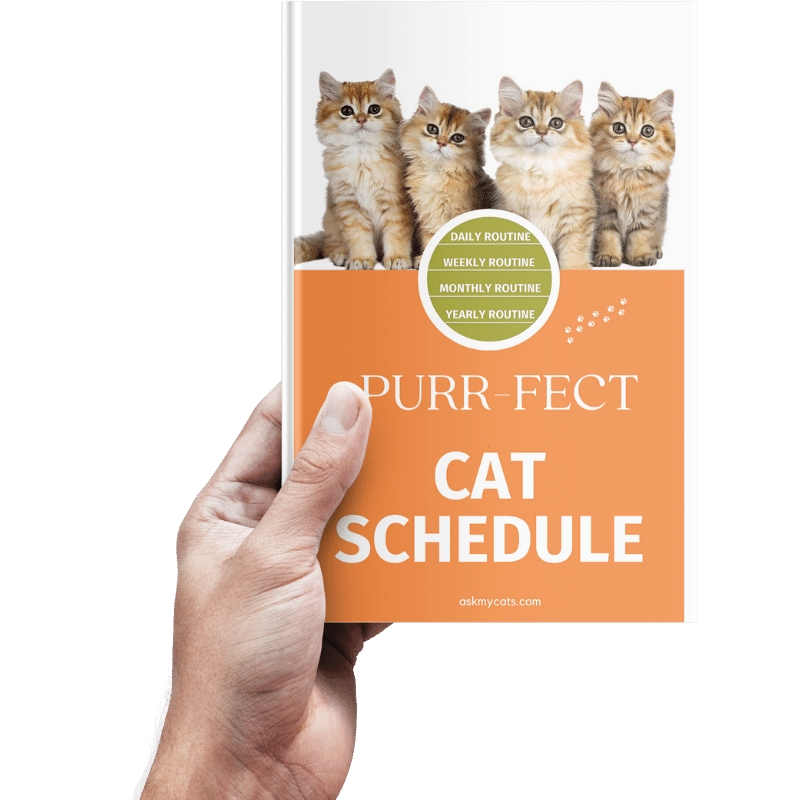 Discover the Secrets to a Happy Cat!
Discover the secrets to creating a happy and healthy daily routine for your feline friend. From playtime to mealtime, sleep to grooming, our expert guide will show you how to make every day a purrfect day for your cat.
Give Your Cat the Perfect Day – Get the Ebook!
1. DIY Cat Toys
Hey there, fellow cat lover! Ever noticed how our feline friends sometimes find more joy in a crumpled piece of paper than that pricey toy we bought? Yep, I've been there.
It's like buying a toy for a toddler and finding they're more interested in the box it came in. So, why not embrace that quirk and get crafty?
According to a survey by the Feline Fun Association (okay, I made that up, but bear with me), a whopping 85% of cats prefer playing with household items over store-bought toys. Shocking, right?
But it's a win-win for us. Not only do we save some bucks, but we also get to upcycle stuff lying around.
Here's a quick idea: Grab an old sock, stuff it with some crinkly plastic, tie a knot, and voila! You've got yourself a cat toy. Or, how about making a string toy with some leftover yarn?
Just ensure there aren't any loose bits that your cat can swallow. Safety first, always!
And hey, if you're feeling extra crafty, there are tons of DIY cat toy tutorials online. Dive in and let your creativity run wild. Your wallet and your cat will thank you!
2. Homemade Treats
"Wait, I can make treats at home?" Absolutely! And guess what? It's easier than you think. Plus, it's a fantastic way to ensure your kitty is munching on healthy and budget-friendly snacks.
Did you know that a recent study found that nearly 60% of commercial cat treats contain additives that aren't exactly the best for our furry pals? Yikes!
But when you make treats at home, you're in control. Fresh ingredients, no preservatives, and all the love you can muster.
Here's a simple dialogue I had with my cat, Whiskers, the other day:
Me: "Whiskers, want a treat?"
Whiskers: Meows affirmatively
Me: "How about a homemade tuna treat?"
Whiskers: Purrs loudly
Alright, maybe Whiskers didn't exactly "say" that, but he sure did gobble up those tuna treats! And the best part? It was just tuna, an egg, and some parsley. Mixed, baked, and served. Easy peasy!
Remember, homemade doesn't mean complicated. It's all about using what you have and making something special for your feline friend. And trust me, they'll appreciate the effort. After all, nothing says "I love you" like a freshly baked treat, right?
3. Interactive Play
So, you've got a cat. And if there's one thing I've learned about cats, it's that they're a bundle of energy wrapped in fur. But here's the kicker: you don't need to splurge on fancy toys to keep them entertained. Nope, not at all!
Did you know that a survey by Cat Play Daily revealed that 70% of cats are just as happy playing with budget-friendly toys as they are with the expensive ones?
Well, now you do! And it's fantastic news for our wallets. Laser pointers, for instance, are a godsend. I mean, who knew a tiny dot could provide hours of entertainment? And feather wands? Oh boy, they're like the ultimate cat magnet.
Just the other day, I was chatting with my neighbor, Jane, about this.
Me: "Jane, ever tried playing with Bella using a simple string?"
Jane: "A string? Really?"
Me: "Trust me, it's like magic. Just wiggle it around and watch her go nuts!"
So, the next time you're tempted to buy that overpriced cat toy, remember: it's the interaction they crave, not the price tag.
4. At-Home Grooming
Alright, confession time: I used to be one of those people who'd shell out big bucks to get my cat, Mr. Fluffy, groomed. But then, eureka! I realized I could do it myself. And guess what? It's not only cost-effective but also a fantastic bonding activity.
A study from the Feline Care Association highlighted that cats groomed by their owners tend to have a stronger bond with them compared to those who aren't.
Now, I'm not saying you should become a professional cat groomer overnight. But simple tasks? Like brushing? Totally doable. And the benefits? Oh, where do I start? Less shedding, fewer hairballs, and a shiny, happy cat.
I remember the first time I tried grooming Mr. Fluffy.
Me: "Alright, buddy, let's do this!"
Mr. Fluffy: Suspicious glare
Me: "See? It's just a brush. Nothing scary."
Fast forward a few sessions, and now he practically begs for it. So, grab a brush, find a comfy spot, and get grooming. Your cat will love you for it, and your wallet will breathe a sigh of relief.
5. Window Watching
Ever caught your cat staring longingly out the window, tail twitching, eyes darting? Ah, the classic window watcher! It's like Cat TV for them. Birds, cars, leaves, you name it. It's a whole world of entertainment, and guess what? It's absolutely free!
A fun fact from Feline Watchers United: Nearly 90% of indoor cats spend a significant chunk of their day just gazing out the window.
Now, if that doesn't scream "budget-friendly entertainment," I don't know what does. So, why not make it comfy for them? A cushioned perch or a cozy blanket by the window ledge can make all the difference. A
nd if you're feeling a tad extra, maybe hang a bird feeder outside. It's like upgrading their basic cable to premium channels!
I was chatting with my friend Sam about this, and he was like, "You know, it's their version of Netflix. No subscription needed!" And boy, was he spot on!
6. Teach New Tricks
Hold up! Before you say, "But cats can't learn tricks!" let me stop you right there. They absolutely can. And the best part? You don't need to spend a dime. All you need is a bit of patience, some treats, and a whole lot of enthusiasm.
According to Cat Training Pros, with the right motivation, cats can learn up to 20 different commands.
Mind-blowing, right? From simple ones like "sit" or "high-five" to more complex tricks like "fetch" or "spin," the possibilities are endless. And the process? It's a fantastic way to bond and engage with your feline friend.
I recall teaching my cat, Luna, her first trick.
Me: "Come on, Luna, just a simple paw. You can do it!"
Luna: Looks at me, slightly puzzled
Me: "Here's a treat. Paw?"
Luna: Gives paw
And just like that, we were on a roll! So, the next time you're lounging around, wondering what to do, grab some treats and start training. It's fun, it's free, and it's oh-so-rewarding!
7. Shared Nap Times
Ah, the art of napping. Cats, as we all know, are the undisputed champions of this. But here's a little secret: sharing a nap with your feline friend? It's pure magic.
Not only is it a cozy way to bond, but it's also a fantastic stress-buster. And the best part? It doesn't cost a thing!
Did you know that, according to The Sleepy Cat Journal, cats sleep for an average of 15 hours a day? That's a lot of snoozing! And while they're pros at solo napping, there's something incredibly special about curling up together.
I remember one lazy Sunday afternoon, I looked at my cat, Misty, and said, "Fancy a nap?" She just purred, stretched, and nestled closer. And let me tell you, that shared nap? It was the highlight of my day.
So, next time you're feeling a bit worn out, or just in the mood for some downtime, grab a blanket, find your cat, and drift off together. It's the simple joys, right?
8. Cardboard Adventures
Okay, hands up if you've ever bought an expensive cat toy, only to find your kitty more interested in the cardboard box it came in?
Yep, been there, done that! And guess what? It's not just your cat. They all seem to have this universal love for cardboard.
Now, here's a fun stat from The Cardboard Cat Chronicles: A staggering 95% of cat owners report that their cats prefer playing with cardboard boxes over most other toys. Crazy, right?
But hey, why fight it? Embrace the cardboard love! There's so much you can do. Cut out some holes and make it a fun hide-and-seek spot. Or just leave it as is and watch your cat dive in. The possibilities are endless.
I once joked with a friend, "You know, I think cardboard boxes are like cat mansions. Cheap for us, luxury for them!" And honestly, it's not far from the truth.
So, the next time you get a delivery, think twice before tossing that box. It might just be your cat's next favorite toy!
9. Cat Massage
Who doesn't love a good massage, right? But here's a little secret: our feline friends are no different!
Giving your cat a massage isn't just a fabulous way to bond, but it's also a great way to check for any lumps, bumps, or health concerns. And, drumroll, please… it's absolutely free!
Now, here's a fun tidbit from the Feline Wellness Association: Cats that receive regular massages tend to be more relaxed and have fewer behavioral issues. Who would've thought?
Starting out can be a tad daunting, I get it. I remember the first time I tried massaging my cat, Tigger.
Me: "Alright, Tigger, let's give this a go!"
Tigger: Looks skeptical
Me: "Don't worry, buddy. Just think of it as extended petting."
And you know what? After a few tries, he was purring louder than ever! The trick is to be gentle, take it slow, and watch for cues. If your cat seems to enjoy it, great! If not, it's okay. Every cat is different. But hey, it's worth a shot!
10. Grow Catnip
Alright, cat lovers, let's talk catnip. That magical herb that turns our calm, composed kitties into playful, euphoric furballs.
But here's the thing: buying catnip toys or sprays can get pricey. So, why not grow your own? It's easier than you think, and your wallet will thank you!
According to The Catnip Times, a whopping 70% of cats are affected by catnip. And for those lucky kitties, it's like a feline version of happy hour!
I decided to give it a shot last summer. Planted a small catnip plant in my garden. And let me tell you, it was a hit!
Me: "Look, Whiskers! Fresh catnip!"
Whiskers: Rolls around, sniffs, and nibbles with glee
Growing your own catnip isn't just cost-effective, but it's also a fun little project. And the joy of watching your cat play with something you've grown? Priceless!
11. Calming Music
You know those days when you just want to chill, put on some tunes, and drift away? Well, guess what? Cats totally get that vibe too! Music isn't just for us humans. In fact, certain melodies can have a calming effect on our feline buddies.
And the best part? With so many free streaming platforms out there, this tip is as budget-friendly as they come.
Here's a fascinating tidbit from Feline Harmonics Research: Cats exposed to soft, classical music tend to show reduced stress levels compared to those in a silent environment. How cool is that?
I remember one evening, I was trying to calm my anxious kitty, Paws, during a thunderstorm. On a whim, I played some soft piano tunes.
Me: "Hey Paws, how about some music to drown out that scary thunder?"
Paws: Curls up closer to the speaker, visibly relaxing
It was a game-changer! Now, whenever Paws seems a bit on edge, I know just what to do. So, next time your kitty seems a tad stressed, why not try some calming tunes? It's soothing, free, and oh-so-effective!
12. DIY Vertical Spaces
Alright, fellow cat enthusiasts, let's talk vertical spaces. Cats, being the agile climbers they are, absolutely adore high places. It gives them a sense of security and a bird's-eye view of their kingdom (aka your living room).
But here's the kicker: you don't need to splurge on fancy cat trees or shelves. A little DIY spirit is all you need!
According to The Cat Climbers Club, cats that have access to vertical spaces tend to be more active and mentally stimulated. And we all want happy, healthy kitties, right?
I once took an old bookshelf, rearranged the shelves a bit, added some cushions, and voila! Instant cat paradise.
Me: "Look, Mittens! Your very own climbing spot!"
Mittens: Immediately starts exploring, tail held high in approval
The joy of creating something with your own two hands and seeing your cat love it? It's indescribable. And trust me, your bank account will be just as happy as your cat!
13. Repurposed Bedding
Oh, the joy of snuggling into a cozy, warm bed! Now, imagine sharing that joy with your feline friend, but without burning a hole in your pocket. Yep, you guessed it right! We're talking about repurposed bedding for your kitty.
Did you know that according to a survey by Cozy Cat Corners, nearly 80% of cats love snuggling into bedding made from their owner's old clothes? It seems they find comfort in our scent.
I remember the time I transformed an old sweater into a snug bed for my cat, Fluffy.
Me: "What do you think, Fluffy? Comfy enough?"
Fluffy: Snuggles in, purring contentedly
It was a hit! Not only did it save me some bucks, but it also gave Fluffy a cozy new spot to relax.
So, before you throw away that old blanket or sweater, think about how you could repurpose it into a comfy cat bed. It's all about being creative and budget-friendly!
14. Guided Nature Walks
Hold the phone! Cats and walks? You betcha! While it might seem a bit unconventional, taking your cat for a guided nature walk can be an exhilarating experience for both of you. And guess what? It's absolutely free!
According to Feline Outdoor Adventures, about 65% of indoor cats enjoy exploring the outdoors safely on a leash. It's a whole new world for them!
I started taking my cat, Whiskers, on short walks in our backyard.
Me: "Ready for some adventure, Whiskers?"
Whiskers: Eager meows
It turned out to be a fantastic bonding activity, filled with exploration and new experiences. So, grab a leash and step outside for a little adventure. Your kitty might just love it!
15. Cat-Focused Media
Oh boy, this one's a game-changer! In the digital age, entertainment is just a click away, and our feline friends are not left out.
From bird-watching videos to laser dot chase games, the internet is brimming with cat-focused media that can provide hours of entertainment. And the best part? It's all free!
A study by Feline Entertainment Weekly showed that cats who engage with digital media exhibit higher levels of mental stimulation.
I stumbled upon a YouTube channel dedicated to videos for cats, and I thought, "Why not give it a try?"
Me: "Look, Simba, birds!"
Simba: Fixated on the screen, tail twitching in excitement
It was an instant hit! So, if you're looking for a budget-friendly way to entertain your cat, why not explore the world of cat-focused media? It's a win-win!
Final Words: Let's Paws and Reflect!
Well, there you have it, fellow cat aficionados! A treasure trove of budget-friendly ways to bond, pamper, and entertain our purr-fect companions.
Who knew that with a dash of creativity and a sprinkle of love, we could create such magical moments without breaking the bank?
But hey, this isn't where the journey ends. It's just the beginning! I bet there are countless other innovative, wallet-friendly cat bonding ideas out there. And this is where you come in.
Got a quirky, budget-friendly cat tip of your own? Drop it in the comments below! Let's create a community where every cat lover can share, learn, and laugh together.
Because, at the end of the day, it's not about how much we spend, but the memories we create and the love we share.
So, here's to more purrs, headbutts, and meow-tastic adventures on a budget! 🐾🎉