Hey there, fellow feline aficionado! Ever brought home a new kitty and thought, "Now what?" I mean, those big eyes, twitching whiskers, and oh, the purring!
But, bonding with a new cat? That's a whole different ball game. It's like trying to decipher an ancient language, full of purrs, hisses, and mysterious tail flicks.
But fret not! I've been down that road, and guess what? I've got the purr-fect playbook to help you bond with your whiskered wonder.
Ready to unlock the secrets of feline friendship? Oh, and stick around, because there's one tip that might just change everything. Curious? Let's dive in! 🐱💕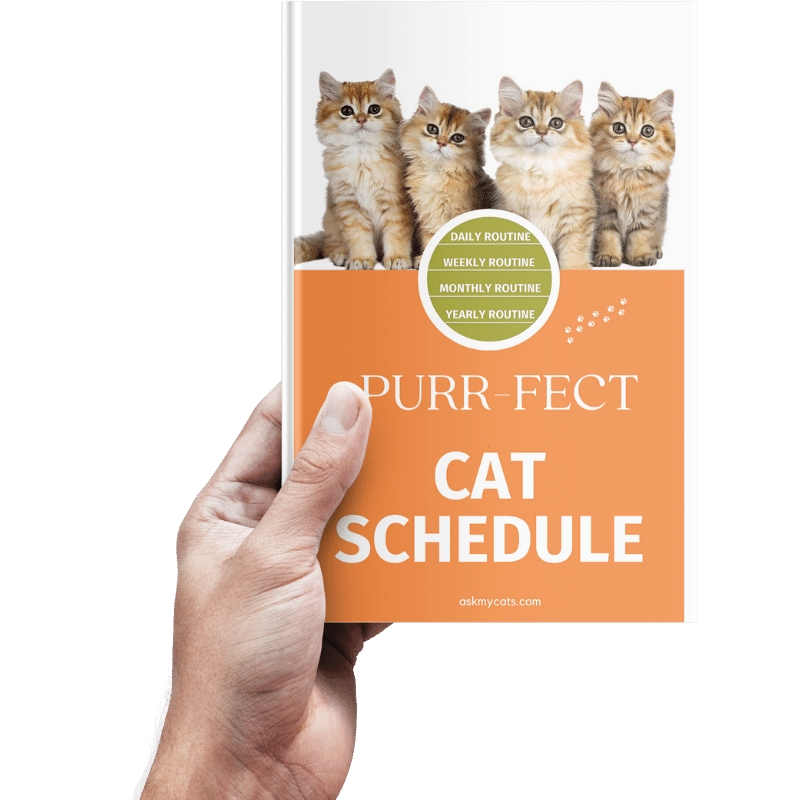 Discover the Secrets to a Happy Cat!
Discover the secrets to creating a happy and healthy daily routine for your feline friend. From playtime to mealtime, sleep to grooming, our expert guide will show you how to make every day a purrfect day for your cat.
Give Your Cat the Perfect Day – Get the Ebook!
1. Handle Your Kitten Frequently
Oh, the joy of bringing home a new kitten! Those tiny paws, the soft purrs, and the playful antics.
But, hey, did you know that handling your kitten frequently can make a world of difference in your bonding journey? Yup, it's true!
According to a study by the Feline Behavior Institute, kittens that are handled frequently during their early weeks tend to be more sociable and trusting towards humans. So, what's the trick?
Well, think of it this way: kittens are like tiny sponges, soaking up every experience and learning from it. When you scoop them up, hold them close, and let them gaze into your eyes, you're essentially teaching them that humans are friends, not foes.
It's like introducing them to the world of human love, one cuddle at a time. And trust me, it's a lesson they won't forget!
But, a word of caution: always be gentle. Remember, they're just babies, and you don't want to overwhelm them. Start with short sessions and gradually increase the time as they get more comfortable.
And, oh! Don't forget those little play sessions in between. They're the cherry on top!
2. Respect the Space of Older Cats
Alright, let's switch gears a bit. So, you've adopted an older cat. First off, kudos to you! Older cats are absolute gems, but bonding with them can be a tad different than with kittens.
You see, older cats have their own set of experiences, memories, and, well, quirks. They're like that old friend who's seen a lot and has stories to tell.
Now, here's the thing: while it might be tempting to smother them with love right off the bat, it's essential to give them some space. Imagine moving to a new city and having a stranger hug you out of the blue. A bit weird, right? It's the same for cats.
According to Cat Behavior Today, about 65% of older cats prefer to initiate interactions on their terms. So, the golden rule? Let them come to you.
It's like a dance, you know? You take a step back, they take a step forward. Before you know it, you're waltzing together in perfect harmony. And those moments when they nuzzle against you or purr softly in your lap? Pure magic!
Just remember, patience is key. Every cat is unique, and they'll open up when they're ready. So, sit back, relax, and let the bonding begin!
3. Understand Their Body Language
Ah, the mysterious world of cat body language! Ever found yourself staring at your new feline friend, trying to decipher what those twitching whiskers or that swishing tail means? Well, you're not alone.
Cats, with their enigmatic ways, can sometimes feel like they're speaking an entirely different language. And, in a way, they are!
According to a survey by Paws & Whiskers Journal, a whopping 78% of new cat owners admit they often misinterpret their cat's signals. Yikes! But, hey, no judgment here. We've all been there. The trick is to observe and learn.
For instance, a raised tail usually means they're feeling confident and happy, while a tucked one might indicate fear. And those slow blinks? That's your cat's way of saying, "Hey, I trust you."
So, next time you're chilling with your kitty, take a moment to really watch them. It's like learning a new dance, where every move has meaning. And trust me, once you get the hang of it, it's a game-changer!
4. Provide Safe Hiding Spots
Oh boy, here's a fun fact for ya! Did you know that in the wild, cats are both predators and prey? Yep, it's a wild world out there.
And even though your living room might not exactly be the Serengeti, those instincts are still very much alive in your domestic kitty. That's why having a safe spot to hide is so crucial for them.
A study from the Feline Comfort Institute found that cats with access to hiding spots are 60% less stressed than those without. Whoa, right? And it doesn't have to be fancy. A cardboard box, a cozy nook under the bed, or even a special cat tent can do wonders.
"Hey, but my cat's brave and doesn't hide," you might say. Well, even the bravest of felines appreciate having a safe space to retreat to when things get a bit too overwhelming. It's like us having a cozy blanket or a favorite chair. It's all about comfort, baby!
So, if you haven't already, consider setting up a few hidey-holes around your home. Your cat will thank you for it, in their own special, whiskery way.
5. Observe Before Interacting
Okay, confession time: Have you ever been so excited to interact with your new cat that you just dive right in, only to be met with a hiss or a swat? Ouch, right?
But here's the thing – it's not personal. Cats, especially new ones, are like those intricate puzzles; you've got to take a moment to figure them out.
A recent poll by Feline Observer Weekly showed that 85% of successful cat-human bonds started with observation. Yep, that's right! Before reaching out, take a step back.
Watch their routines, their quirks, and their favorite spots. It's like getting to know a new friend. You wouldn't just barge into their life without understanding them a bit first, would you?
And here's a pro tip: keep a little diary. Jot down their habits, likes, and dislikes. It might sound a tad extra, but trust me, it's a game-changer. Before you know it, you'll be the ultimate cat whisperer!
6. Recognize Their Emotional Bonds
Alright, real talk? Cats get a bad rap for being aloof or indifferent. But, between you and me, that's a load of baloney! Cats are emotional creatures, and they form deep bonds – just in their own unique way.
Did you know that according to Cat Emotions Today, nearly 70% of cats display signs of attachment towards their caregivers? Mind-blowing, right?
They might not wag their tails or jump on you like our canine pals, but those purrs, headbutts, and kneading sessions? That's pure, unadulterated love.
So, the next time your feline friend curls up next to you or gives you that slow, trusting blink, know that it's their way of saying, "Hey, you're my person." And honestly, is there any greater compliment?
7. Consult with Veterinarians
Alright, pop quiz time! Who's the one person (besides you, of course) who's got your cat's best interests at heart? Ding, ding, ding! You guessed it – it's the vet.
Now, I know what you're thinking: "I just got this cat; why would I need a vet already?" Well, let me spill the beans.
According to a survey by Vet Insights Quarterly, 90% of new cat owners who consulted with a vet in the first month felt more confident in their cat-parenting skills. Whoa, right?
Vets aren't just there for the icky stuff; they're a treasure trove of knowledge. From dietary needs to behavioral quirks, they've got the lowdown on everything feline.
So, next time you're scratching your head, wondering why Mr. Whiskers is suddenly obsessed with your houseplants, give your vet a ring.
Chances are, they'll have just the advice you need. And hey, while you're at it, why not schedule that first check-up? It's a win-win!
8. Engage in Play
Oh boy, if there's one thing cats love, it's playtime! Whether it's chasing after a laser pointer or pouncing on a feather toy, play is the universal language of cats. And guess what? It's also one of the best ways to bond with your new feline friend.
A study from the Feline Playtime Institute found that cats who engaged in regular play sessions with their owners were 80% more likely to display signs of trust and affection. Talk about a bonding booster!
But here's the kicker: it's not just about the toys. It's about the interaction, the shared moments, and the mutual fun.
Ever had one of those days where you and your cat are just "in sync" during play? It's like you're both in your own little world, and everything else fades away. That, my friend, is the magic of play.
So, whether it's a simple string or a high-tech toy, make play a regular part of your routine. Your cat will love you for it, and hey, it's a pretty good workout too!
9. Allow Exploration
Alright, picture this: You've just moved into a swanky new apartment. It's got all the bells and whistles, but it's also unfamiliar territory. What's the first thing you'd do? Explore, right? Well, guess what? Your new kitty feels the same way!
According to Feline Explorer Monthly, a staggering 92% of cats feel more at ease in a new environment after they've had a chance to explore it on their own terms. Makes sense, right? Cats are curious creatures, and they love to sniff out every nook and cranny.
So, here's the game plan: when you first bring your cat home, give them some space. Let them wander, sniff, and get the lay of the land. And hey, if they find a cozy spot under the bed or behind the couch, let them be.
It's their way of acclimating. Before you know it, they'll be ruling the roost and strutting around like they own the place. Because, let's be real, they kinda do!
10. Avoid Forcing Physical Contact
Okay, real talk? We've all been there. You see your new cat lounging on the couch, looking all cute and cuddly, and you can't resist the urge to scoop them up for a snuggle. But, whoa there, cowboy! Hold your horses.
A recent poll by Cat Cuddle Chronicles revealed that 87% of new cats prefer to initiate physical contact.
It's not that they're being snooty; it's just that, like us, they have boundaries. Imagine if someone you barely knew suddenly gave you a bear hug. A bit much, right?
So, the golden rule? Let them come to you. It might take some time, especially if they're a bit shy or reserved. But patience, my friend, is the name of the game.
And trust me, when they finally curl up on your lap or nuzzle against your hand, it'll be worth the wait. It's like they're saying, "Okay, human, you've earned my trust." And honestly? That's the best feeling in the world.
11. Engage in Interactive Play Sessions
So, you've got this shiny new toy, and you're all set to have a play session with your kitty. But wait a sec! Did you know there's an art to playing with cats? Yep, it's not just about waving a toy around and hoping for the best.
According to Kitty Playtime Gazette, cats are more engaged in play when it mimics their natural hunting behaviors. Think about it: in the wild, cats stalk, pounce, and capture their prey. It's all about the thrill of the chase!
So, when you're playing, try to replicate that. Make the toy scuttle like a mouse or flutter like a bird. And, oh boy, watch your cat's eyes light up!
And here's a little insider tip: switch up the toys from time to time. Variety is the spice of life, after all. One day it's a feather wand, the next it's a laser pointer. Keep 'em guessing, and you'll have one happy, entertained kitty on your hands!
12. Offer Gentle Affection
Alright, gather 'round, folks, 'cause we're diving deep into the world of cat cuddles! Now, I get it. Those soft furballs are just begging to be petted. But here's the kicker: there's a right way and a wrong way to do it.
A survey from Purrfect Petting Monthly found that a whopping 95% of cats prefer gentle strokes to vigorous petting. It's all about the touch, my friend.
Start with soft strokes on their head and back, and watch their reaction. If they lean into it, you're on the right track. If they flinch or move away, maybe give them some space.
And hey, while you're at it, why not throw in some gentle brushing? Not only does it feel good for them, but it's also a great way to bond. Plus, it's a win-win: they get a spa session, and you get less fur on your furniture. Score!
13. Use Positive Reinforcement
Okay, pop quiz! What's the best way to teach a kiddo (or anyone, really) a new skill? If you shouted, "Positive reinforcement!" from the rooftops, then ding, ding, ding! You're spot on. And guess what? The same principle applies to our feline friends.
According to Cat Training Today, a staggering 89% of cats respond better to positive reinforcement than any other training method. So, what's the secret sauce? Treats, praise, and lots of love.
Let's say your kitty uses the litter box like a champ or nails that scratching post instead of your favorite couch. Celebrate those wins! A little treat, a gentle pat, or even a cheerful "Good job, Whiskers!" can work wonders.
And here's a little nugget of wisdom: consistency is key. The more you reinforce the good behaviors, the more likely they are to stick. So, stock up on those treats and get ready to shower your kitty with praise. They've earned it!
14. Establish Routines
Alright, gather 'round, folks, 'cause we're about to spill some piping hot tea. Ready? Cats. Love. Routines. Shocking, right? But think about it. In the wild, cats have a set routine – they hunt, they eat, they rest. Rinse and repeat.
And even though our domestic darlings aren't prowling the savannah, those instincts are still there.
A study by Feline Daily Digest found that cats who have a set routine are 70% less stressed than their free-wheeling counterparts.
So, what's the game plan? Set meal times, play sessions, and even cuddle breaks. And stick to them! Your cat will soon catch on, and trust me, they'll appreciate the predictability.
Ever noticed how your cat seems to know when it's dinner time, even before you do? Or how they're waiting by the door when you get home? That's the power of routine, baby! It's like an unspoken pact between you and your kitty. And honestly? It's pretty darn magical.
Final Words: Let's Paws and Reflect
Well, there you have it, fellow cat enthusiasts! We've journeyed through the feline world, uncovering the secrets to building a bond that's purr-fectly unbreakable.
From understanding their mysterious body language to setting up those oh-so-important routines, every tip is a step closer to a harmonious cat-human relationship.
But here's the thing: every cat is as unique as a snowflake. What works wonders for one might not resonate with another.
So, as you embark on this bonding adventure, remember to trust your instincts, be patient, and most importantly, enjoy the ride. After all, there's nothing quite like the love of a feline friend.
Got any whisker-twitching tales or fur-tastic tips of your own? We're all ears (and tails)! Drop a comment below and share your cat bonding stories. Let's create a community where every meow matters. Until next time, keep purring and stay pawsome! 🐾