Hey there, fellow cat enthusiasts! Ever looked into the eyes of a black cat and wondered what secrets they're hiding? Or why they seem to have this mystical aura around them?
Well, you're in for a treat! We're about to embark on a purr-fectly fascinating journey into the world of black cats. From ancient tales to modern-day myths, we've got it all covered.
So, buckle up and get ready to be amazed. And trust me, by the end of this, you'll see black cats in a whole new light. Curious? Let's dive right in! 🐱🌌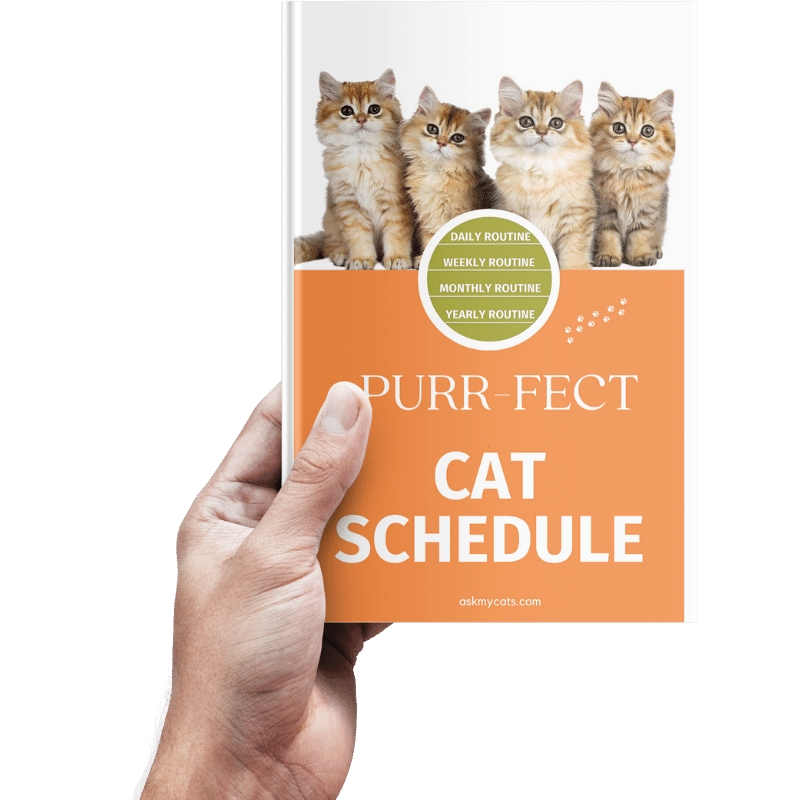 Discover the Secrets to a Happy Cat!
Discover the secrets to creating a happy and healthy daily routine for your feline friend. From playtime to mealtime, sleep to grooming, our expert guide will show you how to make every day a purrfect day for your cat.
Give Your Cat the Perfect Day – Get the Ebook!
1. Golden Eyes
Oh, those mesmerizing golden eyes! Ever gazed deep into the eyes of a black cat and felt like you were being drawn into a golden galaxy? That's the magic of melanin for you.
Melanin, the same pigment that gives our skin its color, is responsible for that deep, rich golden hue in many black cats' eyes. It's like Mother Nature decided to give these felines a touch of gold to complement their sleek black coats.
And let me tell you, it works wonders! Every time I look into those eyes, I'm reminded of sunsets, autumn leaves, and all things golden.
2. Hidden Stripes
Guess what? Black cats have a secret! Beneath that solid black coat, many of them are hiding… wait for it… stripes! Yep, you heard me right. It's like they're undercover tabbies.
When the sunlight hits just right, you can sometimes catch a glimpse of those hidden patterns. It's as if they've got this mysterious tattoo that only shows up under specific lighting.
So, the next time you're chilling with a black kitty in the sun, see if you can spot those sneaky stripes. It's like a fun little game of "Where's Waldo?" but with feline fashion.
3. Maritime History
Ahoy, matey! Did you know that black cats have a rich maritime history? Back in the day, sailors would bring black cats aboard their ships, not just for their unparalleled rodent-catching skills, but also because they believed these feline friends brought good luck.
Imagine that—a ship sailing across vast oceans with a black cat as its lucky charm.
It's like having a living, purring talisman! And if the sailors believed in their luck-bringing powers, who are we to argue?
So, next time you're setting off on an adventure, maybe consider bringing a black cat along. Just for that extra sprinkle of luck!
4. Mild Personality
Alright, let's bust a myth here. Some folks think black cats are mysterious, aloof, or even spooky. But in my experience? They're total softies! Many black cats are known for their mild, intelligent, and super chill personalities.
It's like they've read all those superstitions about them and decided, "You think I'm mysterious? I'll show you laid-back and lovable!"
And boy, do they deliver. From purring up a storm to showing off their playful side, black cats are often more teddy bear than terrifying.
5. Cultural Celebrations
Pop the champagne, because in many cultures, black cats are the life of the party! Whether it's attracting suitors, bringing good vibes to weddings, or symbolizing prosperity, these felines are celebrated far and wide.
In ancient Egypt, they were practically royalty, linked to the goddess Bastet. And in some places, if a black cat crosses your path, it's a sign of good fortune coming your way.
So, the next time someone tells you a black cat is bad luck, just laugh it off and say, "Well, not in my book!"
6. Egyptian Worship
Hold onto your hats, history buffs! Did you know that our sleek, black-furred friends were once the toast of ancient Egypt?
Oh yes, black cats were the real MVPs back then. They were associated with none other than the goddess Bastet. She was the goddess of home, fertility, and, you guessed it, cats!
So, if you owned a black cat, you were basically rubbing shoulders with divinity. Imagine walking your cat down the streets of ancient Egypt and having everyone bow down. Talk about a confidence boost!
7. Diverse Breeds
Okay, pop quiz time! How many cat breeds can have a black coat? If you guessed a couple, you're way off.
There are a whopping 22 recognized breeds that can sport the sleek black look. From the fluffy Maine Coon to the sleek Siamese, black is a color that knows no bounds.
It's like the little black dress of the feline world – timeless, elegant, and fits everyone!
8. Genetic Advantage
Science time! (Don't worry, I'll keep it fun.) So, black cats have this cool genetic mutation that not only gives them their fabulous dark coats but also offers some protection against diseases.
It's like they have a built-in shield! Mother Nature sure gave them a sweet deal.
So, the next time someone's going on about their cat's unique fur pattern or cute little meow, just casually drop in, "Well, my black cat has a genetic advantage." Mic drop!
9. Halloween Myth
Oh boy, where do I start with this one? Every Halloween, there's this myth that black cats are in danger because of superstitions.
But guess what? It's mostly just that – a myth. Sure, some shelters might be a bit cautious about adopting out black cats around Halloween, but it's not like there's a global conspiracy against them.
So, this October, instead of hiding your black cat away, maybe throw a little Halloween party for them. A witch hat, a tiny broomstick, and voila! Your cat's the star of the show.
10. Wealthiest Black Cats
Now, this one's a doozy! There have been black cats out there that have inherited fortunes. I'm talking big bucks! Imagine a cat lounging on a pile of cash, sipping catnip-infused champagne, and living the high life.
It's like something out of a movie, right? But it's true! Some cats have been left vast amounts of money by their doting owners.
So, the next time your black cat gives you that regal look, just remember – they might be channeling their inner millionaire!
11. Rusting in Sunlight
Hold up! Did you know that black cats can… rust? Okay, not like old bikes or forgotten tools in the rain, but their fur can change color when they bask in the sun. It's called "rusting."
Imagine lounging in the sun, soaking up those rays, and then realizing you've changed shades! It's like they've been kissed by the sun.
So, if you ever spot a black cat with a slightly reddish or brownish tint to their fur, don't panic. They're not rusty; they're just sun-kissed!
12. Secret Tabby Patterns
Whisper it… black cats have a secret identity! Beneath that dark, mysterious exterior, many of them are hiding tabby patterns. It's like they're the superheroes of the cat world, with a hidden alter ego.
When the light hits just right, those covert stripes and patterns can emerge from the shadows. It's their little secret, a hidden tattoo that only a few can see.
So, the next time you're with a black cat in the sunlight, see if you can spot their undercover tabby side. It's like finding a hidden treasure!
13. Two Fundamental Pigments
Alright, science nerds, gather 'round! All the colors you see in cats come down to just two pigments: eumelanin (which gives us those deep blacks and browns) and pheomelanin (responsible for reds and yellows).
It's like painting, but with genetics! These two pigments dance around in various combinations, giving us the rainbow of cat colors we see.
And black cats? They're rocking a whole lot of eumelanin. It's like they're wearing a little black dress made of genes!
14. Gender and Coat Color
Here's a fun tidbit: Did you know that certain cat coat colors are linked to gender? It's all about the X and Y chromosomes.
But when it comes to our sleek black felines, both males and females can flaunt that dark and dashing coat.
So, whether it's a boy or a girl, black is always in vogue in the feline fashion world.
15. Gray Skin
Okay, this one's a bit wild. If you've ever had the chance to give a black cat a belly rub (lucky you!), you might've noticed something. Their skin? It's often gray!
It's like they're wearing a snug gray bodysuit beneath that luxurious black fur. This grayish hue is all thanks to the pigmentation that gives them their black fur.
So, not only are they stylish on the outside, but they've also got a unique look underneath!
16. Immunity Insights
Okay, so here's the scoop: black cats aren't just pretty faces; they're also little genetic marvels.
Some smarty-pants scientists discovered that the same genetic mutations giving black cats their sleek coats might also be linked to certain immunity factors. It's like they've got this built-in armor against some diseases. How cool is that?
So, the next time someone's bragging about their cat's fancy tricks or cute antics, just lean in and say, "Well, my black cat might be a key to medical breakthroughs." Boom!
17. Superstitions Debunked
Oh boy, the number of times I've heard, "Black cats are bad luck!" Seriously? It's the 21st century, folks! Let's set the record straight: black cats are not harbingers of doom.
In fact, in many cultures, they're seen as symbols of good luck and prosperity. And, between you and me, any cat that purrs, cuddles, and looks at you with those big golden eyes is nothing but a bundle of joy.
So, the next time someone tries to spook you with black cat superstitions, just give them a wink and say, "More for me!"
18. National Black Cat Day
Mark your calendars, folks! October 27th isn't just another day; it's National Black Cat Day! A whole day dedicated to celebrating these sleek, sassy felines.
From their rich history to their modern-day charm, there's so much to love about black cats.
So, whether you're a proud black cat owner or just an admirer, take a moment on this day to give a nod to these fabulous felines. Maybe share a pic, tell a story, or just give a black cat some extra love. They deserve it!
19. Historical Companions
History lesson alert! Black cats have been rubbing shoulders (or should I say, paws?) with some pretty important figures. Take Matthew Flinders, for instance.
This dude was mapping out the coastline of Australia, and guess who was by his side? A black cat named Trim! It's like black cats have this knack for being in the right place at the right time.
So, if you're ever planning to make history, you know which feline friend to bring along!
20. Diet Influence on Fur
Brace yourselves for this one: what a black cat eats can influence its fur color! Mind blown, right?
There have been instances where black cats turned a shade of brown or red because of their diet. It's like they're chameleons, but with food.
So, if you ever notice your black cat's fur changing shades, don't panic. They're just showcasing their latest food-inspired look!
Let's Paws and Reflect
Well, there you have it, folks! A whirlwind journey through the mysterious and enchanting world of black cats. From their sun-kissed fur to their historical escapades, these felines are truly one-of-a-kind.
But what do you think? Do you have a black cat tale to share? Or maybe a quirky fact we missed? Drop a comment below and join the conversation.
After all, every cat has its day, and today, it's all about the black beauties! 🖤🐾