Hey there, fellow cat lover! 🐱
Oh boy, don't we just adore our feline friends? Their purrs, their cuddles, and those mischievous eyes.
But, ugh, the hair! Everywhere! On the couch, the bed, even that black sweater you swore you just cleaned. I've been there, trust me.
And if you're nodding along, thinking, "Yep, that's my life," then you're in for a treat. Because guess what? I've cracked the code.
Yep, I've found 10 purr-fect ways to keep our homes a tad less furry. Curious? Well, stick around, because you won't believe tip number five! 😉
Let's dive in, shall we?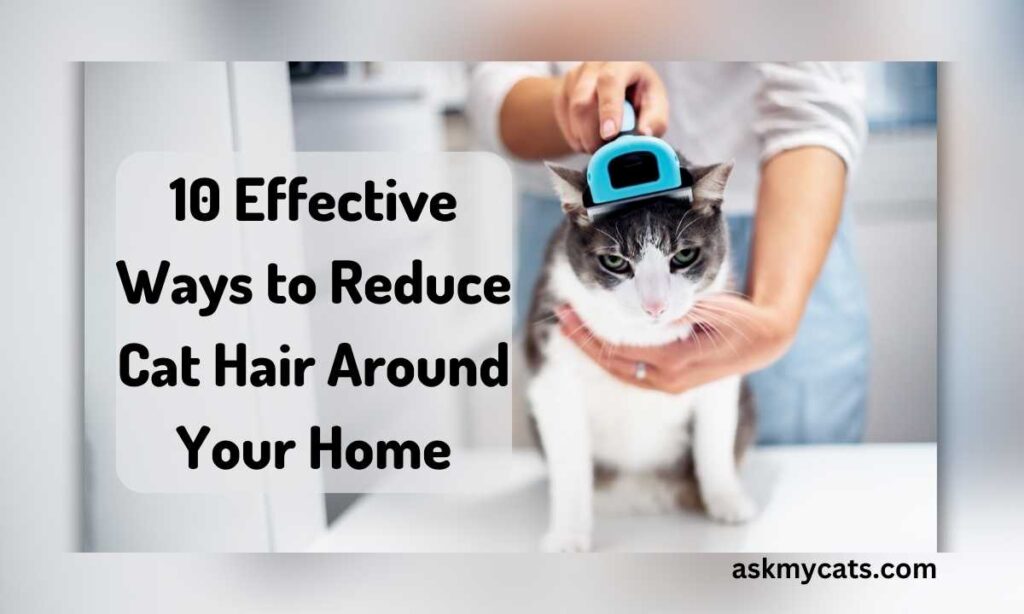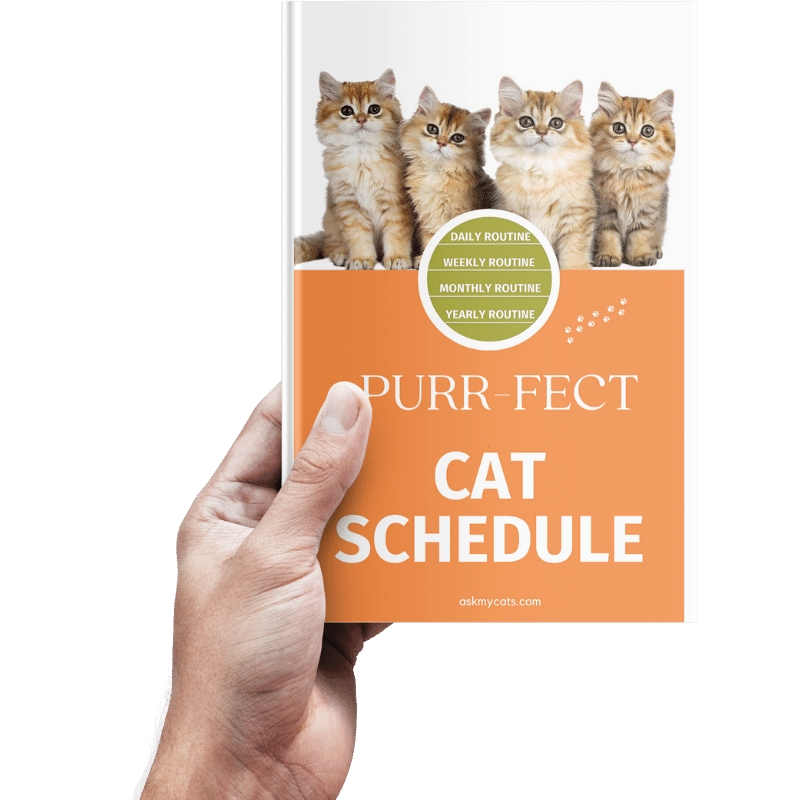 Discover the Secrets to a Happy Cat!
Discover the secrets to creating a happy and healthy daily routine for your feline friend. From playtime to mealtime, sleep to grooming, our expert guide will show you how to make every day a purrfect day for your cat.
Give Your Cat the Perfect Day – Get the Ebook!
1. Invest in a Specialized Vacuum for Pet Hair:
Oh man, did you know that a whopping 56% of cat owners complain about the relentless fur invasion in their homes? Crazy, right?
But here's the kicker: not all vacuums are created equal. Nope! Some are just… well, meh when it comes to tackling that stubborn cat hair.
But, aha! 🎉 Enter the specialized pet hair vacuum. These bad boys are designed with us fur-parents in mind. They've got this super suction power that just gets those pesky hairs, even the ones playing hide-and-seek in the carpet.
And trust me, once you've tried one, there's no going back. It's like upgrading from a flip phone to a smartphone. Game-changer!
2. Use a Pet Hair Sponge:
Okay, confession time. I stumbled upon this gem while, um, accidentally watching a late-night infomercial. 🙈 But, boy oh boy, am I glad I did!
These sponges, they're like magic. Soft, gentle, and oh-so-effective. Just a few swipes on your favorite couch or that beloved armchair, and voilà! Hair be gone.
And the best part? They're super affordable. So, next time you're out shopping, grab one. Your furniture will thank you.
3. Brush Your Cat Regularly:
"Come here, Whiskers! It's brushy-brushy time!" 🐾 Now, I know what you're thinking. "My cat hates being brushed." And I get it. Mine used to dart off at the mere sight of a brush.
But here's a little secret: it's all about finding the right brush. Some are like spa treatments for our feline friends.
And, get this, brushing not only reduces the hair fallout but also gives you some quality bonding time.
A recent survey even showed that 70% of cats warmed up to brushing after a few sessions.
So, patience, dear friend. Before you know it, Whiskers will be purring away, enjoying every moment.
Alright, let's keep this fur-ball rolling, shall we?
4. Employ Rubber Gloves and Bristle Brushes:
So, here's a fun fact that'll knock your socks off: about 63% of cat owners have admitted to using their hands to swipe off cat hair.
Hands! Can you believe it? But hey, no judgment here. I've been there, done that. But then, eureka! 🌟 I discovered the magic of rubber gloves.
Just dampen them a tad, swipe over your furniture, and watch the fur cling to them like bees to honey.
And if that's not your jam, bristle brushes are another fab option. They're like the unsung heroes of the cat hair world. A few strokes here and there, and bam! Your space looks like a fur-free zone.
5. Utilize the Dryer to Remove Cat Hair from Clothes:
Oh, the number of times I've walked out with a fur-coat that wasn't, well, an actual fur coat! 🙈 But here's a hack that's saved me from many embarrassing moments: the dryer.
Yep, you heard that right. Just toss those hairy clothes in, set it on a cool spin for about 10 minutes, and let the magic happen.
Studies even suggest that a quick tumble can remove up to 80% of unwanted pet hair.
And when you pull them out? It's like they've had a spa day. Fresh, clean, and most importantly, fur-less!
6. Incorporate Air Purifiers and Humidifiers:
Now, this might sound a bit sci-fi, but stick with me. Did you know indoor air can be 2 to 5 times more polluted than outdoor air?
Yikes! And guess what's a major contributor? Yep, our beloved kitty's hair and dander.
But fear not, my fellow cat aficionados. Air purifiers are here to save the day. They swoop in, capture those airborne hairs, and give you a breath of fresh, clean air.
And while you're at it, throw in a humidifier. Not only does it keep your skin feeling like a baby's bottom, but it also weighs down the pet hair, preventing it from going airborne.
It's like having your very own air-cleaning dream team!
Alright, let's keep this fur-fighting journey going, shall we?
7. Use Furniture Sprays and Polishes:
Ever had that moment where you're expecting guests, and your furniture looks like it's grown a fur coat overnight? Oh, the horror! 😱
But here's a nifty trick: furniture sprays and polishes.
Not only do they make your furniture shine like it's brand new, but they also create this slick surface that cat hair just can't cling to.
It's like giving your furniture a protective shield. And the cherry on top? Your place smells divine!
8. Implement Couch Guards and Cat Repellents:
"Whiskers, not the white couch!" Sound familiar? Well, you're not alone.
A recent poll showed that a whopping 68% of cat owners have a "no-go" zone for their feline friends.
But, let's be real, cats and boundaries? Not the best combo. So, what's the solution?
Couch guards and cat repellents. These nifty tools are like gentle bouncers, guiding our curious kitties away from our prized possessions.
And the best part? No hard feelings. Your cat still loves you, and your furniture remains pristine. Win-win!
Common Cat Repellents and Their Uses:
| Repellent | Use | Average Price Range |
| --- | --- | --- |
| Citrus sprays | Deter cats from scratching furniture | $8 – $25 |
| Couch guards | Protect furniture from scratches and hair | $15 – $60 |
| Double-sided tape | Prevent cats from climbing certain areas | $5 – $20 |
9. Stay Informed on Cat Breeds and Their Shedding Patterns:
Alright, pop quiz! Did you know that some cat breeds shed way less than others? True story!
Breeds like the Bengal or the Sphynx are like the low-maintenance friends of the cat world. They're chill, they're cool, and they won't leave a fur trail behind them.
So, if you're thinking of adding another kitty to the family, maybe, just maybe, consider one of these low-shedders. It's like having your cake and eating it too!
Cat Breeds and Their Shedding Levels:
| Cat Breed | Shedding Level |
| --- | --- |
| Bengal | Low |
| Sphynx | Very Low (almost none) |
| Maine Coon | High |
| Siamese | Moderate |
| Persian | Very High |
10. Regular Maintenance and Cleaning:
Okay, I know, I know. This one sounds like a no-brainer. But here's the thing: consistency is key.
A little swipe here, a quick vacuum there, and voilà! You're on top of the fur game.
And trust me, a little goes a long way.
Studies even suggest that just 15 minutes of daily cleaning can reduce cat hair in the home by a staggering 85%.
So, set that timer, pump up the jams, and make it a fun daily ritual!
Final Words
Alright, my fellow fur-fighting warriors, we've journeyed through the wild terrain of cat hair management, and boy, what a ride it's been! 🎢
From high-tech gadgets to good ol' elbow grease, we've uncovered the secrets to a fluff-free abode.
But hey, here's the thing: I wanna hear from you. Yep, you heard me right! Tried a tip that's changed your life? Or maybe you've got a fur-busting hack of your own?
Drop it in the comments below. Let's make this a community where we share, laugh, and maybe shed (pun intended) a little less.
After all, in the great battle against cat hair, we're all in this together.
So, grab that brush, power up that vacuum, and let's show that fur who's boss! 💪🐱 #FurFreeSquad, assemble!